Champions of Change
See 38:17 for Marcin's presentation -

http://www.whitehouse.gov/blog/2013/06/06/open-source-industrial-revolution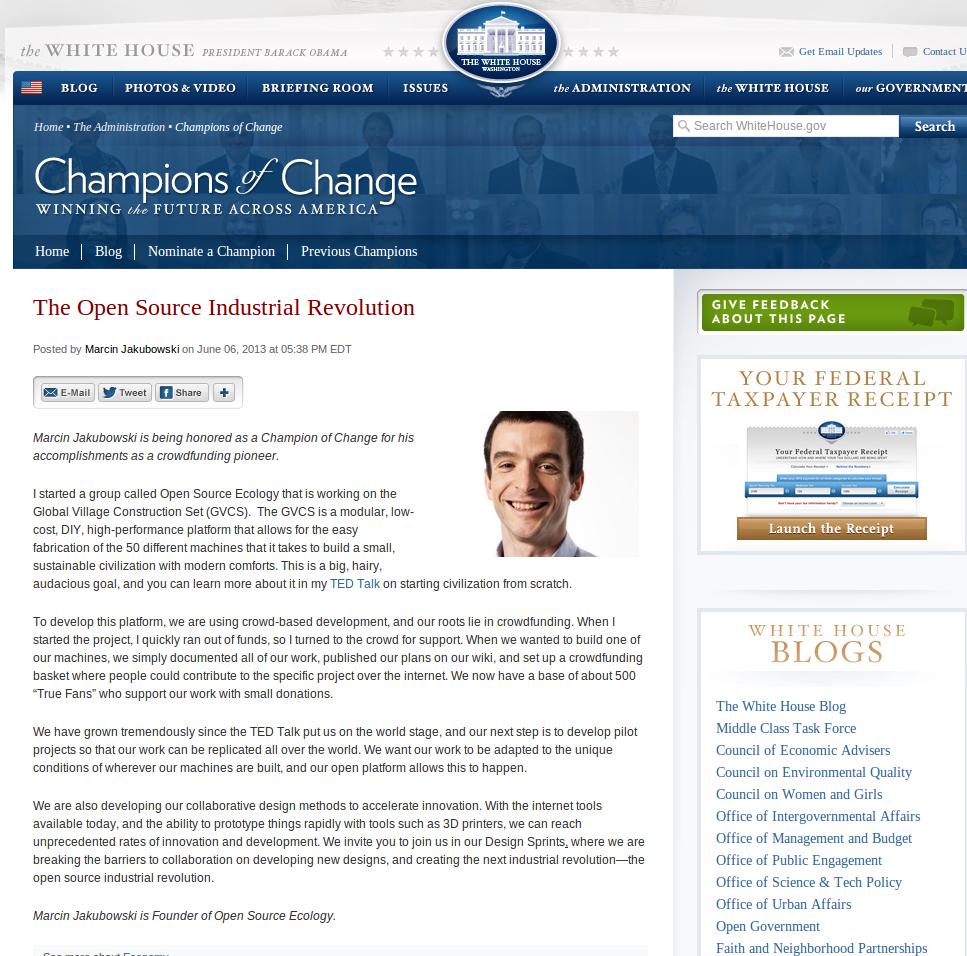 Press Release
Press release from the White House -
File:ChampionsPressRelease 06042013.docx
See Champions of Change site - http://www.whitehouse.gov/champions
See OSE Blog Post on this - http://blog.opensourceecology.org/2013/06/white-house-honors-crowdfunding-champs/ , to be updated after the event.
More Links
Correspondence
Dear Champions,
It was a true pleasure meeting each of you last week at the White House Champions of Change event for crowdfunding pioneers. We wanted to congratulate you again and thank you for joining us. Your insights and stories are an inspiration to people across the country – and across the globe.
Content from this event is now live on the White House website at the following links.
Your bios: http://www.whitehouse.gov/champions/crowdfunding
Your blog posts: http://www.whitehouse.gov/champions/blog
Video of the event: http://www.youtube.com/watch?v=N8qnTOJxZ3o

Please don't hesitate to share your experience at the White House online, with local organizations, and with people in your community (including tweets with the hashtag #WHChamps).
Thank you again, and please feel free to contact us with further questions.
Take care, Doug

Doug Rand Senior Policy Advisor White House Office of Science and Technology Policy Executive Office of the President