Gasifier Burner with Heat Exchanger Prototype I
See Larry Dobson's website - http://www.fundamentalform.com/html/biomass_gasifier_breakthrough.html
Update 2.8.12
See YouTube playlist
Design Contract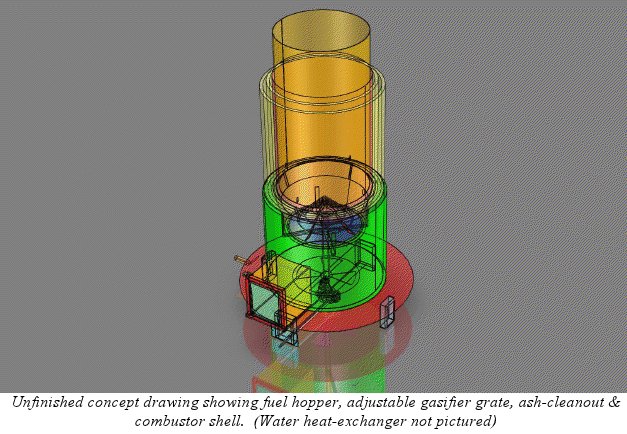 Agreement: This document states the agreement between Larry Dobson, designer, and Marcin Jakubowski, recipient. Dobson will provide detailed plans for a heating system with the following features:
A residential-size hot water heater fueled with wood pellets, wood chips and other biomass fuels, able to operate on natural convection flow or fan.
Size will heat an insulated building of about 3000sq.ft.
Configuration will include gasifier fuel hopper with combustion chamber and heat-exchanger modules integrated into one unit.
Gasifier will include manual grate adjustment and rotation for ash-separation at coal-bed, ash-collection with manual removal, and manual air-intake dampers for gasifier and combustor.
Atmospheric hot water heater will be of spiral design of sufficient efficiency to allow condensation of moisture from flue gases on low settings and high efficiency.
Special Considerations :
Complete set of plans to be completed within two months and made available as an open-source document on http://opensourceecology.org. Dobson will provide:
3D Cad files in a professional CAD package
2D fabrication drawings readable by a custom fabricator
Exploded part diagrams and other views to show all parts
Notes on fabrication procedure
Bill of Materials
Sourcing information on parts.
Designer: Larry Dobson Clinton, WA USA http://www.fundamentalform.com/html/gasifier_breakthrough.html
Drawings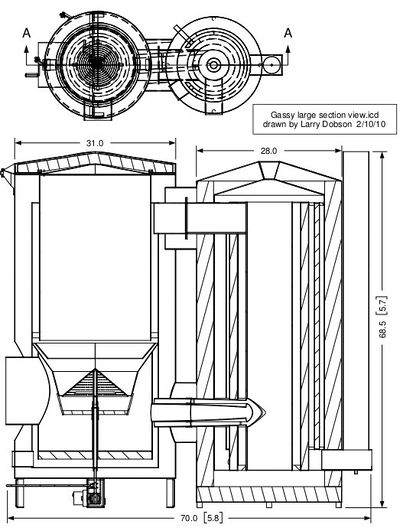 System Model
Note: real system has integrated burn and exchange chambers.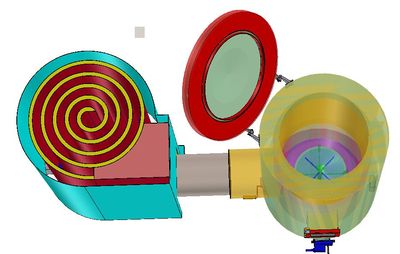 From Concept to Technical Drawings
Integrated gasification and burn chambers: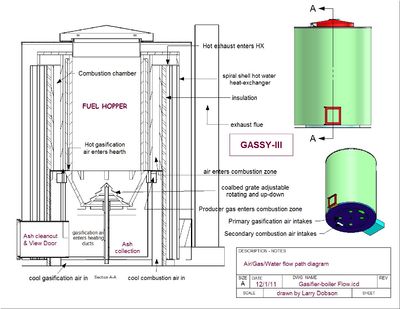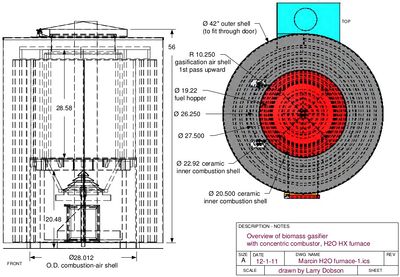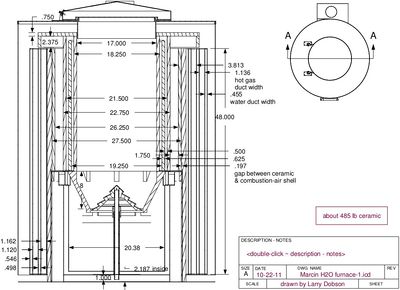 Detail Renderings
Download: File:Gasprog.tar.gz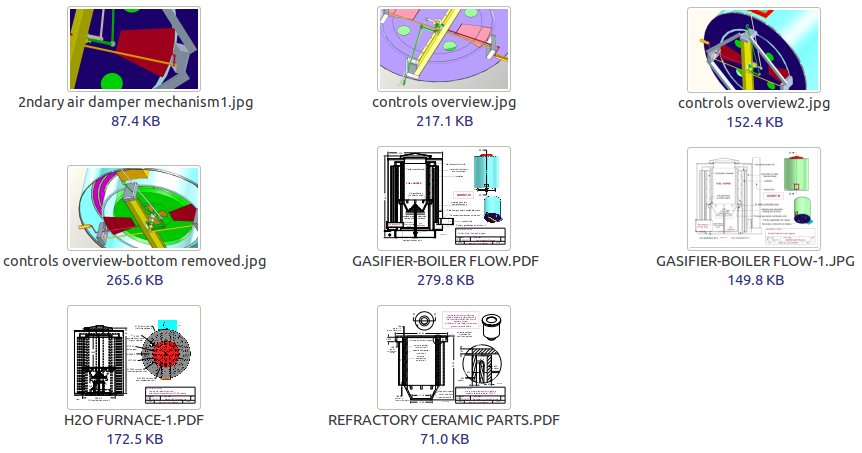 Overview, Plans, and Drawings
This is the full submittal as of Dec. 22, 2012, featuring most but not all of the detail drawings. The contract has been extended - Larry Dobson will produce the completed plans by January 31, 2012.
Completed Design of February 1, 2012
Here are the gasifier plans: 62 pages of detailed drawings, 15 pix, 11 pages of explanation and instruction, 18 pages of CNC cutout drawings. This represents countless hours of preparation, but I'm sure there will be much discussion and need for further clarification.
Great set of documents, but where are the "3D Cad files in a professional CAD package"? Looks like design was done in IronCAD, maybe?
Community Collaboration
Mark Hatch told me that Tech Shop Detroit membership was interested in Gasifier Build.

Will Brick from TechShop Detroit here. - We're putting together a program with Doyle to run a community building project with the Gasifier. A couple of project orientation sessions / Gasifier technology workshops are being planned for the end of March with build dates beginning the last weekend in March and into April. These sessions will be promoted to the Ford Motor Company community as well as to the general public and we hope to attract an enthusiastic, diverse group of participants. We plan to complete the unit in time for demonstration at the Grand Opening celebration.