Mirror
Overview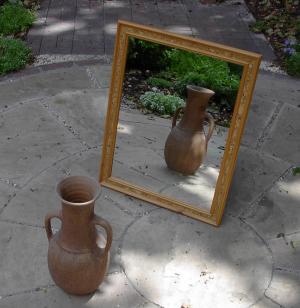 Details
Mirrors are manufactured by applying a reflective coating to a suitable substrate. The most common substrate is glass, due to its transparency, ease of fabrication, rigidity, hardness, and ability to take a smooth finish. The reflective coating is typically applied to the back surface of the glass, so that the reflecting side of the coating is protected from corrosion and accidental damage by the glass on one side and the coating itself and optional paint for further protection on the other. In classical antiquity, mirrors were made of solid metal (bronze, later silver) and were too expensive for widespread use they were also prone to corrosion. Due to the low reflectivity of polished metal, these mirrors also gave a darker image than modern ones, making them unsuitable for indoor use with the artificial lighting of the time (candles or lanterns).
The method of making mirrors out of plate glass was invented by 16th-century Venetian glassmakers on the island of Murano, who covered the back of the glass with mercury, obtaining near-perfect and undistorted reflection. For over one hundred years, Venetian mirrors installed in richly decorated frames served as luxury decorations for palaces throughout Europe, but the secret of the mercury process eventually arrived in London and Paris during the 17th century, due to industrial espionage. French workshops succeeded in large scale industrialization of the process, eventually making mirrors affordable to the masses, although mercury's toxicity remained a problem[citation needed].
In modern times, the mirror substrate is shaped, polished and cleaned, and is then coated. Glass mirrors are most often coated with non-toxic silver[19] or aluminium, implemented by a series of coatings:
Tin(II) chloride
Silver
Chemical activator
Copper
Paint
The tin(II) chloride is applied because silver will not bond with the glass. The activator causes the tin/silver to harden. Copper is added for long-term durability.[20] The paint protects the coating on the back of the mirror from scratches and other accidental damage.In some applications, generally those that are cost-sensitive or that require great durability, mirrors are made from a single, bulk material such as polished metal.
Mirror Types
18th century vermeil mirror in the Musée des Arts décoratifs, Strasbourg There are many types of glass mirrors, each representing a different manufacturing process and reflection type. An aluminium glass mirror is made of a float glass manufactured using vacuum coating, i.e. aluminium is spread over the glass in the vacuum chamber and then coated with two or more layers of waterproof protective paint.
A low aluminium glass mirror is manufactured by coating silver and two layers of protective paint on the back surface of glass. A low aluminium glass mirror is very clear, light transmissive, smooth, and reflects accurate natural colors. This type of glass is widely used for framing presentations and exhibitions in which a precise color representation of the artwork is truly essential or when the background color of the frame is predominantly white.[citation needed]
A safety glass mirror is made by sticking a special protective film on the back surface of a silver glass mirror, which prevents injuries in case the mirror is broken. This kind of mirror is used for furniture, doors, glass walls, commercial shelves, or public areas.[citation needed]
A silkscreen printed glass mirror is produced using inorganic color ink that prints patterns through a special screen onto glass. Various colors, patterns, and glass shapes are available. Such a glass mirror is durable and more moisture resistant than ordinary printed glass and can serve for over 20 years. This type of glass is widely used for decorative purposes (e.g., on mirrors, table tops, doors, windows, kitchen chop boards, etc.).[citation needed]
A silver glass mirror is an ordinary mirror, coated on its back surface with silver, that produces images by reflection. This kind of glass mirror is produced by coating a silver, copper film and two or more layers of waterproof paint on the back surface of float glass, which perfectly resists acid and moisture. A silver glass mirror provides clear and actual images, is quite durable, and is widely used for furniture, bathroom and other decorative purposes.[citation needed] Decorative glass mirrors are usually handcrafted. A variety of shades, shapes and glass thickness are often available.[citation needed]
See Also