3D Printed Axial Flux Electric Motor
May 29, 2020 - Open Source Axial Flux Motor Invitation
u1802194@unimilitar.edu.co
u1802394@unimilitar.edu.co
u1802491@unimilitar.edu.co
Hi Juan, Andresdavid, and Jose,
I'm the founder of Open Source Ecology. Saw your excellent work
at https://www.emworks.com/ckfinder/userfiles/files/Axial%20Flux%20Motor.pdf 
We are getting a group of open source enthusiasts together to develop an open source electric motor to completion via a 24 hour virtual (remote due to COVID) hackathon on August 18, 2020, from 9 AM CST USA time on August 18 for 24 hours straight. Can we invite you to participate?
We believe that your axial flux motor is a good design, and that the axial flux geometry is the best candidate for a flexible, modular, easy-to-build design that takes advantage of modern electronic control.
The motivation is to develop a commercially viable, open source product that anyone in the world can build via 3D printing and more localized supply chains. We are interested in a practical model for real applications. It does not necessarily have to be the highest efficiency in the world, but we are aiming for one that is designed to be completely modular and scalable, so it can be reconfigured for different purposes- essentially serving as a 3d printed motor construction set. We will be getting a number of collaborators together to make this happen. I'm inviting my friends and other open hardware rockstars to contribute, so at the very least,  you'll meet some amazing people, and likely move the state of art of practical, open source motors forward. Our goal is to make a business out of it, eventually, selling kits or finished motors - for education and practical applications. This is part of our greater effort to open-source critical areas of infrastructure.
Are you interested in participating? All you need to do is show up, and release any of your know-how as open source, OSHWA, OSI compliant. We will communicate through a Discourse Forum, which we are setting up, and If you are, we can set up a call to fill you in on more of the details. For best results, we are identifying roles of participants before the event so we can collaborate more effectively during the event, with a goal of making a working prototype of at least 70% efficiency. We can fill you in on the details of our collaborative development method if you'd like to know more.
Marcin
Sep 20, 2019
Open Source Modular Axial Flux Motor v02 - https://mi_shell.gitlab.io/models_online/ose_webgl/motor_v02_01.html

Mon Sep 30, 2019
The different steps to make a rotor disk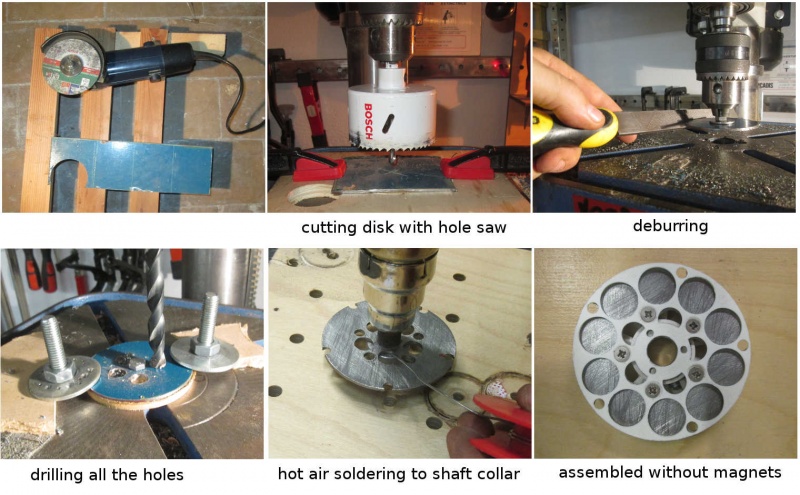 Preparing the coil winding.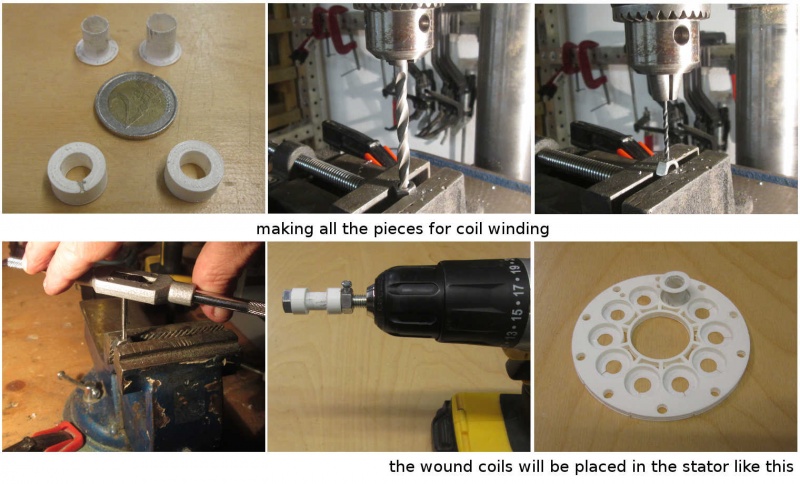 Mon Oct 14, 2019
The FreeCAD models of all the components of the "Axial Flux Motor version 1909" (still in development phase) can be found via the link below.
The full drawings are in the parts-folder and the simple copies of these drawings are in the part_simple-folder.
https://gitlab.com/mi_shell/ose_freecad_models
Gallery:
D3D Universal with 3D printer motor functioning as a CNC mill. - FreeCAD -[1] or Michel's repo.
Links