3D Printed GT2 Belts
Basics
This page goes over the use of FDM 3D Printers to produce GT2 Belts
This would allow the Universal Axis to be all OSE made minus the rods and screws
Need to check the accuracy of the "teeth" being printed, and the strength of the weld if a segment joining method is used
Perhaps use a smaller diameter nozzle?
Print Methods
Flat Method
It would be printed flat in a strip or strips and merged together once done
Has the advantage of being perhaps more accurate/less likely to fail?
Vertical Loop Method
Printed in one peice in a circular loop
Has the advantage of not requiring post print welding
Has the disadvantage of limiting size to the largest circle withing the print bed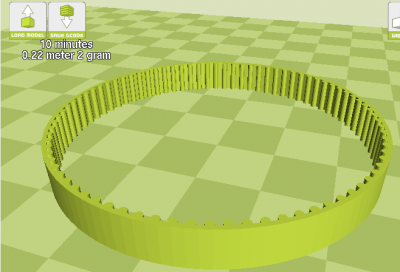 Vertical Snake
Prints a snaking ribbon with the thin edge contacting the print bed
Hybrid of the flat and vertical methods
Requires post merging, but maximises printable amount
Conveyor Belt Printer
With one of these, the belt could be printed near continously and cut + fused when needed
Download
Section Fusing Methods
Hot Plate Welding
Did some research and this is supposedly the technical industry name for this process
For OSE Use perhaps a soldering iron on low, and a custom toolhead (flat metal rectangle slightly more wide than the belt?)
Ultrasonic Welding
More complex
Advantages may not apply here?
Files
Cost Analysis
At 2 grams/6 inch - or 10 grams per 30" of the D3D Pro 8" bed - This makes 50 g for 5 axes (12.5 feet), or $1.5 belt cost with $30/kg filament. Compare to $5 for 30'. Price is about 1/2 as much for the 3D printed version using COTS filament, and much cheaper once own filament is made.
Internal Links
External Links
articles on this? [[Category:Belts Gears and Pulleys ? idk