3D Printed Multiwall Greenhouse Glazing
Prototype
Download source file in FreeCAD or STL to try this yourself - File:Twinwall.tar.gz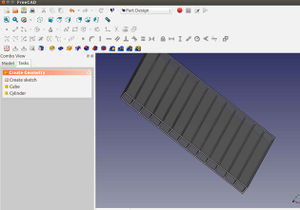 Info
Studying Solexx for 4' wide double wall stabilized polyethylene glazing with 10 year lifetime - it costs $8 per foot of length, or $2/sf - [1]. This is more expensive than twin-wall polycarbonate.
If one foot weighs one pound - the materials cost using 3D printing would be quite expensive - $10. This is more expensive than the finished product.
One has to turn to producing their own filament - say from pellets - which are $1 per pound, or recycled sources, which can be lower.
At $1/lb - we can consider high performance greenhouse at 25 cents per square foot, almost 10x lower cost than Solexx. Multi-wall glazing can also be printed.
Has DIY polycarbonate filament extrusion happened? Yes - see [3]
Thus, where do we get polycarbonate pellets? For example - [4]
UV Stabilizers
Links
Consultants