AbeAnd Logs July
Mon Jul 31, 2017
I've seen a few msg's about DXF's so I made a post here. I assumed what I exported was ok, but perhaps the format specs need to be discussed and refined.
http://network.opensourceecology.org/newsfeed/737827501325164544
Sat Jul 29, 2017
prepared for design sprint. found email I missed about SSH to github followed instructions, but still need added to list. Not sure I understand ideal workflow using github.
working on subassembly 7 for spooler system, which is the electronics. Then A1 spooler assembly.
updated some copied components for precision in wiring and assembly.
File:LFS Power Supply 12V.fcstd 5th Corrected connector mistake.
File:LFS Voltage Regulator.fcstd
File:LFS Assembly 7 Electronics.fcstd early version with cylinders following color code in PDF wiring diagram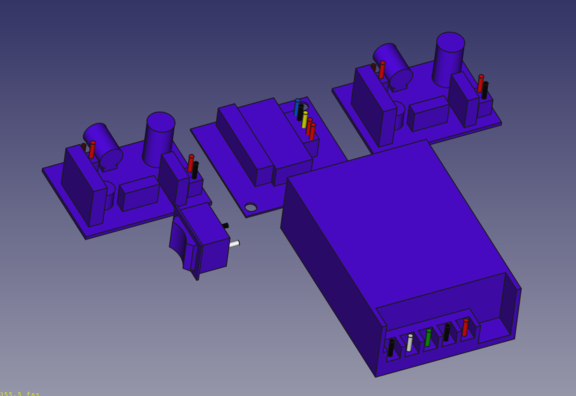 Minor issues wire connection place holders are on wrong side of relay and there are no screws or tabs or holes on some parts to add screws, but maybe screws would be better to leave for the final assembly.
Thurs Jul 27, 2017
reviewing & editing docs; checking links, searching, & adding more data & links to extruder BOM.
2hrs
Wed Jul 26, 2017
Formatting the Spooler BOM to the template.
1hr
Tues Jul 25, 2017
meeting prep.
adding missing BOM for extruder.
FreeCAD DXF
To clarify further on the DXF import/export library I had trouble with the plugin so I disabled the automatic one in preferences for FreeCAD v0.16 by going to draft workbench then the preferences menu.
Then I used v1.39 available here https://github.com/yorikvanhavre/Draft-dxf-importer
the instruction say to put the files it into the .Freecad folder not in a subfolder.
restart freecad if needed.
load your part and select it.
Then click File--> Export...
set Files of type: Autodesk DXF (*.dxf)
and save.
Added most of the existing content and structure to the extruder BOM copied from the index. Still details on part specs and a few things to copy from the PDF. As well as many links and info from the VBOM/VIndex, which in turn may need more details and links.
3hrs
Sun Jul 23, 2017
Adding finished CEB Press files.
File:Mid reinforcement plate.fcstd
Took a few tried, but I got the DXF export working again. I thought it was working before automatically in FreeCAD v.16, but no more.
File:Mid reinforcement plate.dxf
My attempts to merge the plate to the larger document are being made difficult by my failure to understand constraints to the holes and in the larger context of the assembly. Probably what Emmanouil is referring to as well.
Sat Jul 22, 2017
Design Sprint.
CEB Press I did step 4a shortening the mid re-enforcement plate. The ways FreeCAD placed the sketch relative to my face was strange, but it seems to have worked out anyway. Due to shortening it and moving the holes in the Y mid plates the parts need to be re-constrained.
When I downloaded the newer CEB Press file to try merging it there were some constraints causing errors and the mid Y shaped plates by Ayo need to be merged and constrained first so the new holes can be used as constraint points.

Filament Maker Discussion of filament extruder plastic parts size, materials, printing and thermal issues. Started Verification of extruder parts from CAD, Master Index to visual slides.
https://docs.google.com/presentation/d/1kcEn6w5-6LOj8CaTewjwlmbjYgZwqZvZFs41FcPaXug/edit#slide=id.g24a6332bb2_0_60
Fri Jul 21, 2017
I've been going through the PDF's, part library, working doc, checking if parts & links make sense, and posting various thoughts to the network discussion.
While the Spooler is relatively simple I have found there are details lacking in diagrams and some interpretation required. Checking using the CAD will help verify which parts are correct.
Lyman_Filament_Extruder_Part_Library
https://docs.google.com/presentation/d/1kcEn6w5-6LOj8CaTewjwlmbjYgZwqZvZFs41FcPaXug/edit#slide=id.g1d790da427_0_0
I'm also adding any long term queries I can think of to the next dev meeting doc.
https://docs.google.com/presentation/d/1QqXsAA9tjzMtahmjwYSvu9Ri00wSPft58ieIPIBjyeI/edit#slide=id.g1e8a4b3f1d_0_0
4hrs
Thurs Jul 20, 2017
working on STL cog 13 for spooler. trying to get freecad to do the gear teeth for me...
File:LFS STL 13 COG MOTOR SHAFT 4mm.fcstd
Tried a few methods on the cog still, but probably going about it wrong.
I'm going back to working on the details & visuals in the working doc, cleaning up the wiki parts library, and sheets as the extruder CAD work is nearly finished.
3 hrs
Wed Jul 19, 2017
Working through Part Library. There is still a lot to detail to finish and double check on Visuals in the working doc as well.
File:LFX Phenolic Washers M4.fcstd
4 hrs
Tues Jul 18, 2017
still trying to figure out ideal fan CAD.
meeting prep.
Working on Fan in FreeCAD and experimenting with primitive parts and different methods of building similar shapes on file size convinced me much of it was a waste of time. More advanced build methods require more experience and knowledge of the app, but are generally faster. As long as the number of pieces is similar in the end the file size will be about the same as well.
I ended up with a very crude representation of a fan compared to methods for making props I've seen on youtube I don't think build time or file size is worth it.
File:LFX Fan 12 or 24V simple.fcstd
I am also apparently still confused about levels of file simplification and will review the doc again.
A final push to finish the Filament Maker to a prototype state is needed so I plan to put in extra hours this week during the heat wave here. CAD, Indexes, and BOM's need to be synced and purchasing links verified throughout.
I think I'll start at the top of part library and work through any red links that matter. Some like the sheet of phenolic material don't, but the DIY washers from it do.
4 hrs
Sat Jul 15, 2017
Experimenting with CAD files and primitives verse sketches and capabilities.
Continuing remaining small part CAD files for Electronics Module. I think I understand the file simplification enough now so I uploaded a simplified version of the wire connector in the part library.
File:LFX wire connectors.fcstd
File:LFX wire connectors simple.fcstd
Working on simple fan representation as well, it is proving difficult to do with only primitives. So I am exploring options in FreeCAD.
Thurs Jul 13, 2017
worked on wiring layout in working doc and considering how to minimally draw or identify wiring in assembly.
I also found some other confusion between extruder spooler parts. I noticed the VRM before, but there is also a 12V PSU different from the 24V in the extruder.
I'm thinking the best strategy is to work through and verify all individual parts before working on assemblies so that no errors are propagated further than necessary.
I think following July 11 Refined Process slide should be followed in order for all parts before we focus on assemblies.
https://docs.google.com/presentation/d/1kcEn6w5-6LOj8CaTewjwlmbjYgZwqZvZFs41FcPaXug/edit#slide=id.g23d4a6d46d_0_0
Found more errors/missing data.
3 hrs.
Wed Jul 12, 2017
I looked over progress on several CAD files, the part library, and working doc. I found some interesting examples of work in the CAD files.
Read/Wrote some communications on network and email.
I reviewed the File Simplification process since I had not read all the way through the completed doc and I definitely needed to do so before attempting any assembly and wiring. It is somewhat like I thought. Primitive shapes are smaller. I am curious about any differences for methods of adding, subtracting, unions, boolean ops, versus sketch pads/pockets. The process for managing files and assemblies, positioned files etc. is more complex than I thought.
Tues Jul 11, 2017
editing wiki parts library.
uploaded images of CAD files. I'm thinking since we are linking to the CAD files we should capture screen shots and use those not external photos.
Doing more CAD work on Switch.
Thinking about wiring paths, but that isn't easy to add until doing a module assembly.
meeting Prep
More CAD files. I see there was some confusion on the VRM for extruder vs. spooler so I think I'll pick up the other VRM for the spooler.
I created images for the parts from FreeCAD view because those are the parts we are linking to and so as not to use external copyrighted images.

4 hrs
Sun Jul 9, 2017
I'm back from unexpected travels last week. I have a lot of catch-up to do & still have some files to submit from last weekend when the wiki was down...
File:LFX Solid State Relay.fcstd