Adam Eig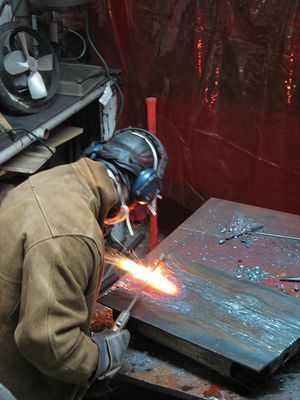 Team Culturing Information
last updated: 2. May, 2011
WHO are you?
Location (city, country) - chevy chase, md
Contact Information (email, phone, Skype) - adameig (at) gmail (dot) com , 240-994-7381
Adam Eig
Phone: 240-994-7381 * E-mail: adameig (at) gmail (dot) com

Professional Experience
Self-employed. Artist, Welder, Technical Advisor, Handyman. Boston, MA, Washington DC, and Chevy Chase, MD. June 2000 – Present.
Created artworks and furniture on commission and for sale. Shows held. Wide variety of work, including welded fabrication, framing, and light electrical.
Fabricated railings, fences, gates, and structures – mostly for private individuals, some commercial applications. Worked with artists and small businesses to improve efficiency, productivity, and process development.
Artist Assistant and Fabricator to Sculptor Wendy Ross. Bethesda, MD. 2000-Present, as needed.
Fabricated many works for public display, both temporary and permanent installations, also provide technical and organizational advice on practical aspects of her work.
Art Teacher. American Nicaragua School, Managua, Nicaragua. September – December 2008.
Art teacher for 7th – 12th grades at this US-certified school. Active member of community, participated in curriculum review.
Special Education Paraprofessional. Prince George's County Public School system, Regional Institute for Children and Adolescents – Southern Maryland. Cheltenham, MD.
October 2007-June 2008.
Classes include Technology Education, Food and Nutrition, Information Systems, and Twelfth-grade English.
Chairman. Strathmore Arts Center Sculpture Show. Washington Sculptors Group. Rockville, MD. April 2007 – February 2008.
Responsible for coordination and management of all aspects of the show. Show student- curated. Responsible for advising curators on all artistic, logistical, and administrative aspects of show, including installation and de-installation.
Advertising Director. Washington Sculptors Group. Open Studios: "8 in 208." Chevy Chase, Potomac, Bethesda, and Rockville, MD. November 18, 2006.
Responsible for advertising this Open Studios event. Secured front page article in the Chevy Chase Gazette. Article also ran in area Gazette newspapers.
Tutor. Boston, MA. February – June 2005.
SAT, math and study skills tutor. Primary need for math sections of 'new' SAT exam. Study skills tutoring increased learning efficiency, particularly for several ADHD students.
Art Mover. Artex Fine Art Services. Dedham, MA. 2003-2004.
Responsible for all aspects of moving art, from de-installation to transport to re-installation.
Foundry Technician. University of North Carolina-Greensboro. Greensboro, NC. 2001-2003.
Provided lessons in art, fabrication, and tool usage to fellow students as necessary, built rack and stands for the studio, and fixed and maintained equipment.

Education
Certificate, Fundamentals of Welding at Earlbeck Gases and Technologies. Baltimore, MD. 2010.
Master of Fine Arts student, University of North Carolina-Greensboro.
Greensboro, NC. 2001- 2003.
Bachelor of Arts in Music, Pre-medical requirements completed, Graduated Cum Laude, Brandeis University. Waltham, MA. 1999.
Certificate, Post-Baccalaureate Art Program in Sculpture, Brandeis University. Waltham, MA. 2001.
Selected Participant, Chautauqua Institute for Art, Chautauqua, NY. Summer 1999. Received. Brandeis University grant to attend.

WHY are you motivated to support/develop this work?
Do you endorse open source culture?
I think it is a cool project. I endorse open source culture.
Why are you interested in collaborating with us?
I think it is a cool project. I endorse open source culture....and my skills seem like they are relevant to some of what you need so I contacted you.
How do you think that the GVCS can address pressing world issues?
reducing reliance on multinational industry to develop is I think the biggest.
What should happen so that you become more involved with the project?
schedule and location are the issues here, made bigger by the fact that I don't have much money and am in debt and trying to reduce that.
What are you missing in the project?
I don't know well enough about the project and its details to put anything intelligent here.
What are your suggestions for improvement of the project?
I don't know well enough about the project and its details to put anything intelligent here.
WHAT
List all of your skills in these areas: Communications - Organizational - Computer Support - Finances - Design - Natural Building - Electronics - Automation - Metallurgy - Engineering - Fabrication - Agriculture - Energy - Architecture - Video/Graphics/Art - PR/Marketing - Education - Construction - Industry - CNC - Chemistry - Product Design - Other
fabrication and development. I have problem-solved a lot of things involving structural steel in one way or another. from fabrication practicalities to design fundamentals, working with engineers and other fabricators etc to find solutions. I've also done a lot of teaching and am good with making directions, although I am not sure if I really want to do that unless I really have to.
How have you already contributed to the project?
I have not.
HOW can you help?
How are you interested in contributing to the work of GVCS development?
design. build. maybe educate. practical engineering working with actual engineers.
Can you volunteer to work with us, and if so, how many hours per week?
maybe and not sure but it would probably be variable....
Are you interested in working with us for pay? If so, what services can you offer, and what is your hourly or per-project rate?
.....unless it were for pay. rates vary if this is a real possibility please inquire.
I cannot even think of funding this myself right now. for some degree of pay this might be possible.
Are you interested in purchasing equipment from us to help bootstrap development?
I wish I were in a position to do this but I am not. but there are some possiblities I am going to investigate with some farm-related people I know.
Are you interested in bidding for consulting/design/prototyping work?
maybe.
No. I don't have any money.
Would you like to see yourself working with us on a full-time basis?
that could be awesome.
Are you interested in using the technologies that we are developing directly?
I love forklifts. I think farms are awesome. I love building stuff. so yes.
Are you interested in being part of the world's first, open source, resilient community? The GVCS is the preparatory step for the OSE Village Experiment - a 2 year, immersion experiment (2013-2014) for testing whether a real, thriving, modern-day prototype community of 200 people can be built on 200 acres using local resources and open access to information? We are looking for approximately 200 people to fill a diverse array of roles, according to the Social Contract that is being developed. This may be the boldest social experiment on earth - a pioneering community whose goal is to extend the index of possibilities regarding harmonious existence of humans, ecology, and technology - as a beacon of light to benefit of all people on Earth.
maybe. personal/family issues would have to be resolved. but possible.