Andrew Spina Log
It's Me!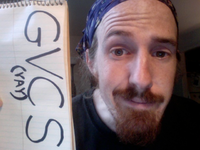 I'm Andrew Spina. I live in Baltimore, Maryland. I'm keeping a blog of my work at Machining My Independance. See my BOM, Parts list, and Timecard on my Google Doc.
December 1
Cleaned inside of tank, and covered it with WD-40.
TIG welded large flange to standoff tube and tube to hydraulic reservoir.
November 28
Machined the last hole in the tank. Welding this week.
Posted my thoughts on design improvement for the hydraulic tank here
November 13
Ordered the engine, pump, flanges, and some hydraulic components. All have arrived.
Machined two holes in the Hydraulic Reservoir.
Figuring out how to properly clean and finish the inside of the tank.
October 10
Got back from my business trip. Planning on ordering the engine and pump this week.
Tom sent me information on the muffler design. Still deciding whether to build or buy a muffler.
Send a query to Briggs and Stratton asking about the difference between these models: #49M777-0118-G1, #49M777-0120-G1, #49M777-0110-G1.

If I get a satisfactory response, I'll try to get it included in the BOM so others can understand the implications of getting a particular model.
October 5
Learned from Tom that the cube may need to be taller than 24".
Asked Tom about muffler design. The cube BOM mentions the muffler but the manufacturing section doesn't mention assembly. He is buying one. I may too.
Fixed some spelling errors on wiki pages. Hoping that I wasn't stepping on toes.
September 29
Verified Steel order was correct.
No work next week because I'm on a business trip.
September 27
Created a Spreadsheet to track the parts that I have, and need. More detail here[1]
Ordering additional Angle and steel for the Hydraulic Reservoir tomorrow.
Hopefully begin assembling the frame on Thursday.
September 24
Posted to my blog[2] about my first week of work.
September 22
Cut my angle to length. The bill of materials for the Power Cube was wrong I'll need more angle to build the frame.
September 19
Ordered 20 feet (240") of 2" by 1/4" angle iron. Cost = 65$ + tax. My awesome wife will pick it up.
September 17
Started talking to Tom via email about Power Cube documentation and materials.
September 15
got permission to use the machine shop at Baltimore County Community College to produce a Power Cube!