Biomass to Fuel
Introduction
Based on a personal gasifier (care of Dr. Yuyi Lin [1], Mike Koch, et al.):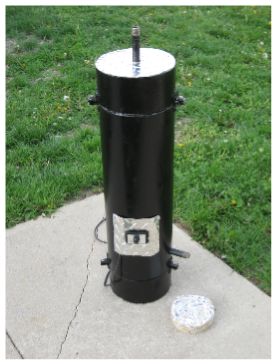 which generates gas from any cellulosic biomass:
we can take the process further to make liquid fuels.
Extension to Liquid Fuel Production
Utilizing Fischer-Tropsch synthesis, a process proven on a large scale:
(from Wikipedia)
our collaboratory will evaluate the possibilities for optimization for small-scale fuel generation. We mean personal fuel makers - a radical proposition. We are writing a grant proposal for this - and will consider a dual license - free to small producers, and royalty-based for companies with gross sales of a million or more dollars.
Student Projects
Engineering, materials science, and design students are welcome to engage in research on this topic. The questions to be answered are:
Optimization of gasifier for controlled feed gas production
Integration of gasifier with proven Fischer-Tropsch technology
Optimization of efficiency for the above for the small scale (100-1000 gallon per day production
History of Research
This site is worth researching for an overview of research on Fischer-Tropsch synthesis to date.
Pyrolysis Oil, Methane Storage
http://en.wikipedia.org/wiki/Pyrolysis_oil
http://www.bioenergywiki.net/index.php/Pyrolysis_oil
http://en.wikipedia.org/wiki/Methane_clathrate
Business Planning Due Diligence
Average corn and soybean yields - 140 and 30 bushels per acre - [2]
11 lbs of oil per 60 lb bushel of soybeans - [3]
Iowa soybean yields - 40 bushels/acre - [4]
Average soybean oil yields per acre - 48 gallons - [5]
Corn alcohol yield per acre - 230 gallongs - [8]
Soybeans require an average of 12.5 gallons of fuel per acre to grow and harvest them - [9]
$50/acre switchgrass cost - [10]
Average switchgrass yield - 4-6 dry tons (central v. southeast) - [11]
Average wood yield - 3 dry tons - [12]
Biomass cost = $30/dry ton and $60 for switchgrass and wood - [13]
40% charcoal yield from dry wood - [14]
Experiments show 40-50% charcoal yield - [15]
40% charcoal - [16]
20-30% charcoal yield in Missouri kiln - [folk.ntnu.no/lekangso/kurs2005/presentations/Day4-6_Bio-Energy/background/Gronli.pdf]
Charcoal contains 30-60% of energy content of original biomass - [folk.ntnu.no/lekangso/kurs2005/presentations/Day4-6_Bio-Energy/background/Gronli.pdf]
Max theoretical yield of Fischer Tropsch is 75% - [17]
FT uses 200 or 300C temperature processes and 30 bar - [18]
Max FT yield of c5+ liquid fuel - 65% - [www.ecn.nl/docs/library/report/2004/rx04041.pdf]