CEB Press/Manufacturing Instructions/Hoses - Secondary cylinder hose unit
Tools Required
Various wrenches
Crescent wrench
Materials Required
Note: NPT means national pipe thread, and refers to the interior diameter of the hoses. M means a male end, and F means a female end.
Thread tape
3/8" NPT Hex nipple (2) Buy
1/2" NPT to 3/8" NPT bushing (2) Buy
1/2" NPTF to 1/2" NPTM 90 Elbow (1) Buy
1/2" M Elbow (2) Buy
1/2" Flow Control and Relief Valve Buy
1/2"x36" NPTM Hydraulic hose (1)
1/2"x96" Hose (2)
1/2" Quick Coupler Set (5) Buy
1/2" Check Valve (1) Buy
1/2" F Tee Buy
1/2" Hex Nipple (4)Buy
Diagrams
Fabrication Steps
Always wrap thread tape clockwise when facing the threaded portion.
Always keep the end caps on hoses and fittings until you need to take them off. They need to stay protected inside.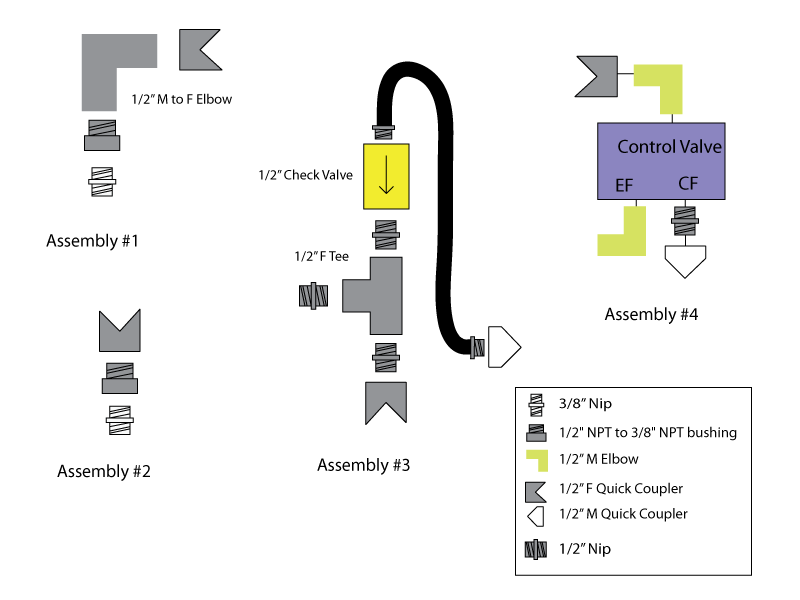 Assemble the individual assemblies as shown, and prepare the two 96" hoses by putting a male quick coupler onto one end of each.
Install Assembly #1 into the rod end of the cylinder (image below). Insure the quick coupler will be facing towards the ground when the cylinder is installed.

You will install the remaining components later upon installing the secondary cylinder.