CEB Press/Manufacturing Instructions/Wide Cylinder Supports
Tools Required
Welder
Torch
Punch with 3/4" dies
Angle Grinder
Speed square
Materials Required
Monster CEB
6" Light (1/4") U-Channel: 41.5" total; Wide cylinder support horizontal: 20 3/4" (2)
2"x2"x1/4" angle: 11.5"; Wide cylinder support verticals: 5.75" (2)
3/4" Steel Nuts-(2)
3/4" Galvanized Nuts-(2)
Normal CEB
2"x2"x1/4" Angle: 53"

Wide cylinder support horizontal: 20 3/4" (2)
Wide cylinder support verticals: 5.75" (2)

3/4" Steel Nuts-(2)
3/4" Galvanized Nuts-(2)
Diagrams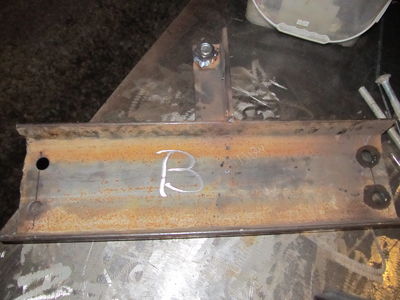 Fabrication Instructions
For the "Normal CEB," torch 3/4" holes in the angle for the cylinder supports in the same manner as with the horizontal members.(19" apart, 3/4" diameter)

For the monster, don't worry about the holes, you'll mag-drill them later.

Weld the 2"x2" angle (5.75") centered and squared on one side of the U-Channel(for "monster") or angle (for "normal", weld it to the side without the holes).
Torch a hole (3/4" for "normal") (1" for "monster") away from the end of the 2"x2" for a 3/4" bolt and grind it clean.
Place a steel nut over the hole and insure it is clear for a bolt and flush.
Weld the nut in place.
Put a galvanized nut on a 3/4"x2.5" bolt and thread through the welded nut on each side.