CEB Press 4
The is the main page for version 4 of the CEB Press. See that page for general info and how it fits into the GVCS.
Status
This is the development version. If you're helping with development, or would like to, this is the version you want. See the "Research and Development" link above for details.
Prototype 4 was built in a Collaborative Production Run.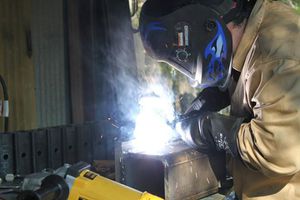 In Oct 2013, James Slade said, "We haven't tested the roller system on it as far as I know to see how durable it is under constant load. However, far as I can tell the rest of it should work as the design didn't change much (from version 3) other than a simpler materials list. Again, it hasn't gone through a thorough testing phase yet so I caution against counting on it as reliable until that has been done. I simply ran out of time when I was there to run it through all the phases of testing other than to verify it worked with the automation controls."
The CEB documentation is being actively upgraded to meet Fabrication_Procedure_Standards with the goal of serving as a reference implementation for GVCS documentation.
Introduction
See http://blog.opensourceecology.org/2012/10/collaborative-production-run-video-compressed-eerth-brick-press/ for video and links to all documentation for The Liberator IV - Open Source CEB Press, Prototype IV.
Improvements from Version 3
This version of the press builds Version 3 and makes improvements towards greater ease of use and quicker fabrication. The top ten most substantial improvements are as follows:
Hopper Design – The hopper will now catch 99% of the soil dumped into the grate due to reduced hopper aperture, and improved cut design of the hopper panels from a single 5x10 sheet of steel
Hopper Interface Saddle – A sheet metal saddle now cradles the hopper and allows a tighter funnel for soil to fall into the compression chamber
Compression Chamber – The long sides of the compression chamber can now be cut out of ½" steel with ½" flanges welded on as support contributing to flatter bricks.
Primary Structural Improvement – Several structural members of the press are now built out of 3x6x3/8" steel rather than 2x6 "heavy" U-channel improving overall rigidity.
Cylinder Press foot – The press foot which presses the bricks is now specified out of abrasion resistant (AR300) steel increasing durability.
Press Cylinder – The press cylinder is now specified with a bare shaft on which the press foot is pinned rather than welding (as in the previous design)
Hopper Piano Hinge – The hinges holding the walls of the hopper together are now continuous (aka "piano") hinges rather than a series of door hinges
Drawer – The drawer is now designed out of nearly all ½" steel plate and could be cut out of a small sheet using CNC technology.
Drawer supports – The drawer is now supported by 4 cam followers which are held by a modular drawer support assembly
Grate attachment – The grate is now attached to its structural support using a continuous hinge so the grate can be opened upward like a hatch to maintain soil flow when blockage occurs.
Active Developers
Marshall Hilton P.E.