Catarina Log
WIP LINKS
Mon Dec 5, 2022
Fri Dec 2, 2022
Thu Dec 1, 2022
Wed Nov 30, 2022
Rosebud3 1.3k - Maysville 22: [11] (garage technical 3D CAD)
Garage Wall Modules: [12]
Changes to door and window modules (remove jack stud, raise sill, make top uniform): [13]
Tue Nov 29, 2022
Rosebud3 1.3k - Maysville 22: [14] (garage technical 3D CAD)
Thu Nov 24, 2022
BoM's and Budgets - Exterior Trim: [15]
Wed Nov 23, 2022
BoM's and Budgets - Exterior Trim: [16]
Tue Nov 22, 2022
BoM's and Budgets - Windows and Doors: [17]
Mon Nov 21, 2022
Rosebud3 - 1.3k - Maysville2022: [18]
Sun Nov 20, 2022
Tue Nov 15, 2022
Rosebud 1.3k and 2k conceptual models (design revisions): [23]
Fri Nov 11, 2022
Rosebud 1.2k and 1.3k conceptual models: [24]
Siding calculations and orders for Rosebud 1.3k and 2k: [25]
Window sourcing
Materials orders (call stores, etc.)
Tue Nov 9, 2022
Rosebud 1.2k and 1.3k conceptual models: [26]
Mon Nov 7, 2022
Rosebud 1.2k and 1.3k conceptual models: [27]
Sun Nov 6, 2022
Rosebud 1.2k and 1.3k conceptual models: [28]
Fri Nov 4, 2022
Thu Nov 3, 2022
Wed Nov 2, 2022
Tue Nov 1, 2022
Mon Oct 31, 2022
Engineering notes and revisions: [35]
Sat Oct 29, 2022
Rosebud 3 2K conceptual models (white, grey, black, seed, 2k): [36]
Tue Oct 25, 2022
Rosebud 3 2K conceptual model: [37]
Sun Oct 23, 2022
Rosebud 3 2K conceptual model: [38]
Sat Oct 22, 2022
Rosebud 3 2K conceptual model: [39]
Fri Oct 21, 2022
Rosebud 3 2K conceptual model: [40]
Thu Oct 20, 2022
Rosebud 3 2K conceptual model: [41]
Wed Oct 19, 2022
Rosebud 3 2K conceptual model: [42]
Tue Oct 18, 2022
Mon Sep 19, 2022
Rosebud 3 conceptual expanded model: [43]
Butcher Block w/ cooktop cutout: [44]
Kitchen Build Instructions: [45]
Fri Sep 16, 2022
Thu Sep 15, 2022
Wed Sep 14, 2022
Kitchen build instructions: [50]
Tue Sep 13, 2022
Tue Aug 16, 2022
Sat Aug 13, 2022
Wed Aug 10, 2022
Tue Aug 9, 2022
Mon Aug 8, 2022
Fri Aug 5, 2022
Thu Aug 4, 2022
Wed Aug 3, 2022
Mon Aug 1, 2022
Redesigned window modules for 2x6 headers and then reverted to 2x12 as it appeared to add up to the same weight (when taking into account added height of cripples + additional blocking)
Added info on framing openings to Walls Design Guide
Code only allows replacing of jack studs with header hangers where table R602.7(1) indicates only 1 jack stud is needed (see Walls Design Guide). Since this table only covers building widths of 12ft (1 jack stud required) and 24 ft (2 jack studs required) and our building width is 16 ft, it is not clear whether we can: 1) replace all jack studs with hangers or 2) use only 1 jack stud on each side and replace the second one with a hanger.
Revised assembly CAD [62] with tapered roof deign (instead of riser)
Sun July 24, 2022
Sat July 23, 2022
Thu July 21, 2022
Wed July 20, 2022
Sun July 17, 2022
Sat July 16, 2022
Tue July 12, 2022
Sun July 10, 2022
Sat July 9, 2022
Thu July 7, 2022
Wed July 6, 2022
Tue May 24, 2022
Wed May 18, 2022
Tue May 17, 2022
Sat May 14, 2022
Wed May 11, 2022
Tue May 3, 2022
Mon Apr 11, 2022
Mon Apr 4, 2022
Sat Apr 2, 2022
Thu Mar 31, 2022
Mon Mar 28, 2022
Mon Mar 21, 2022
Thus Mar 10, 2022
Interior detail - bottom landing corner: [64]
Sun Mar 6, 2022
Staircase - calculations and details: [65]
Wed Mar 2, 2022
Utiity channel around openings (technical CAD): [66]
Mon Feb 28, 2022
Added interior blocking to all 1st story wall modules: [67]
Interior finishing details (beadboard, utility channel, trim): [68]
Sun Feb 27, 2022
Double door utility channel: [69]
Sat Feb 26, 2022
Doors and windows CAD: [70]
Tue Feb 22, 2022
Interior design scrapbook: [71]
Mon Feb 21, 2022
Interior trim design guide: [72]
Tue Feb 15, 2022
Wall modules technical design: Wall modules CAD Techincal Design Parts CAD
Sat Feb 12, 2022
Rosebud II - Front Door Canopy: Conceptual Technical Construction Details BoM
Thu Feb 10, 2022
Rosebud II - 18" Canopy: BoM New technical design
Mon Feb 7, 2022
Rosebud II - 18" Awning: Conceptual Technical Construction Details
Sun Feb 6, 2022
18" awning technical design: awning + attachment to wall + construction detail
Fri Feb 4, 2022
18" awning: [73]
Mon Jan 31, 2022
Awning attachment detail: [74]
Sun Jan 30, 2022
48" awning: [75]
Sat Jan 29, 2022
3" 15ft kit - $50 3" 7.5 ft kit - $35
Advantage of dutch lap siding over clapboard: it provides a flat (ish) surface to attach things to (lights, outlets, electrical boxes, mini split unit, etc)
Rosebud awning conceptual design: [78]
Fri Jan 28, 2022
Senville - Mini Split Systems:
Can coil tubing as long as it's flat - to avoid oil traps. Coil should look like a spring, not a rollercoaster.
Tubing should be a minimum of 10 ft, preferably 11 ft.
P6 error code means overpressure
Range hood vent on clapboard siding: [84]
Installing a j-channel after the siding is installed: [85]
Notching clapboard siding to install thimble (This Old House): [86]
Running electrical cables through siding: [87]
Power meter mounted on clapboard siding: [88]
Flanged outdoor outlet mounting block and box combo: [93]
1/2" lap siding surface mounting blocks:
Outlet Light Light Light All purpose All purpose Spigot/All purpose All purpose All purpose - Menards
Sun Jan 23, 2022
Exterior trim: [96]
Sun Jan 23, 2022
Sat Jan 22, 2022
Rosebud Foundation 3D CAD: [99]
Door opening at foundation detail: [100]
Fri Jan 21, 2022
Rosebud Foundation 3D CAD: [101]
Thu Jan 20, 2022
Rosebud Foundation (freeCAD model, work in progress): [102]
Wed Jan 19, 2022
Rosebud Foundation Detail:
REFERENCES
Insulated foundation details: [105] [106] [107] [108]
Materials:
Tue Nov 9, 2021
Black cabins and cottages: [109] [110] [111] [112] [113] [114] [115] [116] [117] [118] [119] [120] [121] [122]
Sun Jul 11, 2021
Mon Jul 13, 2020
Pop-Up House Timelapse (helical pier foundation?)
Sun Mar 15, 2020
Sun Feb 23, 2020
Belize microhouse: Roof installation instructions
Sat Feb 22, 2020
Belize microhouse: Roof installation instructions
Fri Feb 21, 2020
Belize microhouse: Materials management; Revised CAD; Instructionals (revised to account for irregular rough-sawn lumber
Thu Feb 20, 2020
Belize microhouse: Materials management; Revised CAD
Wed Feb 19, 2020
Belize microhouse: Truss build instructions; Revised CAD
Mon Feb 17, 2020
Belize microhouse: Revised CAD (small change to window frames to improve ease of build). Documentation and Instructionals
Fri Feb 14, 2020
Belize microhouse: Documentation and Instructionals
Wed Feb 12, 2020
Belize microhouse: Finalize CAD and BoM
Tue Feb 11, 2020
Belize microhouse: CAD and BoM
Sun Feb 9, 2020
Window and door modules documentation.
Sat Feb 8, 2020
Window and door modules technical design (CAD).
Tue Feb 4, 2020
Belize Microhouse Roof CAD. BoM.
Mon Feb 3, 2020
Fri Jan 31, 2020
Thu Jan 30, 2020
Wed Jan 29, 2020
Belize Microhouse CAD, roof design, materials
Fri Oct 5, 2018
OSE Hours - [123]
Sun Oct 8, 2017
PV System Log. 3D Printer Workshop Competitive Audit.
Mon Nov 16, 2015
Sun, Oct 25, 2015
Chicken House / Vermicompost
Sun, Aug 23, 2015
Growing potatoes in a greenhouse
What I learned about potatoes:
Potatoes need temperatures between 60 (ideal) and 70 F, moist soil (too wet and they rot, too dry and they die), and 6 to 8 hours of sunlight a day.
They also need to be hilled, which is easy to do with a container/bag.
The potato's cycle is not tied to season or day length, they will just sprout after 6 months (their dormancy period).
They can be hilled with soil, straw or leaves - soil and leaves seem to be the most successful methods.
1 seed potato can produce between 2 and 5 pounds of potatoes.
Americans eat about 142 lbs of potatoes per year - that's roughy 1 potato per day.
There are roughly 3 types of potatoes: early harvesting (70 to 80 days), mid-season harvesting (100 days) and late harvesting (120+ days). I think only the late-harvesting are adequate for long-term storage, but was unable to find any solid info on that (see note at the end).
Early-harvesting potatoes produce smaller crops than late-harvesting.
In any kind of potato, "new" potatoes can be harvested after approx. 60 days. Bottom potatoes can be harvested in the mid-season. And the entire crop can be harvested when the vine dries out.
Soil used to grow potatoes should not be re-used for potatoes for 2 to 4 years - we'd have to rotate it.
Ok, so we know we can't grow potatoes outdoors because we usually don't have a long enough spring - between last frost and summer heat. So the only hope is to grow them in the greenhouse in the fall and late winter. Several people have successfully done this (see below). The only requirements are to provide the right temperature and control pests (which is a requirement for any greenhouse crop).
eHow says: "Growing potatoes in a greenhouse is virtually no different from growing the tuber out of doors. Potatoes require sufficient soil, a constant temperature of around 60 degrees Fahrenheit, and water about twice a week. Greenhouses are necessary for those who live in severely cold climates, because potatoes will not grow through frost. Keep the windows closed at all times, except for on particularly sunny days to allow for ventilation. You can grow potatoes either in pots or beds inside of a greenhouse to produce a large, starchy harvest perfect for homemade fries or mash."
The Horticultural Channel plants potatoes in containers in August for Christmas harvest. Greta, who has a solarium kept at 70 F, starts one crop in January - for Spring harvest - and another in August - for Christmas harvest. She says "Growing potatoes in the greenhouse is fun and they do not require much care. Early potatoes started in January or February will have a late spring crop. Another planting done in August will have a harvest for Christmas Day."
Here's a discussion - on a survivalist's board - about growing potatoes in a greenhouse. One person says they grow potatoes year round - at first in the basement with grow lights and now in a greenhouse:
"We live in Southern Wisconsin and grow potatoes all year long. Now we do it in the green house but we use to grow them on ourbasment. It's really easy.
Take at least a 30 gallon garbage can and drill some holes in the bottom of it. Fill it 1/3 of the way up with dirt and then put your seed potato slices on it. Then cover the seed potatoes with about an inch of dirt over the top of them. If you want to plant more than one kind of potato use a different garbage can for each kind. In our basement we used a $10.00 Walmart plant light over each garbage can, had them on timers for 12-14 hours a day. Then when the sprouts get to be about 6 inches high, cover them halfway with dirt. Continue to do that until the grow over the top of the garbage can, then mound straw over them and stop watering them. When the tops turn yellow, put a tarp next to the garbage can to catch the dirt and dump it over. Collect your potatoes and put the dirt somewhere where you will not grow tomatoes or potatoes with it for at least two years. Bleach the garbage can and leave it out in the sun for a month or so and it's ready to be used again. We have a system set up where we plant potatoes every 2 to 3 months this way. It's so easy.
If you are growing them in your green house make certain it stays well above freezing in there because potatoes don't tolerate frost. If they do die back though make certain you harvest the potatoes that did grow. They will be baby potatoes and won't last long in storage but they can be eaten right away."
The Modern Homestead says they have great success planting potatoes in a greenhouse in the late winter (which would solve the problem of the short spring): "In my experience, root crops such as beets or carrots, even though cold hardy, are also not suitable for planting in the fall greenhouse—they will grow, but do not receive sufficient energy in the shortening days to "make root." I have, however, had excellent results growing carrots, beets, potatoes, and daikon (as well as the smaller radishes) in the late winter greenhouse, harvesting these crops up to two months earlier than their siblings in the garden." Several other articles mention planting potatoes in a greenhouse in January for Spring harvest.
The SFGate says "Fall Planting - As the weather cools, the season becomes perfect for planting baby carrots, lettuces and potatoes for winter harvesting. Potatoes are more successful in a heated greenhouse. Position the plants where they can take advantage of the waning fall sunlight. Using deeper containers provides more water and nutrients to your crops, which will improve them and make them easier to grow."
Off-the-Grid News says potatoes are ideal vegetables to grow in a greenhouse in the winter months.
The Royal Horticultural Society (of the UK) also says you can grow potatoes in a greenhouse during the winter: "The taste of tiny, tender new potatoes need not be restricted to summer. With a little bit of skill and good timing, they can also be grown for autumn and winter harvests, meaning you could enjoy them at Christmas."
There is one thing I'm still confused about. The consensus is that late-harvesting potatoes (planted in the spring/summer and harvested in the fall) will last 6 months in storage (a potato's dormant period). For this to happen, the skin of the potatoes needs to thicken before they're harvested - and this usually happens when temperatures drop to 45 F. It's unclear what happens with greenhouse grown potatoes. It might be the case that they're always "new" potatoes - the skin never thickens. I think this would be fine if we eat them as we pick them - rather than waiting to harvest all at the same time. But I did find an article that says you can "force" the skins to thicken by cutting the top growth and then waiting a couple weeks before harvesting.
Thu Feb 26, 2015
Sat Jan 17, 2014
Sun shades for exterior use are more energy efficient than interior solar shades. Because they block the sun's rays before they have a chance to enter and convert to heat.
Sat Jun 7, 2014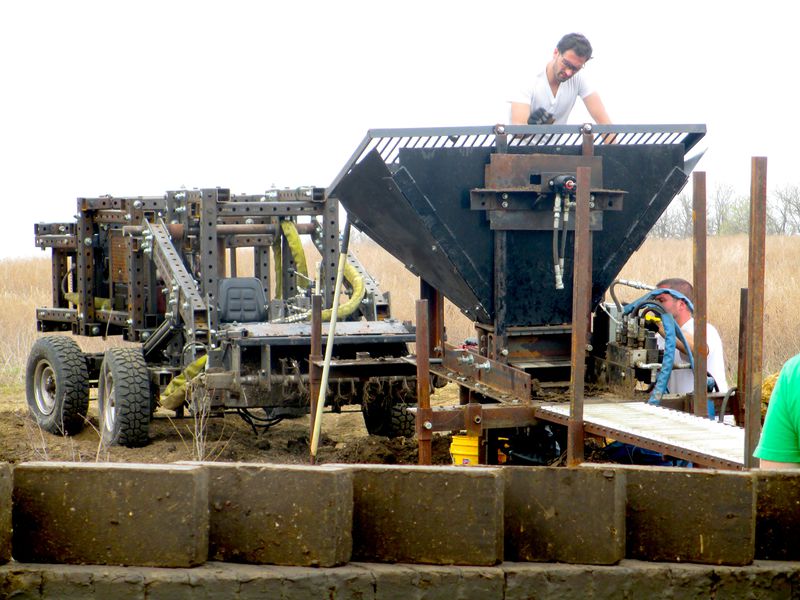 Mon April 7, 2014
Left message at Jamesport Lumber asking for contacts of contractors in the area: 660-684-6404
Left message with two contractos recommended by Jamesport Lumber: Marvin Yoder - 660-772-3003; Jamesport Builders - 660-684-6931
Jamesport Hardware Store: Parton Hardware 210 S Broadway St., Jamesport MO 660-684-6418
Mon Mar 10, 2014
TO DO
Swimming Pool: check delivery date
Microhouse: order additional water heater, replace busted pipe, check and repair water leak.
Solar Cabins: clean, paint, floor, whack weeds + lay straw.
Spring Residency
Design work in the morning, infrastructure work in the afternoon.
Sat Mar 8, 2014
Fri Mar 7, 2014
Vertical Garden Materials Suppliers
Plants
Structures
Sedum
For vertical gardens (short):
For horizontal gardens (taller):

My favorite variety: Sedum Spurium John Creech: "A very low mat-forming selection, this Stonecrop has rounded deep green leaves and small clusters of pink star-shaped flowers in the summer. Tolerates light foot traffic. Full sun / partial shade. Mauve / pink flower. 2-4 in. (5-10 cm). Zone 2-9." Some sources say it's deciduous, others that it's evergreen (?).

Sedum has shallow roots and easily propagates from cuttings - they'll take root within 7 to 10 days.

We could purchase a few specimens and use those to propagate a sedum horizontal garden - which we'd then use to get cuttings for the vertical gardens.

Vertical Garden Models
Living Pictures
Shallow wood box filled with soil and covered with galvanized mesh. Appropriate for succulents. This is probably the approach we want.
Challenges
Size: We may need to make several of these and tile them as in this example (plywood and mahogany frame, root barrier behind soil behind landscape fabric held in with wire). We can also make our own large tray (a wood grid) rather than individual boxes - but individual boxes may be more manageable (can be removed more easily). Victoria Gardens built wall-sized panels which appear to use burlap in between the wire mesh and the soil (more Victoria Gardens photos) - they probably have wood shelves behind the burlap.
Water flow/drainage: make holes at the bottom of each tray?
Weight: will the wall withstand the weight? Perhaps use bookshelf approach where most weight rests on the ground and picture hanging hooks keep flush to the wall (may require a row of bricks below the bottom tray).
Pallet
Not appropriate for succulents.

Vertical or Angled Pockets
Not appropriate for succulents.
Trays
Plastic trays with individual vertical compartments. Appropriate for succulents.
Thu Mar 6, 2014
HabLab To Dos for this Week
Check water / install pipeline if needed
Clear rubble outside
Lay straw in front of the house
Clean room for Chris
Hang storage area curtain
Finish cleaning fridge
Wipe front door
Wash sheets
Wash vacuum filters
Install new water heater
Weld chimney
Close old chimney hole
Insulate new chimney hole
MicroHouse To Dos for next Week
Internet
Cell phone signal booster
Fridge
Repair water leak
Stucco south and east walls
Whitewash Recipes
Mother Earth News
Fiasco Farm
Homemade DIY Paint
Yahoo
How to Whitewash Furniture
BoM
Mon Mar 3, 2014
FeF Requirements for Year-round Operation
HabLab
Insulate bathroom/kitchen wall
Robust water heater
Sufficient heating for common room, kitchen, bathroom and bedrooms
Finish interiors (paint walls/floor, close holes, finish ceiling, etc)
Mud room (physically separate from main room)
Covered porch/patio
Outdoors and indoors firewood racks
Finish exterior rooms
Robust plumbing
Robust water system
Robust electrical system
Robust internet
Cell phone signal amplifier
Exterior
Gravel or wood chip paths connecting all buildings - for both pedestrians and vehicles
A way to shovel/clear snow-covered paths
Solar lights or reflective cells along the paths
MicroHouse
Draft insulation
Permanent (buried) water system
Permanent sewage system
Permanent electrical system (30A)
Internet connection
Cell phone signal amplifier
Two additional modules (bedroom + living/working room)
Heating on all modules
Covered porch/patio
Outdoors firewood rack
Workshop
House Painting
I think the best contrast colors for dark brown walls are white, yellow and apple green. See for example:
http://blog.styleestate.com/storage/thumbnails/2908662-2950705-thumbnail.jpg?__SQUARESPACE_CACHEVERSION=1243374071765
http://www.colourlovers.com/palette/844425/Da_Lime_inda_Coconut
Menards doesn't have any bright greens (only boring ones), but Home Depot does have one that looks pretty nice (bamboo leaf). So here's the palette I suggest:
Inline image 3
Links for the paints at Home Depot:
Bamboo Leaf (green): http://www.homedepot.com/s/Bamboo%2520Leaf%2520%2520paint?NCNI-5
Lemon Lime (yellow): http://www.homedepot.com/s/lemon%2520lime%2520paint?NCNI-5
Chalkboard Paint: http://www.homedepot.com/s/chalkboard%2520paint?NCNI-5
For the MH I think we should go with white for the walls as that will make the space appear bigger.
Fri Jan 16, 2014
Looked into Swimming Pool idea for morale management.