Cold Saw/V1 Design Rationale/Hold System/Base
Notes
The Base Flat mounting holes should be counterbored so that the fastener heads do not interfere with the parallel top surface in case large irregular workpieces need to be mounted to the Base Flat without the Vise.
Functions
The main function of the base is to be the part of the Cold Saw that mounts onto an external surface. The base should be elevated enough from the mounting surface such that the swivel mechanism can be adjusted from below.
The elevation can be achieved by 4 blocks, 1 welded under each corner of the base.
Fastening can be achieved by the use of C-clamps or fasteners after drilling holes to match the pattern on the mounting surface.
The base also functions as a smooth surface on which swiveling parts can slide on, and provides a hole through which the swivel rod can be inserted. This hole on the base acts as the center of rotation for the swivel mechanism.
The base is rigidly mounted to the vise such that the the rigidity of the mounting surface is transferred via the base to the vise. Rigid vise mounting is a requirement of precision operation. The fastening method is the vise 4-screwed into a flat bar that is 4-screwed into a plate. The vise must be detachable from the base such that parts of the swivel mechanism can also be isolated for modularity and ease of maintenance. The flat bar is elevated from the base by spacers; the spacers should be bored rods for ease of fabrication while retaining rigidity.
Concept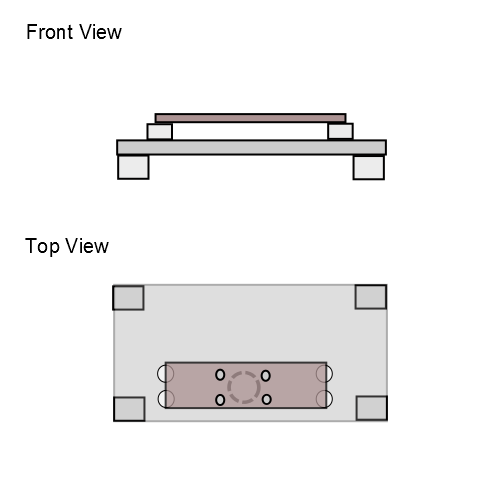 Calculations
Dimensions of mounting rectangle between base plate and base flat
http://opensourceecology.org/wiki/Cold_Saw/V1_Design_Rationale/Hold_System/Base/Elevated_Mounting_Calculation
Parts
http://opensourceecology.org/wiki/Cold_Saw/V1_Design_Files/Baseplate
http://opensourceecology.org/wiki/Cold_Saw/V1_Design_Files/Base_Flat