Dan Log
Wed Oct 30, 2013
Lots of stuff in http://opensourceecology.org/wiki/CNC_Torch_Table_2/Research_Development and linked pages, including https://github.com/OSE/CNC-Torch-Table-OSE/issues.
Fri Oct 26, 2013
http://dbenamy.blogspot.com/2013/10/ose-what-ive-been-up-to-recently.html
https://github.com/ose/documentation
Fri Oct 11, 2013
Thu Oct 10, 2013
I'd love to put some pictures here but it's just too much of a hassle.
Wed Oct 9, 2013
Worked on backhoe 3d design including quick attach mount design and modeling, supporting structure, 3d model of best cardboard design, etc.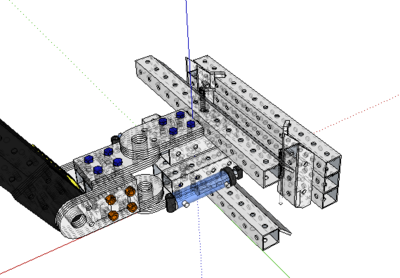 Tue Oct 8, 2013
Worked on backhoe pivot range of motion and geometry design.
Cleaned up shop more.
Mon Oct 7, 2013
Sun Oct 6, 2013
Cleaned up and organized the Backhoe pages on the wiki and linked to the new development pages elsewhere.
Bought proper nuts and bolts for cardboard prototyping kit.
Worked on backhoe pivot designs with cardboard prototyping kit.
Sat Oct 5, 2013
Fri Oct 4, 2013
Worked on the Microhouse:
Helped put on roof modules and OSB roof panels.
Figured out how to adapt part of roof design to properly cap insulation channels.
Started caulking roof seams.
Put up the first piece of trim.
Thu Oct 3, 2013
Helped finish Microhouse loft and wall modules (screwing in plywood and OSB, putting insulation in modules, adding wrap). Painted roofing. Helped make holes in Microhouse exterior wall for pipes. Helped install Microhouse modules. Helped put on temporary roof.
Wed Oct 2, 2013
Put lots of plaster on the Microhouse. Did some carpentry on some of the wooden modules. Talked with Audrey and Katie about some HabLab improvements. Proposed lightweight system for tracking improvements.
Tue Oct 1, 2013
Got here. Laid a few of the last bricks on the Microhouse. Maybe some other stuff I can't remember right now.