Daniel Grover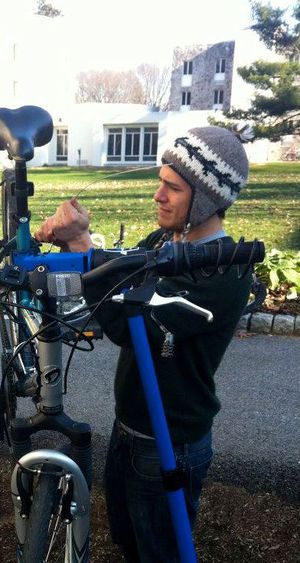 Team Culturing Information
Last updated: July 29, 2012
WHO are you?
Name - Daniel Grover
Location (city, country) - Boiling Springs, PA, USA
Contact Information (email, skype, phone) - daniel (dot) b (dot) grover (at) gmail (dot) com
Picture -
Introductory Video -
Resume/CV -
WHY are you motivated to support/develop this work?
Do you endorse open source culture?
I believe that collaborative and cooperative ventures in an organized framework can and will be the most successful paradigm for progress in the coming century. I believe that it is the responsibility of those who see open source-based creation as a useful paradigm to embrace it to its full extent and make use of it in an intelligent way.
Why are you interested in collaborating with us?
I am encouraged and excited by the way OSE has used open source philosophy to begin to create something tangible. I share the values of OSE and want to do what I can to help this venture to succeed. I also want to learn from the amazing people who are involved with OSE in hopes that I can pass on the knowledge and skills to others in the future.
How do you think that the GVCS can address pressing world issues?
I think that GVCS is one of the most interesting models I've seen for addressing world issues. I don't think that any one solution will prove to be a panacea but I do think that GVCS is exciting and is a very realistic attempt at creating localized economies that can scale to other places around the world. I strongly support locally-based solutions that are applicable to other locales and I think that GVCS presents such an option.
What should happen so that you become more involved with the project?
I would like to become involved by working at Factor E Farm. I have some agricultural and renewable energy skills which I would like to bring to the project and I would like to become a member of the team at the Farm for 1-3 months between November 2012 and April 2013.

I'm also interested in whether the Factor E Farm team feels ready to iterate their project in other places and would like to engage in a dialogue about what that would take and what kind of institutional and organizational support OSE could offer for such further iterations of the project.
What is missing in the project?
While it seems that energy is building behind the OSE project, it seems that broader awareness would bring the kind of ability to scale and expand that OSE needs to enter the next phase.
What are your suggestions for improvement of the project?
WHAT are your skills?
List all of your skills in these areas: Communications - Organizational - Computer Support - Finances - Design - Natural Building - Electronics - Automation - Metallurgy - Engineering - Fabrication - Agriculture - Energy - Architecture - Video/Graphics/Art - PR/Marketing - Education - Construction - Industry - CNC - Chemistry - Product Design - Other
Agriculture- I have three seasons growing food on organic farms, all of which are combined educational and production ventures. I would like to bring my agricultural skills to the farming side of Factor E Farm.

Organizational- I was involved in the formation of the Idea Fund, a student-run revolving loan fund at my college, managing and growing an initial $15,000 from the school's president. I served as the head of our Project Management team, helping people to develop their ideas into projects through business plan writing and working within the institutional structure of the college and the community. Our ultimate vision is for the Idea Fund is a community-based revolving loan fund which encourages collaboration between the Carlisle community and the college community. We used and advocated open source principles, making everything we have done available online.
How have you already contributed to the project?
HOW can you help?
How are you interested in contributing to the work of GVCS development?
I am. I would like to learn to use CAD so that I can contribute to drawing these plans and prototypes. I am interested in continuing to learn to weld and fabricate so that I can contribute in a hands-on way to these projects.
Can you volunteer to work with us, and if so, how many hours per week?
I would like to discuss working full time with you at the Factor E Farm, potentially as a farm apprentice while also contributing to other parts of the OSE operation. I have a variety of skills which I would like to contribute to the project.
Are you interested in working with us for pay? If so, what services can you offer, and what is your hourly or per-project rate?
I am; I can work in agriculture and also have some experience welding and building with both metal and wood. I am also open to doing office and organizational work. I would like to help wherever I'm needed.
I am open to whatever opportunity is available to visit Factor E Farm.
Are you interested in purchasing equipment from us to help bootstrap development?
No
Are you interested in bidding for consulting/design/prototyping work?
No
No, I am financially better situated to contribute my time and knowledge at this point.
Would you like to see yourself working with us on a full-time basis?
Yes, as stated above.
Are you interested in being part of the world's first, open source, resilient community? The GVCS is the preparatory step for the OSE Village Experiment – a 2 year, immersion experiment (2013-2014) for testing whether a real, thriving, modern-day prototype community of 200 people can be built on 200 acres using local resources and open access to information? We are looking for approximately 200 people to fill a diverse array of roles, according to the Social Contract that is being developed. This may be the boldest social experiment on earth - a pioneering community whose goal is to extend the index of possibilities regarding harmonious existence of humans, ecology, and technology.
I would definitely be open to discussing the possibility of joining this community and would like to hear more about the OSE vision for this project.