Danny K Log
Key Files
Purchases Week 1 - [4]. All weeks to 12 are in tabs.
September, 2014
September 22nd, 2014
Food/Supplies Spending Report will, finally, be fully updated by this evening. Entering receipts item by item was beginning to drive me a little crazy, so I will be filling in the last few receipts just as the amount actually spent on food or supplies. I think there are enough item by item receipts for future hospitality leaders to get a sense of the amount of food I purchased for the different amounts of people that were here throughout the summer.
September 2nd, 2014
Began work on compost tumbler.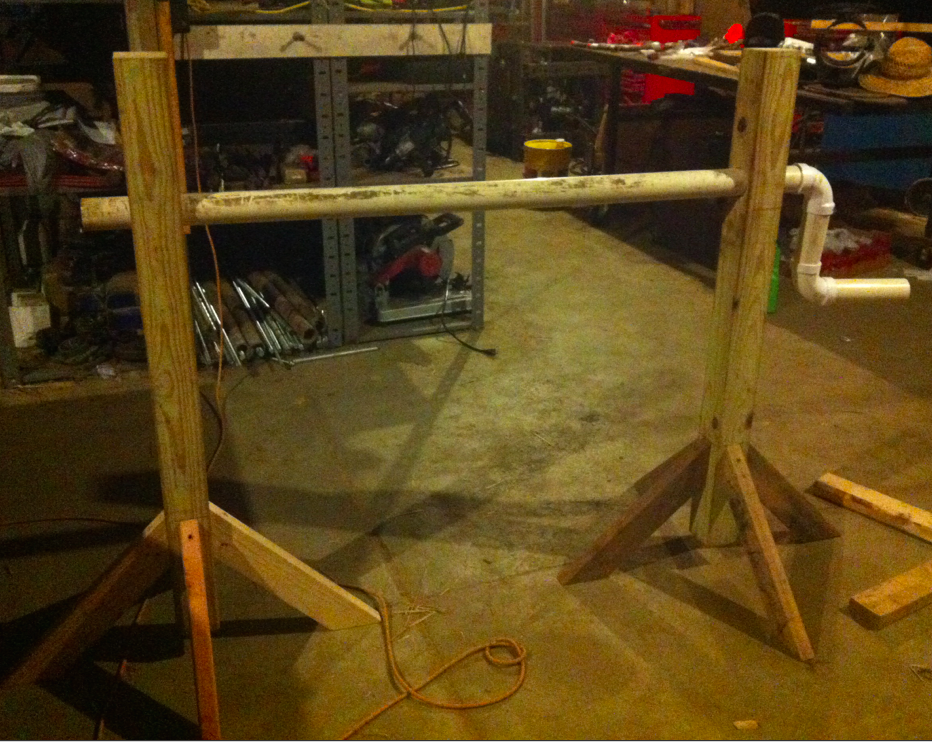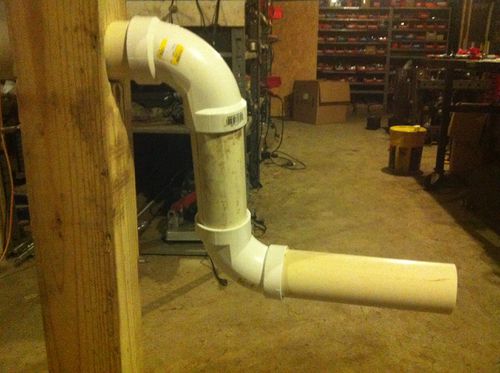 September 1st, 2014
Drew design for a rain barrel compost tumbler.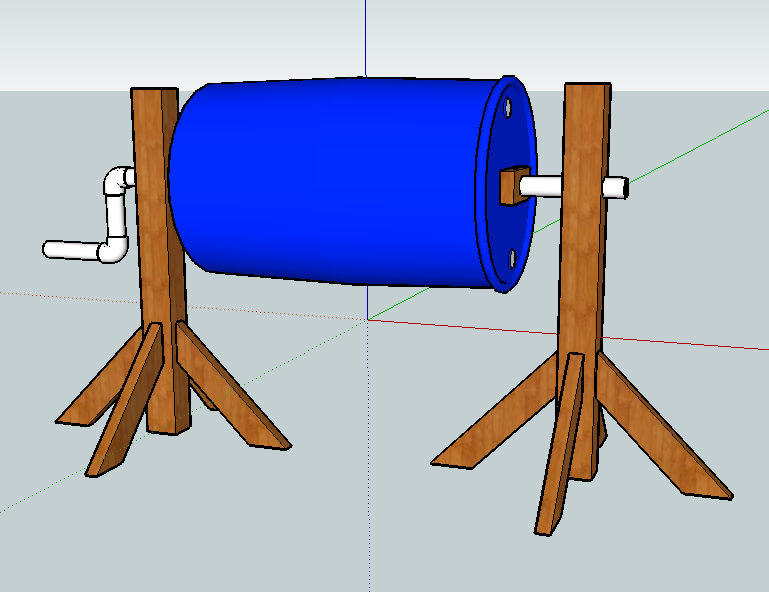 August 2014
August 25th, 2014
Power Cube Build Instructions Rough Draft
Power Cube Build Instructions - Presentation
Added layers and scenes for assembly to powercube sketchup file: File:PCSF vert.skp
August 19th, 2014
Created an experience survey for workshop leaders to fill out after working at Factor E.
Worked for a little while on powercube construction in the afternoon.
August 18th, 2014
Worked with the team in the morning to begin creating a module integration instruction set for MicroHouse 3.
August 9th - August 12th, 2014
Workshop, workshop, workshop. For the amount of troubles we faced in preparing for this workshop, things went very well. Everyone had enough to eat. All the interns really stepped up and helped make this workshop a great experience for participants.
August 8th, 2014
First full day of the workshop was a great success! Many bricks were made, and many carpentry modules were finished.
Food service went perfectly. There was enough food for everyone at each meal. After the workshop is over, I will update my food spending report, and mark on it the food that was purchased specifically to feed people during the workshop. This will help future hospitality leaders know how to successfully feed large workshop groups at Factor E Farm.
August 7th, 2014
After a few trips to the airport, everyone has arrived for the MicroHouse workshop. Things are off to a great start. Everyone seems excited to be here and ready to work hard.
August 6th,2014
Picked up early arrivals for MicroHouse workshop.
August 5th, 2014
Began planning and shopping for necessary food and supplies for the MicroHouse workshop. Hosting 50-60 people on site is going to an exciting challenge.
Attempted to press bricks through the night to make up for time lost to bad weather and mechanical difficulties with the tractors and brick press. The late night team did not have much sucess though. The brick press was plugged in improperly, and the controller was damaged. The tractor wheel key also broke. No bricks were made.
August 4th, 2014
Arranged arrival logistics for MicroHouse workshop participants.
August 3rd, 2014
MIcroCar workshop.
Continued interfacing with MicroHouse workshop participants.
August 2nd, 2014
MicroCar workshop.
August 1st
MicroCar workshop begins.
July 2014
July 31st, 2014
I was able to log into OSE's eventbrite page today, and I began connecting with workshop participants and preparing for their time at Factor E.
Prepared a welcome survey for workshop participants.
For a such a large workshop, connecting early and often with participants will be very important. Knowing their skills, experiences and interests before hand, I feel, will help things run much more smoothly once they're on site.
I also emailed MicroCar workshop participants about their arrival. This should have been done earlier. It's a small workshop so it will be ok, but in general the person handling community logistics should be connecting with workshop participants at least a week before participants intended arrival.
July 30th, 2014
The fridge is fixed. Despite my best 3d printing efforts, it was fixed with a store bought part. At least it's back in action.
July 29th, 2014
Another arrival. Mathias Haingartner got here tonight.
Made another attempt to 3D print the fridge part. No luck. The power seems to have gone out during the print and I ended up with a nice ball of plastic.
July 28th, 2014
New arrivals: Barak Wouk and Garrett Landon, both will be staying through the microhouse workshop.
July 27th, 2014
It's been a busy week since I last updated. We had many new arrivals - Eric Laukkanen, Jim Weber, Ellena Baum, Jose Quevado and Greg Buckland. Barak Wouk, an OSE true fan, and Garrett Landon will be arriving tomorrow.
All these new faces and new ideas have been great for the team. Morale is high and lots of projects are getting done. We finally finished the pool!
One of the hinges on the fridge door broke. I designed and 3D printed a replacement part with some success.
July 22nd, 2014
Shopped for foundation build materials with Curtis.
July 21st, 2014
Interviewed perspective DPV interns for September.
Updated [ https://docs.google.com/spreadsheets/d/1wOajwvvNYSamcFiurhFTglXX4Xoztu-F1-WJz0FTeJk/edit#gid=46230063 workshift assignments] for week 8
July 17th, 2014
Agreed to stay at Factor E through September, 2014.
July 16th, 2014
Ellena Baum and Jose Quevado will be arriving today. I'll be making two runs to the airport.
July 15th, 2014
Lots of new arrivals this week! Very exciting.
Sent out workshift assignments for Week 7.
Jim Weber and Eric Laukkannen will driving in tonight.
Brenna Fitzpatrick left today.
Held a short, community meeting.
During our check-ins, a lot of people discussed workshop safety and self awareness. Many people felt like there has not been enough awareness of how we use tools, and that we need to be more aware of keeping the people around us safe.
I noted that this same kind of self-awareness and regulation is necessary in the hablab. If you use a dish/pan/utensil, put it away.
Workshift is not meant to clean up other peoples messes. It's meant to maintain cleanliness baseline.
July 14th, 2014
Worked with Stephen W. on brick press frame assembly in the morning.
Shopped for food.
Updated Summer 2014 Food/Supplies Spending Report.
Connected with DPV participant Jose Quevado about his arrival. His plane was delayed and he will be arriving on the 16th, instead of the 15th.
July 13th, 2014
Picked up DPV participant Arif Kivanc Yilmaz from the airport.
Continued to practice welding, torching and metal cutting.
Best joint I've done so far:
Updated Summer 2014 Food/Supplies Spending Report. Still have some receipts to enter. Catching up though. Will be fully updated by tomorrow.
July 12th, 2014
Picked up DPV participant Charlie Feng.
Practiced welding and torching with Stephen and Brenna.
July 11th, 2014
Received an email from Shauna at openhatch.org. She told me the best way to reach their community is via twitter. I wrote a tweet for them to send out. Hopefully this connection to the open source community will generate some new workshop participants.
Tweeted from my personal account (@dwk1rk) "Come build an open source microhouse with Open Source Ecology. Amazing learning experience. All welcome 7/24-7/29 http://tinyurl.com/qap9dla"
Shauna retweeted my post via @openhatch
She tweeted at Mozilla Science and The Center for Open Science on twitter. She said that they would be great groups to connect with and would make necessary introductions if needed. I don't know what kind of relationship we have with either group at this point. Will do more research.
Post on @openhatch twitter feed:
Community Potluck: Overall, this event was a success. We had three adults and two young kids come visit the farm. They seemed interested in the work being done by OSE, and appeared to have an overall positive experience.
Young Makers: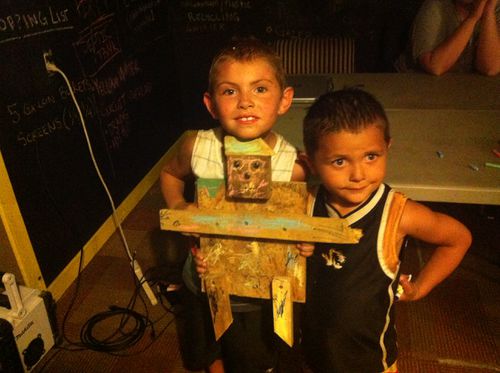 July 10th, 2014
Did some advertising for the microhouse workshop.
So far I've gotten 5 great responses to the mid-summer program survey.
Still having trouble getting people to fill out the exit survey. Only two responses on that so far. I will keep trying to gather as much data as possible on people's experiences at Factor E. I think the information will be very valuable to future programs out here.
Going to shop for food and supplies for the rest of this week and weekend. I'm realizing that I haven't updated my food/supplies spending report since early last week. Week 5 and Week 6 both need to be filled in. I need to do this tonight. Looking at my receipts though, we are well within our food budget for both weeks.
There seemed to be some excitement amongst Maysville residents to come out and see what our "mud huts" are all about so we will be hosting a community potluck tomorrow evening. Emily, Moriah and Victor put flyers up in town. I'll be getting a little bit of extra food/supplies for this event.
Update (Around 8:00pm CST, 7/10/2014): We've been the top post on the /r/opensource reddit page all day and there is a bit of conversation developing on the thread. Not all of it is particularly constructive.
Top Page of /r/opensource (8:29pm 7/10/2014)
Some comments on the thread in /r/opensource (7:52pm 7/10/2014)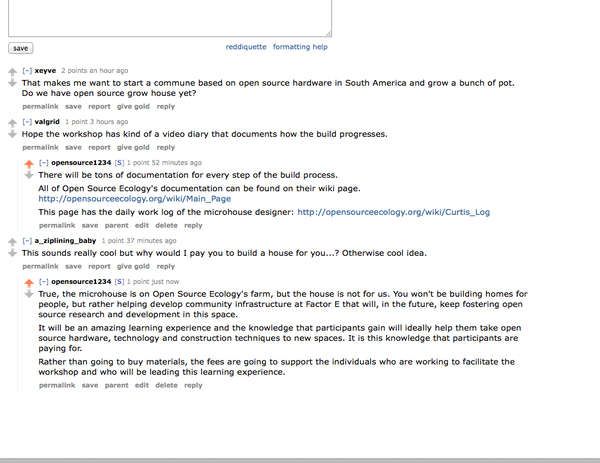 We're also doing well in the /r/tinyhouses subreddit (8:17pm 7/10/2014)
Reddit Publicity Update (10:32 CST, 7/10/2014): Continuing to get positive feedback on reddit. Still first on the front page of /r/opensource. Up to 31 "up votes" (similar to "likes" on Facebook). This means that our workshop information has been the most popular link in this forum all day. We are getting increasing traffic in /r/tinyhouses as well. We have 21 "up votes" on this page.
Discussion on the /r/tinyhouses thread (10:39 CST, 7/10/2014)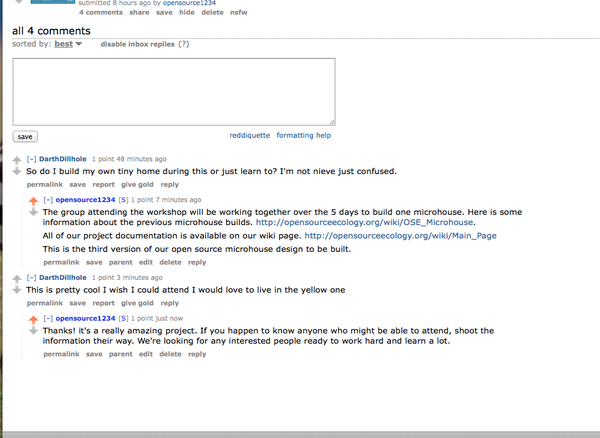 Update, 10:56pm CST: Connected with a KC area reddit user potentially interested in being involved in the Microhouse build. The fee appears to be the only thing discouraging their attendance. I sent them a personal message saying that there are potential opportunities for fee reductions if they are genuinely interested in being part of the workshop. Emailed Marcin to update him on this, and ask about scholarships/fee reductions.
Screenshot of Comment Thread (11:12pm CST, 7/10/2014):
Final Update, Going to Bed (11:41pm CST, 7/10/2014) Here are some conclusions I've drawn from using reddit as a means to promote this workshop.
In general, it seems that using these established online communities to spread the work about OSE projects and workshops is a great way to promote our work.
Based on the response of individuals in both /r/opensource and /r/tinyhouses, the two subreddits in which my post received the most attention, the fee for this workshop is pushing away potential participants. This is something to consider in the future.
Open Source Ecology should remain a part of these communities, and continue using this resource to spread its message to more interested parties worldwide.

Ending the day strong in both /r/opensource and /r/tinyhouses (11:46pm CST, 7/10/2014):
July 9th, 2014
Adjusted exit survey form to act as a kind of "mid-program" review. There was some interest amongst the DPV team for this kind of opportunity to discuss their experience so far. I haven't gotten as many responses as I would like on my exit survey, so I think it will be helpful to start this process of reflection and review earlier. The survey can be found here.
Picked up type-n cement from Mennard's to start pressing and testing stabilized earth bricks.
July 8th, 2014
Went to Kansas city to pick up supplies for this week's brick press build. Stopped at Mo-Kan for bolts and Harbor Freight for tools and workshop supplies.
Held a make-up community meeting. We did not have a chance to meet last week.
We discussed successes and improvements of the past week and two days. One consistent point people thought could be improved was the organization of the workshop. This will be a primary project tomorrow and in the days before the brick press build. It was agreed that future workshops and the upcoming mircohouse build will run much more smoothly with a bit more organization.
We also discussed the blog and its role in promoting OSE and developing the community involved in the project. We all agreed that the blog should be consistently working to encourage contribution, donation and involvement, but there was some disagreement as to the best way to do that. Some people, including myself, felt that there should be more space in the blog for personal reflection, not just objective listing of completing projects. I feel that personal reflection in the blog will help give a kind of "personal touch" to OSE and the programs at Factor E. It will help show the strong community that makes up this organization, and encourage contribution from interns who thrive on this kind of intentional community. I feel it would be good for all the interns, as well as any remote contributors, to be able to add to the blog and discuss the ways in which the work they do for OSE has been important to them. I feel that this project is about building machines, but also about the strong collaborative community that works to do this building and that the blog should reflect both of these facets.
Helped Curtis update his log to ensure strong documentation of Microhouse V3.
July 7th, 2014
Morning meeting with Marcin. Things seem to be on track, and are looking good as we begin preparing for the microhouse build.
Discussed intern payments. I will bemaking a stronger effort to make sure payments are received on time, in full.
July 4th, 2014
The power cube workshop started today. I spent the day preparing a 4th of July BBQ. The team had a very fun little party and, in my opinion, had some excellent bonding time. I've been really happy with the way the community has been coming together out here. It is exactly the kind of development I had hoped to see at Factor E this summer.
July 3rd, 2014
Picked up Yann Lischetti from the airport. Tom Griffing arrived to lead this weekend's power cube workshop.
July 2nd, 2014
A new oven arrived to replace the broken one in the hablab kitchen. The people who delivered it were unable to install it because we use propane and not natural gas. Using the instructions that came with the oven, Devin and I converted the oven to use propane, and installed it ourselves.
July 1st, 2014
Installed the new lid switch on the hablab washing machine. This solved the drainage problem.
June 2014
June 30th, 2014
DPV participant Graham Coffman left this morning, and Aidan Williamson and Michael Hess both arrived.
Last night (June 29th), the hablab washing machine stopped draining and water spilled out into the bathroom. After doing some research, and removing the outer cabinet from the machine, I found that the problem was most likely the machine's lid switch. I ordered a new lid switch and will install it tomorrow. Hopefully this resolves the issues.
Here is a link to the part information for future reference. This was a helpful guide for disassembling the machine, and this was a helpful video for learning how to test the lid switch.
June 23rd-27th, 2014
This has been quite a busy week, and I haven't had much of an opportunity to update my log. DPV participants Anthony Douglas, Juan Bennazar and Sam Turner all left, and workshop leader Curtis Calkins arrived to begin preparing for July's Microhouse workshop.
The biggest challenge this week has been dealing with plumbing issues, and the hablab's septic system. The leach field is too small for the amount of use it is getting, and the plumbing in the kitchen and bathroom sinks needed to be unclogged, and Devin Ward reworked the pipe system to help avoid future backups. I purchased new tubing and parts to begin the process of expanding the leach field.
These have been frustrating set backs, but they've also inspired an reinvigoration of my, and the team as a whole's, connection to the work we're all doing out here at Factor E. Our community meeting on Friday June 27th reflected this positive transition. It began in a place of frustration, with many team members expressing concern with the lack of traditional action to solve these infrastructural problems (why don't we call a contractor, why aren't we relying on the wisdom of experts). Through our discussion, and the many wise, interesting, inspiring comments of our team the conversation shifted. Our frustrations turned into a renewed sense of why it is so important to be enacting these experimental, new, exciting processes of community and civilization building. The team seemed to gain a new excitement for being involved in Open Source Ecology's work, and a new desire to play a role in moving this organization forward and helping it have the most success it possibly can in its goals. I know that that I felt my connection to this project pushed to new heights through this conversation. I left this meeting feeling ready and excited to tackle whatever problems may come in the next two months with a positive attitude and renewed determination to do the best work here I possibly can.
June 22nd, 2014
Today I worked on Hospitality Manual Presentation. I worked on the slides describing workshifts and the jobs that I used to keep the hablab clean this summer. I also added slides describing weekly house meetings and their roll in maintaining a cooperative, successful community at Factor E. I finished the slide about community agreements, and updated the table of contents. Here is the presentation in its entirety. It is not complete and will continue to be developed throughout the rest of the summer.
I also updated the map of room assignments in the hablab to reflect the current rooming arrangement [10].
Workshift assignments for week 4 were arranged with an added "Hablab Swarm Clean" shift that everyone will participate in tonight.
June 21st, 2014
Shopped for food for week 4 [11].
Summer DPV participant Edo Licina arrived at Factor E.
I also wrote a short exit survey that can be sent out to people after they leave a DPV, workshop or other program at Factor E. The questions in the survey encourage participants to reflect on their time working with Open Source Ecology and, I feel, will be incredibly valuable in helping make the programs offered at Factor E the most successful they can possibly be. The survey can be viewed here.
June 20th, 2014
Cleaned and organized bathroom, back storage area and 3DPrinter area.
Worked with Brenna and Gabriel on making screen printing supplies. We made a screen and worked on a tool for spreading emulsion on the screen.
June 19th, 2014
Cleaned and organized the hablab living room, kitchen and 3DPrinter area. I am planning on tackling the bathroom and back storage room, which has gotten very messy since its initial organization a few weeks ago, tomorrow.
June 18th, 2014
Helped stain the solar cabin.
June 16th, 2014
Prepared and packed food and supplies for the trip to the brick press workshop in Wisconsin. Here is a list of food packed for this camping trip for any future OSE field trips. I decided not to go on this trip in order to increase space in the van, and so that I could assist in projects at Factor E. I also wanted to spend some time organizing and cleaning the hablab so that it can be the most functional space possible during the rest of the summer.
Went with DPV participants Brenna Fitzpatrick, Jeff Adams and Gabriel Elkind to purchase more carsiding for the solar cabin, as well as stain that will be used for the cabin and the deck of the pool once it is constructed.
June 15th, 2014
Shopped for food and supplies for Monday's DPV trip to the brick press build workshop in Wisconsin [12].
Factor E now has three tents (2x 2 person, 1x 4 person), two coolers and a two burner camping stove.
June 14th, 2014
Picked up DPV participant Victor Macul from the airport.
Worked on Summer 2014 Recipe Book.
June 13th, 2014
Facilitated second community meeting of 2014. Checked in about successes of week two, and things we're looking forward to in the following week. I led a discussion about work shift chores, and made sure everyone was aware of specifics of certain chores. We talked about some ways to increase sanitation in the hablab in order to help fight off some of the sicknesses that have been going around. Based on this discussion with DPV participants, it was decided to add one more living room clean per week, and to break up trash and compost clean into separate shifts so that the compost bin can be cleaned more often. Here are the notes I had for specific shifts:
Living room organize/ vacuum: This task involves vacuuming the floor, putting misplaced items in their proper locations, and organizing things on the table tops.
When cleaning the kitchen, use buckets and sponge under sink to first wash counters with simple green (or any other degreaser available), and then to wash the counters, and any other commonly touched surfaces with bleach and water.
When cleaning the bathroom, use the larger bucket and sponge under the sink to clean first with simple green and water, and then with bleach and water. The counters, showers, toilets and all commonly touched surfaces should be cleaned in this way.
Minutes from the meeting were recorded by Stephen Whiting and can be found here [ It was a great meeting and an excellent end to week two.
June 12th, 2014
Shopped for food. Updated Summer 2014 Food Spending Report.
June 11th, 2014
Contacted references for potential DPV participant.
Helped briefly to measure and prepare the foundation for the hexagonal gazebo outside the hablab. Project was put on hold due to the hexyurt roof's lack of structural integrity.
June 10th, 2014
Connected with summer DPV participant Victor Macul about his Factor E arrival date.
Updated summer food spending report with most recent purchases [13].
Went with Marcin to pick up the new OSE van that will be used to take DPV participants to June's brick press workshop in Wisconsin.
Picked up summer DPV participant Guillaume Coudray from Kansas City airport.
June 9th, 2014
Met with Marcin. Discussed projects from DPV week one, food and supplies budget, situation with our search for a 15 passenger van, and updated Hospitality Manual Presentation, adding a section about workshift and a table of contents.
Shopped for food and updated food spending report [14].
Connected with Summer DPV participants Edo Licina, Jose Quevado and Craig Calkins about their arrivals at Factor E.
June 8th, 2014
Picked up DPV participant Greg Buckland from the airport.
Helped build hablab cob oven
June 6th, 2014
Held and facilitated the first Summer 2014 community council meeting. Discussed community agreements, adjustments to the daily work schedule, meal times, collaborating with the local community, planning a community potluck. See this google doc for minutes of the meeting. They were recorded by DPV participant Sam Turner [15].
Updated Summer 2014 recipe book [16].
Added page to Hospitality Manual Presentation about Community Agreements [17].
June 5th, 2014
Refilled propane tanks.
June 4th, 2014
Shopped for food [18]
Talked to Marcin about moving the community meeting from Sunday to Friday (June 6th).
June 3rd, 2014
Assigned work shifts to summer DPV participants [19].
Assisted in hablab raised bed construction.
Continued researching 15 person vans. Contacted Jim at Mid America Coach in KC regarding vans and bussses.
Connected with summer DPV participants regarding a group meeting set for Sunday June 8, and their experience at Factor E so far.
June 2nd, 2014
Broke cleaning + organizing tasks into distinct work shifts [20]. Summer DPV partipants will be delegated 3 hours worth of work shifts a week.
Researched 15 person vans, emailed and called sellers found online.
Updated hospitality manual presentation. Added sections about food preparation and purchasing [21]. Created a recipe book on google docs that I added to the Hospitality manual. This will be where the meals and recipes prepared each day will be logged so that future hospitality leaders can use it for reference.[22].
June 1st, 2014
Organized airport pickups [23]
Worked on food spending report [24] - more to input still.
May 2014
May 31st, 2014
Met with Marcin:
Discussed room assignments [25], purchasing new oven and finding a van for 15 people.
Prepared rooms for summer DPV participants' arrivals.
Worked on organizing shelves in back of hablab. Inventoried in Hospitality Manual Presentation [26]
Shopped for food [27]
May 30th, 2014
Arrived at Factor E