Dylan Allen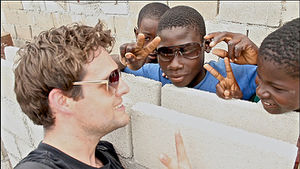 Team Culturing Information
last updated: 16. September, 2011
WHO are you?
Location (city, country) - Kansas City, MO
Contact Information (email, phone, Skype) -
DylanAllen9 (at) gmail (dot) com
407 (dot) 719 (dot) 7686
ProfileHi, I'm Dylan. I am a freelance filmmaker. This means that I produce, direct, shoot & photograph, light, mic, edit and market projects of all sizes and scope. Some of my clients have included : The Nazarene Church, One Heart Many Hands, The Missouri State Government, National Adoption Day, New Life Children's Home, Ubeea.com Meals Ready to Eat Inc., The Orlando Film Festival, Cinelease Inc., ViewbyVideo.net, Future Business Leaders of America, AACS Fashion Show in Miami, Tuskegee Airmen, Taste of Compassion, Valencia Community College, J Star Entertainment, Rugged Entertainment, Just Another Day, Help Portrait Orlando and many, many others. I have also worked as a camera operator / editor / grip & electric / Pa for these companies : American Idol, America's Got Talent, Treme, A Message of Hope, KC Cagefighting, WWE, Multi-Media Technologies, DigitalFirestarter.com, Discovery Channel, U-News newspaper, U.S. Soccer and more.

Producer / Director Experience
National Adoption Day
I produced the media content for the National Adoption Day program for the Missouri State Government. Ubeea.com I produced interactive WebTv shows including : I Can Act, The World, Extreme, and many more. Meals Ready to Eat in Haiti I travelled to Port au Prince, Haiti with the Meals Ready to Eat corporation to document, in multiple video formats, the company giving aid to the Haitian people. One Heart Many Hands
I produced the media content for the Nazarene Church while they performed charity work in the Orlando Community. The video played for 30,000 Nazarenes at the Orlando Convention Center. There wasn't a dry eye in the house.
Referrals
Ralph Clemente, DGA, 1.407.247.8387
Dan Springin, DGA, 407.310.3905
Peter Spirer, DGA, 323.896.7727
Matt Zusser, Cinelease - 818.292.7089
WHY are you motivated to support/develop this work?
Do you endorse open source culture?
Absolutely. I believe open source culture is the next wave of evolution.
Why are you interested in collaborating with us?
I'm interested in collaborating with you because I find what you're doing very, very valuable. I went to Haiti after the earthquake and saw firsthand what famine and starvation is. If you can put the tools that lead to a self sustaining community in someone's hand, I'm all for it.
I think it'd be really valuable to do videos where the technologies are taken to impoverished communities and shown to be successful.
How do you think that the GVCS can address pressing world issues?
I think they can address pressing world issues by giving the people the tools to empower themselves and provide for themselves without government assistance.
What should happen so that you become more involved with the project?
I'd like to meet the people running the GVCS and see things on the ground floor and help create the instructional videos and more.
What are you missing in the project?
Maybe smaller things, a tractor is a little daunting.
What are your suggestions for improvement of the project?
I'd need more information on the project before I can offer any advice.
WHAT
List all of your skills in these areas: Communications - Organizational - Computer Support - Finances - Design - Natural Building - Electronics - Automation - Metallurgy - Engineering - Fabrication - Agriculture - Energy - Architecture - Video/Graphics/Art - PR/Marketing - Education - Construction - Industry - CNC - Chemistry - Product Design - Other
Video - video production including writing, shooting, lighting, audio, editing. Marketing - strong word of mouth marketer and grassroots organizer
How have you already contributed to the project?
I attended the TED talk at the Nelson and bought tickets for me friends to go. We each told a bunch of people so we're helping spread the word.
HOW can you help?
How are you interested in contributing to the work of GVCS development?
I'm interested in helping by producing instructional videos, commercials, interviews, and marketing consultation. I think it'd be really valuable to take the technologies to other countries and do video segments on how it can change their culture and community.
Can you volunteer to work with us, and if so, how many hours per week?
I can, I can volunteer up to 10 hours a week right now.
Are you interested in working with us for pay? If so, what services can you offer, and what is your hourly or per-project rate?
I am, I can offer video production for instructional videos, commercials, interviews, marketing and brand storytelling to help get people emotionally connected with the OSE.
I am for the future, but not right now. I'm just now getting over a 3 year illness from toxic black mold syndrome.
Are you interested in purchasing equipment from us to help bootstrap development?
Possibly.
Are you interested in bidding for consulting/design/prototyping work?
No.
I'm not yet, but I fully support the 1,000 true fan model. I am a big proponent of it and would love to be one for the OSE but I'm strapped for cash at the moment.
Would you like to see yourself working with us on a full-time basis?
Yes, I would love to be involved with your organization on a full time basis.
Are you interested in using the technologies that we are developing directly?
Yes, definitely and I have several friends who are urban organic farmers that could put your technologies to use to.
Are you interested in being part of the world's first, open source, resilient community? The GVCS is the preparatory step for the OSE Village Experiment - a 2 year, immersion experiment (2013-2014) for testing whether a real, thriving, modern-day prototype community of 200 people can be built on 200 acres using local resources and open access to information? We are looking for approximately 200 people to fill a diverse array of roles, according to the Social Contract that is being developed. This may be the boldest social experiment on earth - a pioneering community whose goal is to extend the index of possibilities regarding harmonious existence of humans, ecology, and technology - as a beacon of light to benefit of all people on Earth.
Yes, I am interested.