Elifarley Cruz
Main > IT Infrastructure > IT team
---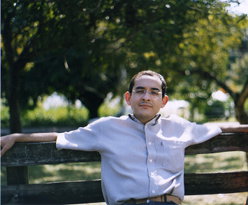 Team Culturing Information
WHO are you?
Name/Nationality/Ethnicity - Elifarley Cruz, Brazilian
Location – what is your city and country? - Rio de Janeiro - Brazil
Contact Information – my first name@opensourceecology.org, Skype: my first name
Introductory Video-
Resume/CV – See LinkedIn page, open source contributions
Hobbies and Pastimes- Running, programming in Python and Java, traveling...
WHY are you motivated to support/develop this work?
Do you endorse open source culture?
Certainly! I've contributed to some open source software projects, and I always champion the use of FLOSS wherever I go. I think the FLOSS culture is spreading to other areas of our society, and I hope there's no going back, since everyone will benefit from it.
Why are you interested in this work?
I found out about Open Source Ecology after watching the Zeitgeist Addendum movie. That movie sparkled my curiosity and I started a quest to understand the problems and possible solutions to our society's needs.
In this quest, I found out some very exciting ideas, groups and people, like the Transition Towns movement (concerned with peak oil), The Venus Project and RBE Foundation (moneyless, cybernated society), Common Good Bank (alternative currency system), RepRap (self-replicating, open source 3D printer), the P2P Foundation, and the OSE site, to name a few.
You may have noticed that all these projects and movements seem to have a common goal, they all seem to propose that we forget all artificial limitations (and scarcity) and we all seek union to improve our lives and sustainability. Without artificial limitations, we all can have much much better lives. That's the message I can hear all these people and movements resounding.
I'd say that The Venus Project champions ideas, whereas OSE materializes them, performing concrete actions that will move our world forward.
I'm confident that our small contributions to this cause will add up and have a tremendous positive result for everybody.
Are you interested in teaching about the GVCS?*
Yes.
Are you interested in economic relocalization possibilities arising from the GVCS?
Yes, I think the GVCS can bring economic stability and autonomy.
Do you want to use the GVCS technologies yourself? Do you want to build them yourself?
Yes, I'd like to help these technologies get deployed in my country (Brazil).
Are you interested in starting up enterprise using the GVCS technologies? Are you interested in having the GVCS technologies fabricated by your local custom fabricator?
I'm interested in helping that happen in Brazil.
Are you interested in applying the GVCS to third world development? To redevelopment of crisis areas? To development of derelict areas in the developed world?
Yes, in Latin America and specially in Brazil.
Are you interested in starting up Industry 2.0 flexible fabrication enterprises for your local community, by drawing from a global repository of freely down-loadable designs and fabricating using open source fabrication equipment?
Not directly, but I'd like to act as a facilitator for this.
Are you interested in the potential of the GVCS for developing local food systems?
Yes! This is extremely important.
Are you interested in doing academic studies/papers, publishing books, or doing other analysis of our efforts?
Nope.
Are you interested in financial investment opportunities arising from our work?
Not particularly.
Are you interested in the distributive economic aspects of our work, and if so, how do you see this playing out?
Yes. I see the GVCS technologies as a real game-changer in the near future.
Are you interested in building renewable energy production facilities based on open hardware (solar concentrator electric, wind, biomass power)? Are you interested in building resilient communities based on access to the GVCS?
Again, I'd like to act as a facilitator, helping local communities achieve that.
Are you interested in creating a bug-out hut using GVCS technologies?
What is it?
How do you think that the GVCS can help alleviate the instabilities of global monetary systems?
How do you think that the GVCS can address issues related to resource conflicts? How do you think that the GVCS can address issues of overpopulatoin? How do you think that the GVCS can address issues of resource depletion and environmental degradation?
I think all these issues will be more easily dealt with once we localize production.
WHAT
What have you already contributed to the OSE project? (technical contributions, blogging about us, financial support, organizing events, translations, interviews, video editing, publications, publicity work, behind-the-scenes work, CAD work, wiki contributions, computer support, etc)
I'm overseeing the web site infrastructure, like automated backups and software installation, configuration and updates (WikiMedia, WordPress, Vanilla Forums, survey, Drupal, CiviCRM). I also contribute to the wiki by creating and inter-linking articles, removing spammers and spam pages. Sometimes I post OSE-related items on my twitter, Google Buzz and Facebook accounts.
Communications
I can assist in forum management, wiki editing, CRM management...
Organizational
I am involved in networking, and other support roles
Computer Support
I'm an experienced software developer (Java, Python, JavaScript, shell scripting, SQL ...) and long-time Linux user. I feel right at home with tools like grep, find, tar, rsync, ssh, screen, Mercurial, SVN, MySQL, and so on.
Design
I am familiar with Photoshop and GIMP.
HOW can you help?
How are you interested in contributing to the work of GVCS development?
By overseeing the IT architecture and operations, doing some translations, contacting people in Brazil, Latin America and other countries, and perhaps performing presentations, giving workshops, courses...
Can you volunteer to work with us, and if so, how many hours per week?
I've been contributing for some time, about 10 hours per week.
Are you interested in working with us for pay? If so, what services can you offer, and what is your hourly or per-project rate?
Are you interested in purchasing equipment from us to help bootstrap development?
Are you interested in bidding for consulting/design/prototyping work?
Not right now.
Are you a True Fan? If not, why not?
Yep.
Would you like to see yourself working with us on a full-time basis?
Yes.
Are you interested in using the technologies that we are developing directly?
Yes.
Are you interested in being part of the world's first, open source, resilient community? The GVCS is the preparatory step for the OSE Village Experiment – a 2 year, immersion experiment (2013-2014) for testing whether a real, thriving, modern-day prototype community of 200 people can be built on 200 acres using local resources and open access to information? We are looking for approximately 200 people to fill a diverse array of roles, according to the Social Contract that is being developed. This may be the boldest social experiment on earth - a pioneering community whose goal is to extend the index of possibilities regarding harmonious existence of humans, ecology, and technology – as a beacon of light to benefit of all people on Earth.
I'd like to make it happen in my country, after the first community in the USA.
Other