Feb. 28 - 2009, Saturday - Plant Propagation Workshop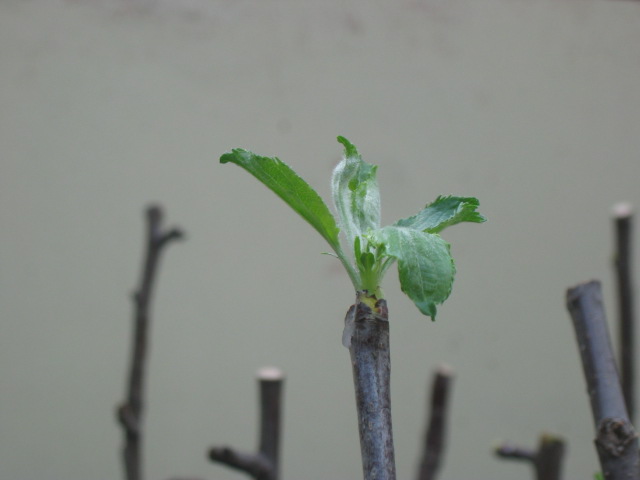 Image: v-grafted apples starting to leaf out at Factor e Farm, spring, 2007. Graft was performed on March 1.
Introduction
Factor e Farm is offering its first plant propagation workshop. This is a half-day workshop where you will learn how to propagate raspberries from root cuttings, as well as to graft apple, pear, peach, and plum fruit trees on rootstocks. We provide the materials, you bring an open mind. We will also demonstrate how to make an open source v-grafting tool, which you can take home with you. You can also take the propagated plants home with you, or leave them for us to plant out at Factor e Farm.
Picture of a professional grafting tool: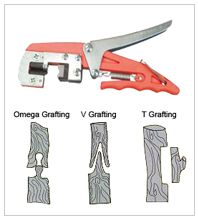 Our tool will be a simplified version made out of wood, with a v-cutting blade.
Details
Time: Noon to 4 PM, Saturday, February 28, 2009
Place: Factor e Farm in Maysville, Missouri, 1 hour north of Kansas City
Admission: Free to True Fans - see blog post about the 1000 True Fans - 1000 Global Villages Campaign. $40 admission for others. Note: you may sign up to be a True Fan any time prior to the workshop to obtain free admission. Also, iscounts are offered to supporters and other friends of Factor e Farm on a case-by-case basis, such that the economic barrier is eliminated for those who are interested in the workshop.
Signing Up
To sign up, email us at opensourceecology at gmail dot com. Tell us your name and that you're interested in the Plaant Propagation Workshop. You may also call us at 206.202.3387 and leave a message with your name and best time to call. We require payment in advance for people who are not members of the True Fans group, in order to assure your commitment, and so we can prepare the correct amount of materials. You may send payment via PayPal by going to our Donations page and making a one-time donation, or by check or money order. We must receive payment prior to the workshop. You may also sign up to the 1000 True Fans campaign at the same page. If you are signing up to the 1000 True Fans campaign, please send us a separate email to let us know that you'd like to attend the workshop. If you have any questions, please don't hesitate to email us.
More Information
See the blog post regarding our work on local food systems.
Open Source Grafting Tool
One can pay about $60 for the grafting tool, or one can fabricate an equivalent.
One way to do it is to fabricate the blade, and attach it to a drill press mounted holder, and come up with ready grafting capacity for a couple of dollars in materials. (Video forthcoming a few days from 2.22.09)
Why? The grafting tool above is very effective, and it beats a knife in terms of success. We got about 95% success for 50 apple grafts two years ago using the tool.
If one can't fabricate the blades, one can purchase them from any place that sells the grafting tool for about $20.
Signed Up
Sarah S
Steve Mann
Toby Grotz and Kate Bradley
(4 above are coming together)
Tom Lindsey - True Fan
Ted John - True Fan
John and Lisa Winter
Team Picture