First Aid Kit
Urgency Care
Short of ER or regular doctor: go to ex Mosaic Urgent Care. https://www.mymosaiclifecare.org/Main/Location/st-joseph-mo/mosaic-life-care-at-st.-joseph/Urgent-Care/
From Jeff Frazer, EMT in Maysville MO
EMT kit -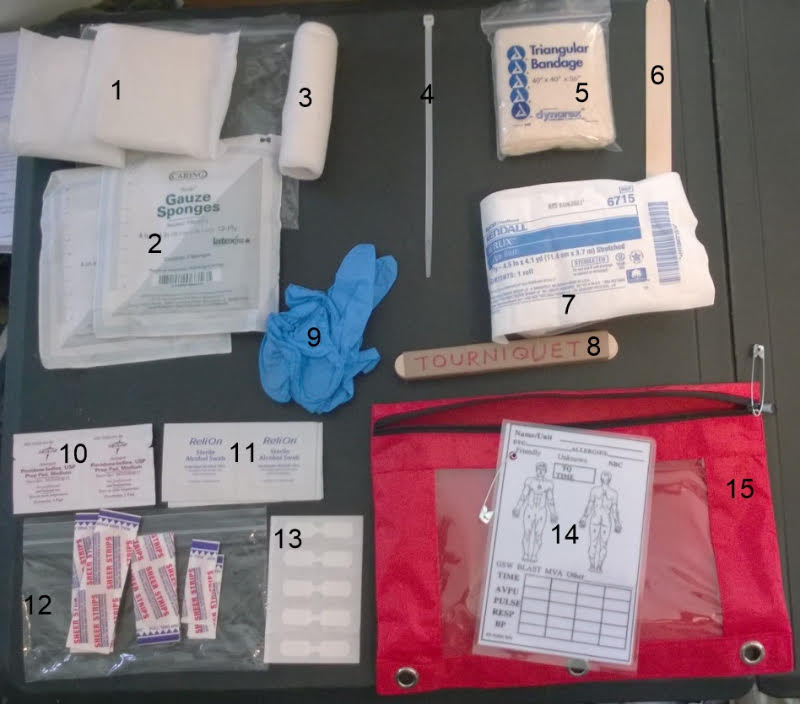 Maxipads x 2: Wound Dressing or for its intended purpose.
4x4 Sterile Gauze x 2: Wound Dressing
4 Inch Non-Sterile Roller Gauze: Wound Bandage (Combine item 1, 2, 3 in plastic bag)
Zip Tie: To hold tourniquet windlass rod in place or attach casualty card to patient
Triangular Bandage: Use for a sling, a pressure dressing or tourniquet
Tongue Depressor: Finger splint or visualizing the airway
Sterile Roller Gauze: Wound dressing, bandage, or for packing wounds. As an alternative, a roll of coban or an ace wrap could be included instead.
Tourniquet Windlass Rod: 8 tongue depressors taped together for tightening a tourniquet
Nitrile Gloves: 1 pair.
Providone Iodine Pads x 2: For wound cleaning or water purification
Alcohol Prep Pads x 6: For wound cleaning or fire starting
Bandaid Assortment x 20: For protecting small cuts or as tape for splints
Butterfly Closure x 5: Wound closure
Casualty Card: To record treatment given, as well as medical history
Red Zipper Pouch: To contain items. Safety Pin attached to zipper to ease use under stress.
Liquid:
Iodine - disinfectant
Rubbing alcohol - disinfectant
Hydrogen peroxide - oxidizer
Eyewash bottle
From Yoonseo
Latex-Free Powder-Free Exam-Quality Disposable Gloves 200pce
Case Studies
Marcin of sweet Maysville, Missouri in the United States
Case: stepped on a screw which went in about an inch. One week later after a trip to Spain, the subject's foot is swollen:
Antibiotics
Vitamin C, A, D (10000 units), A, and K
See Also