Gabi LeBlanc Log
May, 2014
5.8.14
Roxbury Farm deserves a big thank you for publishing their crop plans and developing greater efficiency at producing a 100-person CSA. Biodynamics, crop plans, seeding and planting calendars, soil and plant health, whole farm systems, it's all there under the tab "information for farmers."
April, 2014
4.6.14
Waterwheel transplanter up and running, saved my back a heap already. All the storage onions planted in half a day, and the brassicas this coming week.
Efficiency: 3 people planted 7168 transplants in 5 hours vs. 4 people hand planting 4200 transplants in 5 hours = 2389 plants per person vs 1050 plants per person hand planting. The waterwheel transplanter increases efficiency by %227.
March, 2014
3.2.14
The waterwheel transplanter is nearly finished! Put on the last bit of paint yesterday. Used Rustoleum rusty metal primer because we used salvaged materials.
Things to be done:
Seat assembly
Testing the plumbing (when it's not freezing cold)
Documentation has been gathered in Farmhack
December, 2013
12.31.13
Bienvenidos al fin del ano 2013!
Aquí están los precios de las piezas metales cortadas: The 1/8 thick set would be $200.00 lot charge The 3/16 thick set would be $260.00 lot charge
12.14.13
Check out the Global Forests Map to track re/deforestation on the global scale.
Cabbage breath=Colewort breath
12.11.13
Waterwheel Transplanter Bill of Materials
12.4.13
Mending clothes, making jam.
Enjoyed this interview regarding Machinery with Gandhi, found here:
"Question : 'Then you are fighting not against machinery as such, but against its abuses which are so much in evidence today.'
I would unhesitatingly say 'yes'; but I would add that scientific truths and discoveries should first of all cease to be mere instruments of greed. Then labourers will not be over-worked and machinery, instead of becoming a hindrance, will be a help. I am aiming, not at eradication of all machinery, but limitation.
Question : 'When logically argued out, that would seem to imply that all complicated power-driven machinery should go.'
It might have to go but I must make one thing clear. The supreme consideration is man. The machine should not tend to make atrophied the limbs of man. For instance, I would make intelligent exceptions. Take the case of the Singer Sewing Machine. It is one of the few useful things ever invented, and there is a romance about the device itself. Singer saw his wife labouring over the tedious process of sewing and seaming with her own hands, and simply out of his love for her he devised the Sewing Machine in order to save her from unnecessary labour. He, however, saved not only her labour but also the labour of everyone who could purchase a sewing machine.
Question : 'But in that case there would have to be a factory for making these Singer Sewing Machines, and it would have to contain power-driven machinery of ordinary type.'
Yes, but I am socialist enough to say that such factories should be nationalized, or State-controlled. They ought only to be working under the most attractive and ideal conditions, not for profit, but for the benefit of humanity, love taking the place of greed as the motive. This mad rush for wealth must cease. The saving of labour of the individual should be the object, and honest humanitarian consideration, and not greed, the motive. Replace greed by love and everything, will come right. (13-11-1924) "
12.2.13
Pellet stove, Water Wheel Transplanter
12.1.13
I am planning an independent farming project and want to document the process.
"As a bee seeks nectar from all kinds of flowers, seek teachings everywhere. Like a deer that finds a quiet place to graze, seek seclusion to digest all that you have gathered. Like a mad one beyond all limits, go where you please and live like a lion, completely free of all fear." — dzogchen tantra
A site I began consulting for needs someone to manage it. Someone with lots of free time and willingness to work without motorized equipment on a very small scale. Someone who knows polyculture and how to make it work on a property that is eased to conserve wetlands habitat. There are a few acres that don't flood and used to be in agricultural production. For this part of the land I am planning: 1. consultation for a half-acre christmas tree planting 2. orchard expansion with cost-share from the Philadelphia Orchard Project 3. micro farm/community garden to grow produce to be sold at the bryn mawr farmer's market, or at a stand that we set up on the roadside
cash crops: microgreens, garlic, early tomatoes
market crops: csa type veggies
June, 2013
6.5.13
Read this and it's very interesting
Apologies for the long silence. Here's a short story:
As per Marcin's request, I left FeF in January for a working vacation to write an agricultural plan for FeF's 2013 season onwards. My intended return was to be determined by Marcin when he approved my plan. Plans changed, and in March I began an apprenticeship at an organic farm that produces vegetables, various tree fruits, and soft fruits. I am working primarily with the perennials and am always learning.
I see that the site got cleaned up. Stoked that old friends are still doing what they love, in all the different places we ended up.
Excited for the future, G
P.S. For the lovers of GoodCow, she birthed a GoodHeifer, right on time, under the tender care of her dairyman Teddy.
December, 2012
12.29.12
So my computer seems to be on its very last leg. Busy planning the funeral. Lucky Yoonseo had a spare laptop he was trying to get rid of. Cheers, Dad, your daughter is now a Linux user; so far I dig it. It even has a number pad, which made this mind-numbing spreadsheet much easier to compile:
FYI, we WILL be eating things besides sweet potatoes and yogurt. Promise. Also, Geoff Lawton made a good video. It's long and is the epitome of permaporn. It's possible that you have to join his mailing list to watch it, so do that if it pleases.

12.27.12
This is what I'll be working on for a while.
12.20.12
Anybody heard of Stelarc? His third hand caught my attention. I think he and Yoonseo would have lots to talk about:
12.19.12
Parker's gone for the holidays and left all his chicks in my care. It's a real party! One of them had an eye infection so I dripped coffee ground juice (strained coffee grounds through a napkin) in its eye (highly recommended home remedy) and put some neosporin on it a couple times and it's looking much better and doesn't itch it any more. Turnips are rampant, humongous and delicious.
Done:
Fixed greenhouse roof just in time. Made it extra extra sturdy, used roof tin to replace the broken glazing. A blizzard is coming in from Colorado.
Sent some postal holiday cheer to the folks out west
Production was yesterday. Built the hopper and shaker assemblies. Scouted odd fittings for the hydraulic, found exactly what I needed (1/4" to 1/2" bushing) against all odds (it sitting alone on a random shelf away from all the other hydraulic fittings). Cooked dinner.
To do:
Waiting on parts to deploy water

Horto Domi hookup and insulation

Finish keyline plowing
Build a new pasture for Goodcow
Weedwack and amend garden area from 2009
Get the greenhouse planted at max capacity. Kale and chard for days.
Things I'd like to do given infinite time:
Finish flashing on the house
Finish burying the insulation
Frame skylights in Hablab
Finish plastering the dining room wall (and all the other bits in between the bedrooms)
Finish plaster spraying the workshop
Fill that 2" gap around the top of the workshop walls
Read my book
Paint a mural
12.17.12
Water:
Water-resistant splice kits applied to pump wires. Heat-shrink plastic is weird, toxic fun.
Got the pressure tank in the hole, looks like we need an elbow instead of a straight barb, so we ordered that
Yoonseo recommends fuses to make maintenance and troubleshooting less nightmarish, so we ordered fuse holders
Goodcow:
Extended water line for grazing her farther up the hill
Computer:
Sourced a milk bucket, teat cups, and pulsator for the dairy milker
Eric, happy volunteer for the CEB run, showed me this website. It's an agricultural social networking site, so I made an account for myself. Doubt other folks in this region would use it, but I figured I might as well.
To Do:
Put on elbow when it gets here, wire in the fuse
Test, deploy, document off-grid water
Fix greenhouse roof
12.16.12
Intrigued by this. Added it to the conceptual notes for the Dairy Milker
Also, this caught my attention. Dare I say it, land fills are going to be gold mines in the near future.
12.13.12
Really gorgeous day today. Chicks are graduating to spending nights in the coop, and Parker hatched many many more. Mum sent me a stupendous package full of useful things: seeds, another blanket, my carders, the list goes on. Thanks Ma! Peas are coming up in the greenhouse. Supposed to rain tomorrow night, OPA!
Done:
helped Tristan move the CEB and a table for the decon/recon video
wired a 230V plug for the water electrical
got the well wires through a conduit after seeking Andy's advice (thanks Andy!)
picked up some appropriately sized terminal rings for wiring the pressure switch
made couplers for the conduit lengths
learned how to solder! Thanks Yoonseo! Got the terminal rings on the wire, and tomorrow I can hook up the switch.
sealed up the conduit couplers (scrap rubber, hose clamps)
soldered pump wire terminal rings
To do:
wire the pressure switch and well pump (and document the splice connector application)
install the pressure tank
properly document our off grid water situation and the steps I took
finish up plowing (PC wouldn't start from the cold, but it's getting warmer so hopefully I can get it going tomorrow or Saturday)
OH, and Graham showed me something that will seriously upgrade the site map. So I'll be working on that on some cold night. Check-uh-check-check it out:
12.10.12
Done:
Researched conduit methods for wiring well pump
Flags out and ready for plowing
Wrote a rough draft for my contract
Spoke with Kathleen Sharp, an author, about OSE
To do:
New pasture for Goodcow
Plow those new flags
House pump wires in a way that is inexpensive, water resistant, and ideally uses materials we already have on-site. Some sources recommend PVC, and we have a bunch of garden hose. Not sure what I'll be using yet.
12.4.12
Done:
Powercube wiring/welding/filter installation for Tristan's video
Deer hide processing with instructionals
To do:
Upload other video
Flag and plow
Wire pressure tank
12.3.12
Done:
Kale Planted
Subsoil Plow mounted and implemented
Consultation on milking machine: pulsator specs, sources, material reviews, etc. with good friends Dr. D and Doug
To do:
More flagging, more plowing
Still need to wire the pressure tank and take photos
November, 2012
11.30.12
I have a thing for Charlie
Done:
Yet to be done:
Keyline plowing
Plant more kale...moooore kaaaaale
Wire pressure tank and pump with photos
11.29.12
Done:
New pasture for Goodcow
New waterline from the greenhouse to the Northwest corner
Kombucha is delicious, added allspice this time and it tastes like pumpkin according to Jacob
Found measuring stick
Battery mounts welded on the powercube
Got splice kit and wires for well pump
Put on fittings, measured well's depth (33' to silt, water line at 13' above silt) and cut/fitted pipe for pump to pitless
Forgot to mention alpine strawberry propagation earlier, they are spread across the eastern edge of the garden fence and scattered throughout orchard, bedded in with straw
Fabrication diagram for the pulsator (a mount holding solenoids and alternating a fresh air input and vacuum for the milker with hose outputs and o-rings for sealing)
To Do's:
Another round of planting in the greenhouse
Plant flags for keyline plowing
Keyline plowing
If time this week I'd like to get the pump and pressure switch wired and in the ground, connect the main pipe and deploy off-grid water
I still need to upload photos
11.26.12
CEB Press production run went well. Day one: built hopper and saddle. Day two: built 8 mounts for the hopper legs and sensors, a cover plate for the frame, hopper legs.
Done:
Built 2 multiuse wintertime/pasturing hutches for the rabbits.
Transplanted swiss chard to bigger containers
Planted cool-weather peas in the greenhouse to trellis up the side adjacent the chicken coop
Restuffed the straw mattresses, they were getting a bit sag-adelic
Welded a bed frame to fit the straw mattress
Took out the slack in the water line so it can get insulated
To do:
Upload some photos on this here log
Tonight I'll be bottling/brewing kombucha during our dinner meeting
Tomorrow I'll be hunting down our measuring stick and plant some flags for keyline plowing
I'd like to plow on Tuesday or Wednesday
I need to set up a new pasture for Goodcow
Get in the habit of wearing my heavy duty boots in lieu of my warm weather ones
11.14.12
Done:
Planted onions and kale in some half barrels for the greenhouse.
Started clearing the greenhouse of unused rain barrels, pvc bits, and the infinite et cetera
Torched holes in pressure tank housing
Installed the pitless adapter in the well
Installed pressure tank housing
Cut off well pipe at appropriate height
Designed the milk bucket for the dairy milker
Ate half my weight in radishes, possibly the most underrated vegetable I know
Yet to be done:
Separating and transplanting seedlings (white swiss chard, lettuces, beetzzz)
Installing fittings on pressure tank, hooking up barbs to pipeline
Propagating alpine strawberries
11.12.12
Finished planting wheat, just in time for the rain. We got our first snow yesterday! Been keeping cordwood warm by dancing to bad French techno. Surprisingly effective.
Power cube production run is happening today.
Tomorrow my plan is to repair the greenhouse roof (blew off again) and clean out some old barrels that we're not using to make room for more plants (kale, onions, more spinach). If I have time I'd like to torch a hole in the pressure tank housing and install it.
After that, I'd like to focus on erosion control.
11.8.12
I want to make this! Thanks Graham!
More to say, later.
11.6.12
I haven't updated in a while. Here goes!
Water:
Painted the pressure tank to prevent corrosion
Made a parts diagram for the well water system
Dug the hole for the pressure tank
Torched the culvert at 16' (8' for the road and 4' on each side)
Baling:
Mounted the hydraulic motor on the three point hitch
Hooked up the baler, cleaned it up a bit and greased it
Tested it
Used it in the field, it wasn't working efficiently when the hydraulic motor was hooked up to auxillary
Troubleshooting, it worked much better hooked up to the bottom power cube and the top power cube was solely driving the wheels.
More troubleshooting, it wouldn't start well unless there was a gradient from resting to running, solved by using a valve with a locking mechanism (in this case we tied it with a piece of twine, in the future a more sophisticated method would be worth trying)
Got a good amount of baling done and then a guard on the rake fell off.
Food:
We have mastered yogurt making
Harvesting arugula and lettuces from the greenhouse
Harvesting turnips, radishes, mustard greens, spinach, and lettuces from the garden
Harvesting native rose hips, nettle, and hackberries
Spinach is planted
Greenhouse beets and swiss chard in progress
Updated Bill of Materials for the Dairy Milker
Finished husking roughly 10 gallons of black walnuts, best I've ever tasted
Got some kale seeds to plant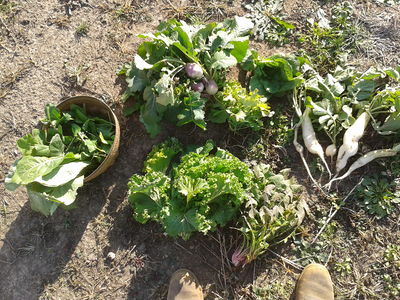 Miscellany:
Collecting bids for designing the heat exchanger coil in the house, called about 15 different plumbers and furnace professional types
Spread a few cubic yards of chicken manure from the coop on the garden
To do:
Plow and plant winter wheat
Transplant green seedlings
Continue to hunt for pond contractors
Install pressure tank housing (possibly needs another hole torched out of one side), tank, and water lines
Design the bucket for the dairy milker, also figure out if I can use the lathe to make teat cups
Design/fabricate a rover to compete with NASA's
Learn to fly
October 2012
10.26.12
Making sense of our fittings for the pressure tank. Need to ask Andy if we need special arrangements to accommodate vibrations coming from the well pump
Been researching on my own as well. Thanks Mark Donovan
Built a mount for the hydraulic motor yesterday.
Drug the baler out from its nook, fitted the PTO to the tractor.
To do:

Weld mount onto the hitch so the hydraulic motor sits right where it attaches to the PTO
Hook up some short hoses for the motor
Testing!
Implementation! (when the weather's right)
10.15.12
Water:
Pit is done, and we got the fitting we needed in the post today so we can now hook up the T in the water pipes! That means we can bury the barrel and we can walk without fear of falling into a big hole!
To do tomorrow: cut slits in the barrel so we can slide the pipes up and down to hook them up and service them.
Rake:
Got the three point hitch welded on from the Ferguson.
Started raking today and it was awesome, until a bolt snapped on one of the LifeTrac wheels. Temporarily grounded, but I still got a good amount of raking done and it's something we know how to fix. Going to get it jacked up tomorrow morning and attempt getting the wheel back into position.
10.10.12
Finished trenching to the house yesterday. Now we just need to clean up the intersection of the trenches, bury a barrel to make the T servicable.
Seedballs are spread.
To do this week:
Dig a barrel-sized pit
Weld a hitch frame around the rear of a LifeTrac
Rake the hay
Continue plant propagation
10.9.12
It's a good time to seed right now before it starts raining big time. Just finished seedballing the rest of the rye, buckwheat, clover, and spinach.
Harvested the sorghum, filled a big bag with the seed heads. Processing happens next. The stalks are still sweet, but dry for lack of rain. I'm going to try crushing the stalks and soak out the juice, then experiment with fermenting it.
Both tractors are needing to be fixed to finish the trench and start raking. The rake has a fixed tire as of yesterday, so it's good to go.
The milestone timeline for agriculture is finished, detailing goals for the next 10 months.
10.3.12
Marcin wants this to be more of a log and less like a blog. Here goes:
Sourcing screen material that we'll use for light screens in the shop.
Getting the rake a new inner tube.

To do: weld 4x4 tube frame around the boot of LifeTrac for hitching.

The sorghum needs to be harvested in about a week or so or the birds will eat it all.
Trenching the very last bit near HabLab.
September, 2012
9.30.12
Paying my respects to the last of September. The trees are all starting to turn. Lettuce sprouts in the greenhouse are coming up, and there's a mix of lettuce outside that's doing pretty well. I should show pictures of some surprise broccoli, I didn't expect it to come up, but there it is.
Last week we did the CEB production run. I cut out all the metal for the hopper, built a couple components for the inner assembly, cut and welded the hopper saddle, then welded the hopper together for mounting. Also made the guards for the drawer and shaker motor. Learned a lot, worked a lot, laughed a lot. It's a beautiful prototype.
Got the rake working, unfortunately the tractor broke before it was put to use. It should probably have two running power cubes, driving the rake with one power cube was pretty slow. That's what I'll be working on next week.
Aside from that, I need to seed the rest of our grains and harvest the sorghum. Had a dream that I had a ceramic kiln here, so this morning I was inspired and started researching. Really like the Cambodian style wood burner. We have plenty of clay in the soil, been daydreaming about spinning my own crocks for fermentations, bowls, plant pots, et cetera.
9.23.12
9.21.12
Haven't logged in a while, I've been writing a blog post for the OSE blog.
What's new? Oh, you know, the usual. A raccoon got in the coop last night, swiped one of our roosters across the eyes, he wasn't getting up, probably wasn't going to heal so I decided to put him out of his misery. He was a beautiful bird, and now he's chilling in the fridge to be transformed into a beautiful pot of coq au vin. Got to give anatomy lessons to observers, I kept the gizzard and heart and neck for stock. The coop is on major lockdown, I just finished staple-gunning all the window screen on the inside. If anything wanted to get in, it's going to have to break down the door or be smaller than a mouse.
Been on the tractor a lot lately.
We finished trenching from the well to the house! 5 days, 250 feet. Every time the tractor's broken we've managed to fix it, which is awesome. It's also having some wear and tear on my body, mostly my wrists and my right elbow that I use as a 3rd hand for controlling the loader arms. Got the pump and the pitless adapter sourced. Picked up wheat seeds yesterday from the bakery a few miles away. Only $34 for 50 pounds of organic red winter wheat berries. That's so many seed balls to be made, I'm really excited.
Gary, a local fella, is going to cut our hay in the next few days. Hopefully I'll have the rake and baler ready to go so we can store some winter food for the animals. Once all the hay's off the ground I'll plow it, then use our tractor to dig a shallow dam. The real pond contractor's not as timely as we would like, so we might be going ahead and doing water storage with our machines. Shallow dams, diversion ditches, maybe some settling ponds.
Propagated a ton blackberries, used serpentine layering and single layering (wounding the shoot on the bottom and burying it kinked in the ground, to root and become a new plant). A few shoots had just begun rooting at their tips, so I think my timing was perfect.
Graham split some spiderwort stock, we have those in the greenhouse. Going out to find some gooseberries to propagate today. Later gators.
9.14.12
VICTORY
9.13.12
Rain today! Trench, trench, trench goes the cogs of the wheels that spin time faster than I realize, until the days zip by measured by feet dug and feet to be dug.
Dirty hands: check.
To do:
Call Gary about cutting our hay
Get the rake up and running
MORE SEED BALLS. so many more
9.9.12
Picked up Marcin from the airport, he's back from Ted with quite a bit to do and think about.
Got the orchard mulching, Graham and I took down a bunch of brush to cover up our seedballs. It rained yesterday! Trenching is inhibited but the plants are happy. Here's what we harvested before we went through the orchard: mint, lambsquarters, goldenrod, and a super-sweet asian pear.
We got the last floor down in the HabLab, now we can finish up the stucco and be done with the exterior. Got the plow on the QA frame, now to get it onto the tractor and test it. Parker ordered a diversity of eggs (Rhode Island Red, Australorp, Aucarana, and some that were initialed "BR," I'm thinking they meant Brahma. Those are incubating, we've got a few pips from our hens. The beans on top of the old workshop's roof are doing surprisingly well. Shallow roots for shallow soil, plus mulch plus water. Magic.
9.6.12
Just got completely doused in hydraulic fluid. Ended up taking my first real shower in weeks. You never know what to expect at Factor e Farm.
In other news, Graham and I had fun yesterday flinging seed balls all over the orchard. Went to Sweiger for some welding wire, a coupler, some metal, and oxygen/acetylene refills. Today we replaced two more tractor tires, picked up propane, and I was trying to dig the water trench until one of the hoses burst.
The subsoil blades are in the process of being mounted. Got the QA frame off yesterday and torched the holes for the bolts that will attach the tube to the QA frame.
9.5.12
My camera work is lousy, I know, but try to ignore all that and check out the sprouts!
9.2.12
Apologies for the lapse in documentation. Me pa was worried that I dropped off the face of the earth. What's growing? I've been harvesting apples, asian pears, oleaster, collard greens, tomatoes, purslane, lambsquarters, and goldenrod for tea.
We've had 5 chicks hatch in the past few days. A raccoon's been raiding our coop so we're hatching some late-season eggs. We'll be raising them indoors away from the cold and predators. That means we get to cuddle with them. Right now they're in Parker's room.
We got an inch of rain over the weekend (thank you, Storm Isaac), and the new garden area is all sprouting. I can see beans and radishes. The greens in the greenhouse are sprouting too.
Yesterday I put up the last of the netting in the motel rooms of the HabLab, then I worked on the floor of the office room. We've got a crop of cardboard stacking up in the workshop, I'm going to sheetmulch the grapes and use carpet on top for a more permanent path. Also seedbombing buckwheat soon. Sourcing red winter wheat, barley, and rye from a guy in Middleton, MO.
The plow is all but finished, it just needs to be mounted, but I'd like to finish trenching up to the HabLab so we're not multitasking with the tractor.
More rain in the forecast this week, hopefully it'll be enough to make pond digging possible. Enjoying the last few weeks of warm-lake swimming. Can't believe it's September already. Today I'm refurbishing a rusty scythe. Might even make a tutorial on sharpening technique. Stay tuned.
August, 2012
8.24.12
Fabrication for the subsoil plow is done. Just need to torch into the QA frame on the tractor and we can bolt it on and test it. Couldn't get to it today because the tractors are all tied up, and an injured knuckle is giving me some sass.
It rained a little bit, and there's a forecast for heavy rain tomorrow! Probably going to be stuccoing all day. John's been calling me "Gerbil."
8.22.12
Made a video log today, it's got snippets of another wonderful day. Check it out!
8.21.12
I quite enjoyed this. Dug some trench with the backhoe yesterday for the waterline, and Marcin was able to get the new motor on the sawmill. Doing some welding in the shop this morning. Going to coach Marshall on the backhoe digging this afternoon. Experimenting with once a day milking, GoodCow doesn't seem to mind or notice, and seems excessively content.
Well driller's coming on Wednesday. Our one well is still spitting up some silt and not much water.
Here's a hairy list of to-do's:
Plow
Site design
Greenhouse
Source and seed winter wheat, assorted grains, pasture mix
Figure out our implements for baling, cut and bale a stack of ~100 for winter
Propagation/Planting
Dig a root cellar/tornado shelter
Here's the list of less-importance:
refurbish scythe
build a pedal-powered washing machine
refurbish dehydrators
cob and solar ovens
8.18.12
Waiting on rain. It's overcast, and the cow's lying down, that's promising. Laying some irrigation tubing that used to be the house waterline so I can get water from the well to the cow and the garden.
Finished the netting on the west side of HabLab today. Fabricating the subsoil blades. We got the hydraulic motor replacement for the sawmill, so I'll be doing that and working on the plow next week.
Today's Marcin's birthday!! I don't think he's come out of his room yet. Parker's making cheesecake (shh don't tell, it's a surprise). Our oven is broken so I had to run to our neighbor Walt and he's letting us use his. What a guy. Told me that we can get scrap wood from the lumber yard: $20 for as much as you can fit in a truckload.
Marshall picked up an oil filter and some fresh oil, he's going to teach me how to change the oil in my car.
To do:
brew kombucha
move some tubes around
troubleshoot well pump power
change my bike tube
8.15.12
We have a site design team now! Making big big plans, the pond's going to cost at most 6,500, pretty reasonable as a huge investment in water storage. Got the sawmill tested with Marcin, but then one of the hydraulic motors had a leak and we found a bummer thread that stripped away.
Working on getting water security on-site. That's an ever-elusive goal that we're nearing more and more. Got the pipe laid out to the house yesterday, but then a fitting fell off and we turned everything off. Put on brass fittings today. For anyone using barbs in a high pressure system: get about 3 people just to tighten the hose clamps.
I am disappointed that we're on-grid now and it's already feeling like it's something we want/need. Pretty soon it will be taken for granted, especially if we go on-grid for electricity. That reminds me, I wanted to wash the solar panels (that should be done every couple years to keep them producing enough power). Really, I just want our wells and ponds to be dug and filled up with rain. Rain catchment on the HabLab, and all will be right with the world. I don't like living on-grid.
My only soothing thought on the subject is that it makes this place more livable for other people
Getting the holes drilled on the tube, then I need to cut the eye plates (6 of them) for the plow blades. Hoping for rain. Headed for town this morning for screws. Finishing up the netting on the inside and outside of the HabLab.
8.10.12
Did an interview yesterday with Tristan and Drew. Good times. All our animals are doing swell, the plants are growing, the weather's fine, there's rain scheduled for Sunday, plus a meteor shower. I'm a happy camper.
Today we dug a new plot, I already have the seeds for it: broccoli, dill, quick-cukes, mustard greens, radish, turnips, beans, lettuce, and probably some other things that I'm forgetting. Made seed balls with spinach and some other things thrown in. Made a tutorial video.
I smell like cow poop and gasoline. Delicious. Waiting for the burn ban to go away so I can make biochar. Thinking constantly about the site design, Graham's got a good handle on planning the people-habitat, I'm concentrating on the other things like waterworks, earthworks, future pasture rotation, terraces, diversion ditches, roads and paths.
Started cutting metal for the subsoil plow. Going to see a man about a pond tomorrow morning.
8.7.12
Yesterday I put up board for the HabLab, planted two kinds of beets, mustard greens, spinach, and swiss chard. Redesigned the subsoil blades so they attach directly to the QA plate on LifeTrac. Today I put up netting on the board from yesterday, finished a couple of walls, fixed the roof of the greenhouse, got a tutorial on torching, got GPS Status on my phone so we can survey more easily, set up momma rabbit in a space of her own, AND cleaned my room. Hotcha cha.
To Do:
map out the length of the future waterline from the meter to the house (also doc't on the site map)
teach Graham and Parker how to burn biochar
find a way to sleep more than a few hours at a time
8.4.12
Worked on HabLab yesterday, helping John with the stud placement, putting up windows, mixing mortar, and wiring the outlets. I finally took Goodcow's ear tag off, from her previous owner. Now she's officially maverick and tagless.
It rained twice yesterday, and broke out into a huge rainbow.
8.2.12
Just got a good amount of weeding done while it was still overcast. Planted more lettuce, and threw out some beans onto the roof of the old shop with mulch to see if they'll sprout up there. Aidan had a fantastic idea of using it as a garden because it's extremely close to the well. It's thin soil but if it develops it could be a useful space.
Here's a visual representation of how long I've been here:
Oh, and I made a beefier version of the subsoil blade attachment. As for sourcing, I found a tube that'll work, just need bolts and 1" thick metal. It rained this morning, makes everybody move a little more slowly. It's quiet in the shop, there's a hen snooping around and keeping me company.
We've got another doe, she came with the name Genny (short for General). Her litter record is 9-10 kits, she was the foundational brood doe for the lady I bought her from, and she sold for $30 pre-bred. She'll have her first litter with us in 32-34 days (sometime around early September).
Wired the float switch today and got an excellent tutorial afterwards, expertly explicated by Yoonseo. Here's the video: 8.1.12
Happy August! Here's what kept me from going to bed on time last night:
This will attach to our single spade plow and serve as a subsoil plow for the keyline. Just need to find the parts, build it, and weld a hitch onto Lifetrac that is compatible with the mower as well as the rake.
Picking up a big momma rabbit, she'll come pre-bred so we'll have our first litter in about a month. Got the elevations on the site map, labeled and numbered the grid, and now I can start zoning. Graham and I are talking about roads and paths and waterworks today.
Today looks like electric fence cleanup, site planning, meetings, rabbit acquisition, letter writing to my family, kombucha brewing, and whatever else will fit in. Planted an experimental ginger root bud today. They usually grow in tropical conditions, so I might be able to grow it if I bring it in the greenhouse and keep it really wet.
July, 2012
7.28.12
My new name is Mudpuppy. Lots of stuccoing today and we put up a lot of the ceiling in the last four rooms of the HabLab. Got them stuffed with straw and finished a corner of the outer plaster. OH! Finally got a contractor to pick up his phone! Dennis Brinton, of Brinton Construction (Gower, MO), will be coming out to look at our site and talk about numbers for digging us a pond. He's working on a pond right now but after that he's got an opening, so he'll be stopping by sometime in the coming weeks and then I'll be able to figure out what we can afford in terms of time, resources, labor, geography, and budget.
Now I'm covered in mud, drinking kombucha, and wondering how today could get any better.
We've finally got some nice weather. It's downright pleasant. Got the Horto Domi water set up, cleaned up some weeds around the site. We'll be interplanting brussel sprouts, beets, cabbage, dill, bush beans, spinach, broccoli, and cauliflower. Will's installing the electric components tomorrow. Rabbits are comfy in their hutch. Found 4 baby does for sale in Kansas City for $20, Florida Whites. Could be a hit, they are very feed efficient. Found a climbing tree right behind the SolarCube. Marcin and I got up pretty high, at least 50 feet. Got my laundry done (bucket-style). Had a good meeting yesterday for the waterworks here. Figuring out what we'll be eating in the fall and winter, we'll have 6-8 mouths to feed on-site. Aaron's supposed to get here today!
To Do:
Biochar tutorial for Graham and Parker
Move the electric fence
Start the site plan
Stake out contours with Graham
Harvest the rest of the oleaster
Of a lesser priority:
Work on greenhouse design with Parker and Graham
Weld a backbar or a hitch on LifeTrac
++Oop, turns out my day CAN get better. Parker just brought a haul of culled produce from the grocery store. I'm sitting in front of a bowl of cherries and watermelon. +++Double oop! We have a new prospective farm apprentice!
7.26.12
Tim sent me this graphic that he's been working on for the USDA.
Worked on Sketchup today until it made my eyes bleed. Surveyed with Graham using the rotating laser level for the first time. It rained last night! Finally! Not very much, but I'll take what I can get. Here's the Site Map, still in progress.
Picked up the rabbits from a home in northeast Maysville last night. $20 for one buck and one doe. The doe is an opal New Zealand cross, and the male is a blue steel New Zealand cross. The opal and blue steel refer to their coloring. They're pretty beautiful, and have a ways to go before they're old enough to have babies. I'm keeping an eye on craigslist to expand our collection of breeding females. I'm feeding them forage, they seem to be adjusting nicely to fresh wild carrot.
7.24.12
Hey look! They're doing what we're doing! The difference: they're looking to support a homestead, we're looking to support a village.
Mark Finch came buy to dig some test holes looking for water. He found it, after coming up dry a couple of times close to the house, we decided to go for the area near the old well. He found water 25 feet down, and will be drilling that will soon. There's a bunch of youtube videos up on it.
Setting up some rabbit cages, there's a few rabbits in Maysville that I'd like to buy to feed out for wintertime. Looking for New Zealands, crosses or otherwise. John the carpenter gave us a bunch of cages today, setting those up right now.
7.22.12
Monday looks like: surveying, meetings, and more surveying.
GoodCow's in her new pasture, she's eating ragweed like a machine. Found a recipe for fly spray that's pretty much oil, vinegar, and essential oil. Sounds like salad dressing, we'll see if it works.
Less sick, finally. It's been way too hot, but looks like rain on Thursday. Keeping my fingers crossed. Researching for our off-grid long-term water infrastructure. Marcin's back, Marshall's getting back tonight, and Tristan arrives later as well.
7.18.12
Surveying is going smoothly, Graham's a great partner. It's kind of hard to work out in the sun in the afternoon, too hot and I start feeling woozy because I'm still a bit sick.
Gave a little seminar yesterday on agroecology and permaculture for the Greeks. Seems like they've been largely exposed to conventional farming in school so it was interesting for them to hear what we're doing and how things compare/contrast to what they've been learning about in school.
7.16.12
File:Chokecherry jam.jpeg Morning harvest: tomatoes, grapes, chokecherries and elderberries for jam
Burning biochar right now, got 1000' worth of elevations, in 50' increments for the site survey, got Goodcow on some new grass. It's very hot and I am very sooty. Going to Maysville later to check the post and pick up some everclear for making tinctures. Using the biochar flame to finish up the chokecherry jam that I started this morning. The recipe goes something like this: ~2 lbs chokecherries, a couple bunches of elderberries, a couple bunches of grapes, sugar, water.
Physically, I'm scraping by. Just hoping nothing lays me out before I can finish surveying.
7.15.12
Set up a buried drip-line for lettuce in the garden plot, where the chickens have eaten a couple of rows of sorghum. Getting some chicken wire from St. Joseph so I can just wrap it up and not worry about them getting through the cow panels. Just found this gem:
Starting surveying on Monday, finally! Processing liquids like a madwoman: skimming cream, making butter, brewing kombucha, et cetera. Right now I'm harvesting the last of the blackberries, some oleaster berries, and the beginnings of elderberries, tomatoes, and grapes. They are delicious! Apparently our neighbors have been suffering from strange fungal infestations on their plants, a bunch of people were buying sprays at the store and talking about it. Fortunately ours are vigorous and healthy, without having to use chemicals.
Our basal infrastructure has been in flux lately: water and power specifically. We're doing good work to fix the problems, though, and planning permanent solutions while producing short term band-aids.
Thinking more about our earthworks here. Graham has great ideas about creating rock blocks to stop the erosion down the ruts up the hill, plus creating berms of biomass, rather than digging in: we'd mow down the weeds and push them into rows on contour, they would catch water and more organic matter as they break down into soil. Thinking about the pace of nature. It can not be controlled. That is fact, and is neither good, bad, detrimental, nor advantageous. It is what we make it. Thinking more about the intersection between "replicable" and "scalable," while working in parallel with nature as well as global culture.
Listening to a recording of Foucault; "Courage de la Verite." I quite like his voice, and the French is greasing my rusty lingual gears. Drinking goldenrod tea for my sore throat.
The coming week looks like: planting greens, milking and grazing the cow, and lots of surveying. It will be very hot, and no rain in the forecast. Spun some yarn today, that was a good think to keep me indoors and resting. Feeling a bit run down, as in sick, but I'm planning on waking up bright tomorrow. I don't plan on being sick, and sometimes that makes all the difference.
7.13.12
Parker brought so many goodies! Hoses, seeds, a moisture meter, some nutrient testing supplies, and lots of furniture. Thanks Parker, it's great having you here!
Yesterday I built a rain gauge, wrote a lot: FeF Agriculture Model, had a meeting with George about the site plan, and troubleshot water infrastructure with the group.
Tim came today and we dumped manure all morning. The trees will be happier for it. Gave Tim some milk, it is great to have something to give to our friends and volunteers! Going to bring some milk to Walt soon, he dumped some wood for us that's perfect for turning into biochar. Moved my stuff out of the SolarCube, now all my tools are organized and put away in the greenhouse.
To do with the rest of today:
test hoses, turn the leakiest ones into drip irrigation
dig irrigation into the sorghum rows that aren't doing well
plant lettuce
cover with shade screen (keeps chickens out too)
connect hose to white pipe, the water pressure inside the dirty water barrels will feed the drip (I need to dump all 16 barrels in the garden because we've been cleaning new barrels and "editing" the water system so we have clean water at the house)
milk milk milk milk
7.11.12
Yesterday I trimmed the fenceline, set up the electric fence, realized the solar charger requires multiple days to charge before initial use, added procedural and design plans to the Surveying 101 page, made FeF's first cow-cheese, harvested oleaster berries, and took a photo as an afterthought.
Said farewell to Matt, we'll be missing him.
Took Aidan and Yoonseo to the doctor today. I still have time to put GoodCow in her electric fence later today. I'm writing a model for neosubsistent agriculture at Factor e Farm. It's very possible that I have the same ick that everyone else is ailing from, I've got different symptoms, but I don't feel tip top so I'm going to take the opportunity to plan, brainstorm, and write.
7.9.12
Replaced the water pump filter today (thanks Andy and Brianna for picking up the new filter!). Had to improvise with the fittings, that was fun. Set up the posts for the electric fence, step two is trimming the fence line and putting on the insulators and livewire. It'll be up and running tomorrow. Going to town for some mineral salt for the cow, and tonight Matt, Graham and I will be taking a walk and outlining some future plans for permaculture as well as figuring out where the best spot is for Vann's hexayurt. Got the transplants in the ground, we'll see if they take, considering that it's way outside their season. Digging up some cattail root and making ragweed tea for a couple of sickies.
7.8.12
To Do:
Install a rain gauge, develop a plan with Matt for a weather station, collaborate with Yoonseo
Pasture plan for GoodCow, electrical fence
Write Surveying plan as per Chris' ideas, write initial site plan, Surveying starts when tripod arrives (probably mid-week)
Get all the transplants in the ground
7.7.12
Here's a video talking about intensive grazing, as I'm sure the forage will change through the seasons.
Working on management and my personal relationship with hierarchy and personnel organization. It's a challenge, but I feel good about the work I'm doing. Coordination with the Greeks is definitely on the up and up, and I'm doing my best to make this a fulfilling experience for all of us.
GoodCow is a balm on my conscience. She is so calm and I can't help but relax and feel right in the world when I spend time with her. We're incredibly lucky to have happened on such a gentle soul. I've met many many cows, but none have had the disposition that she exhibits. I am grateful.
Praying for a spot of moisture tonight or tomorrow, but I'm not counting my chickens before they're hatched. The turnips are coming up! Spent the hottest part of the day working on planning for the future.
Graham, Aidan, and I took a good walk around, noting the plants' growth, the soil, the watershed of this property, and speculated on building roads and what we can do to mitigate erosion.
---
So the rain turned out to be more than a spot. Rolling thunder and buckets of rain. Had a long meeting with the Matt, Marshall, Aaron, and Brianna towards the end. It sapped most of my energy for the evening.
7.5.12
Ran the numbers on GoodCow:
FeF previously bought milk from the local grocery, in half gallon jugs, and paid $4 per half gallon plus a $2 deposit for the jug. Currently we consume all of GoodCow's milk, and if we were still buying this milk it would cost about $25 per day plus the cost of transportation.

Earning her keep: $1262 capital investment/$25 worth of milk per day = 50 days until she pays herself back

She will be officially paying us back, considering ONLY the value of her milk, by late August. She'll still have months left of milk left in her, not to mention the calf coming next spring, and one more year of milk. After that year, we can choose to breed her, and her calf could be our up and coming dairy cow.
Looking forward to meeting Parker, Alex is coming mid-July, and Aaron is headed here with Sara coming a few weeks after that! Community's happening right before my eyes. We're having a meeting tonight, dubbed by Marcin: "Power, Sex, and Violence." Graham uploaded a video of me doing a rundown of consensus meeting, based on what I've learned living in cooperative communities. Please excuse my uncouth vernacular.
Matt pointed me to Joel Salatin's work. I especially like his listed principles. Thinking about how our neighbors seems to graze, with small food crop gardens (albeit they use conventional techniques). I'm thinking about the ratio we should keep of grazeland rotation vs. planted permaculture food forest. Originally I wanted to have less grazeland here, but upon seeing the resources, and what others do with this soil, I'm thinking more about edible fences surrounding lush pastures where we have chickens, pigs, cows, sheep, etc. Plus forage-fed rabbits in hutches. Shade trees should be planted within these pastures, but not as closely as they might be in an orchard scenario. Going to revise my original plans for our subsistence diet to reflect what I've learned in the past two and a half weeks.
Working on an electric fence today, planting 3 magic Moringa trees (horseradish tree) from Will's seeds, further research on solutions to make the chickens work for us a bit more effectively, going to attempt to get wood into small pieces to get a good biochar load tonight. Just collected a few bundles of mint for the kitchen, should keep us supplied for a good long while. Experimenting with drying chicory root in the hothouse, trying to get away from using propane entirely. That means solar cooking, dehydrating, using the biochar kiln to heat large pots of stuff, and eating hand to mouth from the garden.
Possible thunderstorms on Sunday, I'm keeping my fingers crossed. It would be great to have some water flowing. Our well's been slowing down, Marcin's been considering lowering the pump deeper into it. Today I checked the flow and got 1/3 of a gallon per minute, Marcin also checked and got about 1/4 of a gallon per minute earlier in the day. Here's a photo of the minute's worth of water in a half-gallon jug:
7.4.12 Planting food for fall. Matt gave me the holy grail - a seeding calendar for this area. Transcribed it here. Borrowed some seeds from Will: broccoli, kohlrabi, turnips, beets, cabbage, and bush beans. Will also had extra dirt, so I told him to toss it in half barrels and I'll plant into those. I'd like to bury some pvc to make beds that water from the bottom for less frequent watering and deeper root systems.
Taking out the trash (we have lots more waste produced now that there's almost double the number of people here) and teaching Matt how to milk GoodCow tonight. Working more on management and long term planning as per Marcin's request. Catching up on documentation, and experimenting with fermentation. Kombucha's doing great so far, and the yogurt is fun to watch happen. Graham's making killer sauerkraut out of Walt's cabbage.
A bunch of long term ideas bouncing around in my head:
pigs
meat rabbits
edible fences
preliminary site plans
winter wheat
grazing strategies
tree grafting, figuring out what should be emphasized (mulberries, nuts, apples, pears, cherries, berries, elder)
'Tis the season for oleaster! They are commonly known as silver berry, wild olive, etc. One tree was brimming today. The rest have yet to get ripe, or they are a wild type that produce a very different fruit, time will tell. They grow spectacularly here, fix nitrogen, and have edible little berries that are sweet-tart, astringent, provoke thirst, and are very tasty medicine to treat joint pain. Oh, and that apple is from our tree. They're doing quite well despite lack of rain. What kind of apple? The delicious kind.
7.3.12
Today was hot. So hot I fell asleep in a few places unexpectedly. Yet, still managed to get things done. Milking, covered sunflower seeds with hay, showed the Greeks around the orchard and the garden, picked up a new halter for GoodCow from the hardware store, baked a cake for Yoonseo's coming-home, milked again, watered the grains, planted beans. Corn's coming up well, and the sweet potatoes and cucumbers are starting to leaf out a lot. We got a metal blade on the string trimmer, now it's much more appropriate for our landscape and works a lot faster. We'll be transplanting the melons and squash in a couple of days, then the three sisters will be united at last!
This is coming from a person who hasn't eaten dairy products in at least 5 years - raw milk is AMAZING. I wasn't expecting to be able to digest it, but I've been having sips, then gulps, then a full glass today and it seems that my lactose-intolerance was actually pasteurized-milk-intolerance. Makes sense, Pasteur had a great idea for killing germs, but he didn't account for unforeseen consequences of heat treating food.
Our cow is incredibly talented:
She is a water filter that rarely needs maintenance
She turns grass into human food
She fertilizes our soil
She's a lawn mower that doesn't need fuel
She does all this effortlessly, closing her eyes and chewing away
I have a headache, but it's easy to ignore with so many wonderful distractions around me.
7.2.12
Got the teen chicks into the reinforced chicken tractor, now they can graze and they're loving the young Queen Anne's Lace! It's good to see them out of their baby cage.
Keeping the chickens out of the garden by sticking cardboard in the fence. I'm trusting that if they can't see through the fence, they won't challenge it. Time will tell, I'm just trying to tip the balance in their favor. If they eat the sorghum sprouts, then I'll count it as a success in growing my own chicken feed, and hope that they leave some leftovers for us to use later.
The Greeks got here in due time, they had a flight delay so we had to make two trips, it was a late night trying to track down their new itinerary yesterday but all ended well. They are here and happy.
Just got news that my kombucha came to the PO box! Going to start a brew later today, we'll see how the starter survived shipment.
Spread some sunflowers out in front of the HabLab. If they come up in time we can harvest the oil.
Today is a day of meetings, business, and GOODCOW. She is coming here at 3 this afternoon, I am low on sleep but high on anticipation. Expect a joyous homecoming news update later tonight.
To Do:
Put out a trough for the cow's water
Kombucha starter
Soak, Seed beans
Spread hay in garden and irrigate
Spread hay and water sunflowers
Here's a funny tidbit, I just read this in Cultivate Kansasa City: "On our recent simulcast with Iowa Public Radio (KCUR, HPM), farmer Issac Phillips from Richland, IA told us, "The Farmer of the Future will have to be a livestock specialist, an attorney, an agriculture scientist, an accountant, and a veterinarian. You have to be a jack of all trades." While Kate Edwards of Wild Woods Farm told us, "The Farmer of the Future is not yet defined. It depends on those who aren't farmers." What do you think?"
Sounds accurate, at least from what I've experienced in my lifetime. I'd revise this statement to include farmers of the "present", as many farms are going under (more so during recent past years of recession) and in order to stay in business many farms are changing, adapting, shifting, diversifying their models and strategies.
-later that day-
GoodCow is on-site and munching merrily on our grass. Teddy delivered her in the afternoon. Got her in a halter, off the trailer, and tethered out front to settle a bit. I milked her about an hour ago, and she gave a solid gallon and a half. That means 3 gallons per day, which might be more than we can drink, which means I'll definitely be finding creative ways of processing it, like making yogurt, butter, and cheese. She's paid back at least 6 dollars of her original price, within the first two hours of being here. Not to mention that she's brewing our calf for next year. Teddy ultra-sounded her right before delivery, and estimated that she's 45 days pregnant, meaning we'll be having a calf early next April! I can't wait to meet it.
I'm sitting next to her right now, she seems to fit in just fine at Factor e. She's a quirky, lovable crossbreed, just like all of us.
June, 2012
6.30.12
Thoughts on living here after two weeks:
everything I was excited about is even better than anticipated
the bad things I anticipated finding out about..either don't exist or I just haven't looked hard enough
the community here is amazing
I feel like I have a radical amount of liberty here. I make my own choices about how I spend my time, and I feel good about those choices because they benefit myself and others. I have so many people at my fingertips with valuable knowledge, and they are more than willing to teach and help me. I can be myself without holding back for the sake of others. I don't have to fit into any kind of niche, I don't feel cramped mentally or physically or socially. Part of my role here is to create my own environment to suit my own needs. I feel empowered.
I have been successful in making shifts in my lifestyle that I wanted to make:

waking up early
fostering zest for what I do that keeps me motivated and energized through any kind of challenges
living in a way that I can be proud of (off-grid, low impact, adaptive and in tune with established cycles)
ingesting fewer toxins
being less exposed to consumer culture
simplifying my life
learning things that I have always wanted to learn, but didn't for one reason or another
feeling like I can do absolutely anything, and knowing how to go about it even if it's completely novel
My biggest fear about leaving was that of losing relationships with the Davis community. Turns out, almost everybody is accessible through the internet and I've been able to keep in contact with old friends. Additionally, before I left I concentrated most on dissolving my sense of borders and separation, in order to dispel my impending trauma in becoming geographically separated from loved ones. It actually worked. I look up at the sky, and feel a thousand others doing the same. Our hearts beat human blood, our feet stamp the same dirt, and we are all in this world together. Loneliness is a far-away notion. When I irrigate, I see Leo in our old garden watering tomatoes and contemplating life. When I pick an apple, I see Lex tromping around our old farm harvesting pink ladies. When it's too hot to sleep, I see myself and others congregating on Agrarian Effort porch late at night to fan each other's sweat and commiserate.
Of course, there are things I miss about where I came from, but I'm coming to realize that all of those things are also here, I just have to shift my perspective a bit:
Dumpster Diving - I think I just haven't looked in the right place, but the storage system at FeF is more than fulfilling this category
Neighborhood foraging - fewer fruit trees, but there is a diversity of edible weeds (cattails!)
Organic produce - I kind of appreciate this one, it's all the more motivating to grow and forage
Live music - Sure, there might not be a band playing every night, but we make plenty of music ourselves, day in and day out
Things I really appreciate about this place:
the culture is different from my own, which is stimulating
the trees grow tall and thick
there is WATER almost EVERYWHERE
it is not flat. There are hills and I get to ride my bike up and down them.
sometimes the sky comes up pink at dawn, and there are amazing clouds to stare at almost every day
at night the stars shine in a thick twinkling mat
FIREFLIES
the sounds of insects and birds blend into a soothing white noise that lulls me to sleep
it gets so humid that I ooze sweat and feel like a warm wet ball of clay
I have fostered a strange affection for ticks
Didn't know it before, but I am immune to poison ivy, for now
elder trees grow all over the place!
6.29.12
Tested out the biochar kiln today! Unfortunately, my phone ran out of juice before I could upload a video. Same story with the standup for the day. I'll try tracking down a charger tomorrow so I can get those online. Very exciting burning, the biogas started flaming right on schedule, and it actually went way better than I expected. Simple stuff to make, really.
Helped Aidan build his mattress. First time using the string trimmer! It's so shiny and new, I have a lot of respect for it. Found out it came with a metal blade already, so now we have a tri-blade "and" a notched blade. Perfect.
Read up a bit on surveying, got some writing done for the Wiki.
I've got a kombucha baby coming in the mail from an old housemate. Should be here tomorrow, I can't wait to start brewing!
6.28.12
Added a diagram to the Biochar wiki, and hopefully I can get a load started tonight so I can make a video of the process to demonstrate. After that comes application, and you can bet I'll be documenting the results.
Finished spreading all of Tim's horse manure this morning, we rocked it from 7 to 11 and got it dumped and spread on the grapes, berries, and many trees going up the hill. Discovered that we have a decent crop of asian pears coming in! One of my favorite fruits! The apples are also impressing me, we might have enough to bake a couple of pies! I also had a happy discovery yesterday - one of the more dead-looking sweet potato slips grew a very promising leaf!
I've got Graham building me some hand tools from scrap metal, for when the weeds need discipline. He made two hand hoes yesterday, and today I told him what I want to see in terms of a digging knife. Cheap, quick, simple, built on-site, customizable, and much sturdier than ones I would find at a store.
6.27.12
Today I built a biochar kiln. Biochar is pretty useful on a farm with deadwood as a byproduct. I used a simple replication of the Gunther Folke Biochar design, minus the biogas reservoir. It can be retrofitted if we ever see the demand for biogas here, which is very likely, but probably not for a few months at least. If there is time tomorrow I'll start a load to demonstrate how it works. I'll also draw up the design I came up with using very rudimentary materials (2 barrels in bad shape, rebar, some roofing metal, 3 nuts and bolts to hold up the inner lid. Aaron sent me this glimmer of inspiration before I was even on-site, and it had been nagging in the back of my brain ever since I got here. First taste of welding using the tools here, thanks Aidan!
Tomorrow I'll be shoveling horse manure (Tim is awesome), then taking Yoon Seo to the airport, as well as picking up Briana, plus 2 tents for our Greek guests who are arriving in a few days.
Been irrigating, chicken tending, keeping up with lots of visitors and collaborators (American Farm School, Will Bratton for the Horto Domi, a dairyman from Vermont who might prototype the GVCS dairy milker, to name a few) Oh, addressed some envelopes today for the kickstarter. It was great to see the breadth and scope of those addresses, really makes you realize where our audience comes from. (Planet Earth!)
6.26.12
Corn and sorghum are in the ground, spinach and chard and cabbage are in planters, squash and melons are in seed flats, and everything got watered. Good day today. Starting to sleep more, that's a nice change.
I have diversified my technological capabilities! Using expert instruction, plus a USB flash drive, I now run linux on this silly little laptop.

6.25.12
Rome wasn't built in a day, but the chicken tractor was. It's on wheels, is about 50 square feet, and is made entirely of what I scrounged on-site.
We'll plant corn, sorghum, and millet tomorrow. I'll be starting squash seeds in the greenhouse for the three sisters, and transplanting some cucumber starts to a container with a trellis. The blackberries are just now starting, and there are plenty of tomatoes even though none are getting color yet.
If I have time tomorrow I'll either stuff another straw mattress, or weld a biochar kiln. FeF officially has its own string trimmer! Wooo!
6.24.12
Today is my sister's birthday! Happy birthday Celeste!! It is also Aidan's birthday! Happy birthday Aidan!! To all those whose birthday it is, congratulations.
The first garden plot is all set to be planted!! I've been manifesting some great timing with the weather, as soon as I finished this video, spread the rest of the cardboard, and went inside to make coffee, it started raining buckets. Thanks, universe!
Yesterday I went to Kansas City and the surrounding areas. First I dropped off Aaron at the airport. (FeF already misses you, come back soon!) Then I went south to pick up the electric fence from a craigslist ad. Then I went to Kavitha's house and enjoyed great conversation and refreshment. Even got to do my laundry! (Thanks so much for everything, Kavitha! The papasan is being put to very good use already.) Then I got back to FeF to meet the visiting family.
Woke up this morning pre-dawn, stared out my window listening to the birds, waiting for the sun to give me an excuse to start my day. The apples are falling larger and sweeter now, and the pears are delicious! I've been roasting chicory to make DIY coffee, it grows all over the place here. In the photo you can see the plants, and the roots that I snipped off. I figured the easiest, least consumptive way to roast it was to chop it fine. It turned out great, brews like motor oil, no caffeine, free of charge, and the cost of transportation is the time it takes me to walk from the shop to the HabLab.
So this is the first full week I've spent at FeF. I dig it.
6.22.12
Yesterday was pretty epic.
I made my bed! And slept in it!
Tim mowed down a bodacious amount of ragweed and brush
We tried plowing the mowed area, but ran into problems with the turning radius of LifeTrac with the plow mounted on the back corner. Decided to use the bucket to scoop soil and mound it, now we have passable rows! Aidan was plowing until 10 last night, and we very nearly finished but then the LifeTrac needed a break. Laid out the cow panels, so today we'll be trying out the soil pulverizer and setting up the fence. Then I can wet everything, cover it with cardboard so it'll be ready to plant.
I got sunburnt. Mild bummer, overshadowed by feelings of accomplishment. I guess that means it was worth it.
Marcin's gone so I'm keeping track of the well pump so we don't dry up.
Chicks got their first taste of CRACKed corn yesterday. They're lovin' it.
To Do: Field Work:
Sink rebar, wire panels
In between existing rows:

Plan A: use soil pulverizer
Plan B: dig furrows and pile that soil into a third row

Hydrate and cover with cardboard
Writing:
I still need to write my Contract
Working on the Garden Plan drawing for the south side, it's in progress.
Continue Flashy Scrum Control Panel development for Neosubsistent Agriculture
Write a letter to my folks so they know my address works out here.
6.20.12
Ordered everything we need last night. Once I make a trip to Kansas City this weekend we'll have complete infrastructure set up for GoodCow (yes, that will be her name), the garden, and surveying the space.
Cut all the rebar I'd need for the electric fence. Will Bratton might be coming out to build us a Horto Domi. Learned some basic CAD last night, thanks Yoonseo! Never thought it would be that much fun, and we'll have more tutorials weekly, so now when I find myself with a spot of free time at night I can borrow someone's computer and design a sorghum press, fiber mill, a tool for scutching fiber plants, and anything else I've ever dreamed of wanting.
About to pick up the plow attachment for the tractor, and today will officially be my first time driving LifeTrac. Excited?! You bet! Expect a video to come with a tractor tutorial for future LifeTrac users.
South Indian food tonight! I can smell it and I can't wait.
Tomorrow looks like manure pick up, much belated mattress stuffing, and lots of yardwork.
6.19.12
Lots to do! Zip zip zip!
We have SEEDS!
Thank you, Hummert Seed & Supply! Brought a catalog back with me for next time.
Here's what I bought:
Sorghum
Rainbow Swiss Chard
New Zealand Spinach
Buttercrunch Lettuce
Golden Acre Cabbage
Crenshaw Melon
Seven Top Turnip
Sugar Baby Watermelon
Golden Crookneck Squash
White Bush Scallop Squash
Stowell's Evergreen Corn
Golden Bantam Corn
Mississippi Silver Cow Peas
Missouri Wonder Pole Beans
Carrots planted, parsnips planted, started some cukes, cilantro, dill, and kale. We need to run the tractor through the south side of the greenhouse, cover it with cardboard, and plant it next week. I'd like Marcin to run a tractor tutorial so everybody can learn who wants to, and we can document it for future residents.
Buying everything on the Gabi Shopping List right now. It's a lot of stuff, and my job will be so much easier when we have a string trimmer. I'm also itching to start surveying. Thanks to Chris DeAngelis for loaning me The Fundamentals of Surveying, it's great!! Also reviewing Dan Schellenberg's videos a few more times.
Learning some CAD basics tonight, my first project will be designing a sorghum press. We'll need it, especially since I bought five pounds of seed today.
6.18.12
Woke up earlier than expected. It's a gorgeous day, I've got computer things to do so I think I'll post up out of doors for the work.
Going to KS City today to pick up electric fence polytape. New place for me, we'll see what food I can forage while I'm there.
Got a lead on sweet potato slips from the East Coast at Scott Farms. We'll see what they've got.
Writing Garden Plan, finished up Survey Tools List. Next up: concise shopping list encompassing everything I haven't bought yet.
Feeling pretty well adjusted, it's a bit like I've been here for weeks instead of 4 days. Still feeling out the rhythm of the week, but I'm very comfortable here. Unexpected, but encouraging. It means that I made the right decision coming here and there's not a lot of jarring changes that I need to adapt to. There are some small ones and I'm excited to learn and grow and change as I have the same effects on my environment. Good people, good plants, good weather, soon to be good soil, and I am empowered by all of it. Happy Monday!
To do:
google map to Dwayne's house - done, thanks dorkmo!
garden plan - in progress
order shopping list
os cartography software/sourcing - in progress
review awesome books that chris lent me on surveying etc - in progress
vlogs
Personal To-Do:
Turn scrap Satellite Dish into Roof for Dog House
Put more screws in my walls for hanging things
GET MORE SLEEP. Never expected that to be a problem here, but there you go.
6.17.12
Lots to do at once, I think I'll be working on my day off, since my energy is undiminished after only 2 days of being here.
Leaving to find our cow in about an hour, really excited to meet her for the first time. Teddy, too.
Emailed MFA to see if they have rods, because my usual source, Livewire, is in California. They're probably closed on Sunday, so I'll hear from them on Monday. Just set up buying our first piece of the fence, the polytape. Dwayne is selling it through craigslist, I'll be picking it up at 2:00 tomorrow. These were his directions:
8294 W 335TH 69 TO FORT SCOTT 7 MILE SOUTH OF LEWISBERG 69 AND 335TH
Moved into the solar cube, because the hab lab is a bit too comfortable. I prefer a place that is only used for sleeping, and doesn't have the space or accommodation for much else. Also I wanted to live in the box, from the beginning my instincts told me that I wanted to live there.
In charge of the chicks while Briana is in Texas. She'll be back in a week.
Paid deposit on cow, I am in love with her. She's number 17, is a Jersey Holstein cross with Brown Swiss and Shorthorn genetics as well. Teddy's dropping her off two weeks from Monday, so that's the 2nd of July. Need to figure out what kind of grain to feed her so the transition to being grass fed doesn't do her harm. Also it'll be her incentive treat every morning for milking. She's docile, has a great udder, isn't too big, clear eyes, good feet, everything I would want in a cow. Contemplating names. Thank you to Teddy, for being such a friendly dairyman. He truly loves his herd.
Set up my hammock in the wooded area over the creek bed. Also found a berry patch in the ravine. Gooseberries, mystery berries (look like black rasberries?), and picked some mulberries off the tree, too. Blackberries are coming in, not near ripe yet but I'll be ready when they are! Same story with the grapes.
6.16.12
Woke up early, did some sourcework for the cow, went to the Saint Joseph Farmer's Market with Aidan. Found it pretty limited in terms of organic produce, only one farmer there sold organic food and it was mostly greens. Also, more processed/canned foods than I was accustomed to seeing.
Met a guy named Joel who raises lamb, asked him what he does with his bummers, I'll probably be looking for some lambs to diversify our grazing polyculture in a couple seasons.
Found a couple more berries that I'd like to propagate here: aronia berry and gooseberry. Pretty sure I can find some gooseberries if I just rummage around in the native trees. Aronia berries we'd probably have to buy seed for, but it would be so worth it.
Came back, and after a quick meeting we started stuccoing one of the outer bedrooms at the HabLab.
Took a dip in Pony Express Lake and washed the stucco off my clothes. Found a roadkill deer coming back, brought a couple bones with me for the dog to chomp on later.
Had a meeting with Marcin about the cow, talked to a guy in King City who can sell us a first calf heifer, jersey-holstein cross, for $1100. He sounds personable, I can't wait to meet him.
6.15.12
Rolling down towards Factor E, I got an overwhelming sense of affection towards the native plants, the smells in the air, the moisture and lush green surrounding the creeks and ponds, and overall felt like I was heading to a rightful place.
Pulled up, everyone seemed to be asleep, gave myself a tour of the property, focused on not feeling daunted and instead inspired at all the potential here. Moved into the HabLab, meaning I took a couple egg crates out of my car and put them in a convenient corner.
Met my team mates, had a meeting with Marcin outlining a concrete work plan. Looks like the first focuses will be getting a dairy cow out here, surveying, getting the garden going, and
Did laundry in town, picked up mattress shells for straw stuffing. Attempted straw stuffing, realized we were not using the correct tool. Decided that a lawn mower is a better strategy. Tried to borrow one from a neighbor, but he didn't have one. Fortunately we didn't come back empty-handed, he gave us a bunch of beets, carrots