GrabCAD Backhoe Redesign for Fabrication
Based on backhoe results from GrabCAD - http://grabcad.com/challenges/lifetrac-backhoe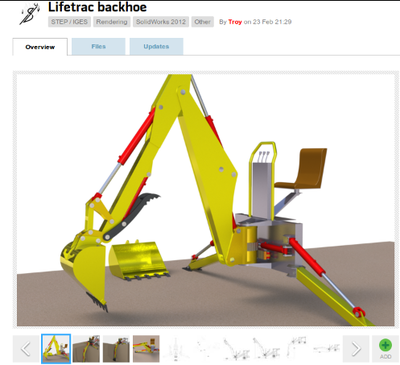 Modifications for Fabrication
Main item: resesign for 'stock steel erector-set, Lego-set-like design while retaining performance and ease of use. Allow for replacement of boom/stick elements with longer or shorter versions.
Need to work out specifics of rotation mechanism
Simplify boom and stick for use of standard stock steel like the LifeTrac frame - 4x4x1/4 or x 3/8 tubing
Design quick attach buckets
Design for disassembly whenever possible
Retain design for quick attach (QA) plate with seat.
Will need to acknowledge tractor steering from the seat - such as additional wheel control valve for LifeTrac wheeels.
Will need to acknowledge migration to Bobcat standard quick attach plate, with universal breadboard quick attach plate for rapid prototyping of attachments - there is insufficient flexibility in QA attachment with Bobcat standard alone
Questions from Lenny-Wayne Patterson
Do you want me to deal with any part of the "Universal-Attachment-Mount" I have some ideas.
Yes! We would like to go from LifeTrac standard to Bobcat standard quick attach plate.
Is there any way to get the files of the LifeTrec Backhoe and Tractor in different formats? Like .STEP or .STL I joined the "GrabCAD" group but I could not open any of the files that were offered.
Please ask somebody to do that conversion - can Parker do that for you?
I didn't notice any mention of Quick Disconnects for the Hydraulics. I'm assuming the Backhoe will feed from the Tractor?
Yes, all should be quick connect. Even on the backhoe itself, since we are going hypermodular. Since driver is on quick attach, will also need to add wheel/loader control for access by operator when he's not in the cab.
I believe the rotating mechanism on the Backhoe is ingenious but would be better served with a single cyl that is double acting, double ended rod, with center piston. i.e. where the body moves side to side and the multi-chain is attached to each end of the body.
Sure, details need to be worked out.
Will the Cylinders be off the shelf parts or will we be designing them as well. I was thinking a cut down Drive Shaft could serve as the body and the End Plates and Piston would have to be machined from Aircraft quality Aluminum. Just thinking outside the box. But from a safety standpoint off the shelf would be best.
Off shelf, until we recruit a Master Prototyper to fabricate these in house.
I have some concerns about the Tractors Lifting arms "rear pivoting point"! They are way to high on the tractor it would tend to top heavy and may even flip. And as it is drawn it seems like you a barely loading the lifting Cyls.
Right. Limit is 2500 lb right now before back comes off the ground. May want to shorten height of frame.
To deal with the steering of the tractor from the backhoe seat I will have to see more details of the tractor. I know that's my problem, right? hehe But do you steer the tractor with hydraulics? Sort of like a tank, right stick controls right wheels and same for the left?
Questions - Round 2
I have few more questions I need to ask.Thanks in advance!! LennyWayne
1. What valves are you going to use and do you think the MFG. will have CAD drawings of them? That way I can do the plumbing in the drawing as well as the mounting of the valves.
2. I also need to know what MFG you plan on using for the Cylinders so I can see about CAD drawings for them as well.

3. I plan on adding control for steering and raising the lift. Do you also want to control the tilt from the bucket seat?

4. What is the max PSI planed for the Hydraulics 3500? It will help me decide on what metal tubing to use on the booms.

5. The seat, Swivel or fixed? Something off a riding lawnmower?
6. The type of chain will have to be changed in order to simplify the teeth on the rotation drum. Instead of teeth of a sprocket it needs to be more like a timing chain that runs on a gear. Have a look at this type of chain: [1] Here is a link to a pdf file with more info: [2]
7. On the QA section of the Backhoe is very thick as originally drawn. That is going to be a very heavy piece of steel! About 317Lbs. It is 1.24" thick and 44" wide and 20.25" tall. Is that going to be hard to find or to expensive to purchase?
Progress Reports
I have the majority of the OSE-Backhoe design done in 3D. I'm going back now to each part and putting the 2D drawings together with dimensions. The one major hang up is the Left and Right Chains and Hydraulics to operate them. But this should be solved relatively soon. I'm talking with Ramsey the chain mfg. about the application of their product and the version I'm looking at should be good for 90,000 lbs. All ways build in some safety margin! Lennywayne
QA Plate Specs used
Universal-attachment-mount-specification-sae_j2513.pdf [[3]] I found this .pdf file at tractorbynet.com the link is here: [[4]] Thanks to "GIJoe" for posting it!!!
Video
Review
Review video plus extensive commentary on YouTube, http://www.youtube.com/watch?v=Palgz7_IUuU -
Solutions
a 4x4 utilization idea [sketchup file]