Language Agnostic Instructional Protocol
About
Below you will see several routes to LAI (Language Agnostic Instructionals) creations. Different routes are:
IKEA-Style Build Diagrams - a well-known concept for conveying build instructions with pictures. Critique of IKEA is that sometimes it is not at all clear. This is where formal quality control protocols are needed.
Google Slides-generated instructionals, such as the CEB press below.
FreeCAD-Inkscape toolchain - an advanced workflow, learnable easily by novices. See below.
We also have Fabrication Diagram methods of visual communication.
Instructional Video
You can download the macro in the video description.
Protocol
Use a Google Presentation - use Template at Instructionals Cover Page
Draw out a complete fabrication procedure as best you can - without using words.
Embed in a wiki page titled Machine/Module Name - Language Agnostic Instructionals. See Embedding Google Docs in the Wiki.
Intro
This refers to language-agnostic instructionals. See Example of brick press frame:
(see overall documentation from this build in our blog - http://opensourceecology.org/christmas-gift-to-the-world-2012/)
Protocol Working Document
Extracting Black and White Isometric Drawings from FreeCAD
Before you work with a file, make sure that the file is approved according to OSE CAD Standards.
GIMP + FreeCAD Macro
Here is a method from Laszlo to export FreeCAD's view to black and white with a macro and GIMP. Video
Inkscape + FreeCAD Macro
Roberto Isometric view workflow. This method works fine for parts with regular surfaces (most). It also works for wires.
Install this Macro. How to install macros in FreeCAD.
Open a FreeCAD file with the part you want to extract the isometric view from.(If the wanted part is separated in several smaller parts, go to Part Workbench, select all of these parts and use the tool "Make compound" in the top dropdown menu).
Select the wanted part, by double clicking over it.
Execute the Macro.
Double click in the new drawing page called "AutoDrawing".
You can change position and scale for each drawing in the combo view data tab (after selecting the wanted drawing).
Use the tool: "Export a page to a SVG file"(in Drawing Workbench).
Open the SVG file with Inkscape.
Make required fixes to the image.
Export PNG image.
Samples:
https://docs.google.com/presentation/d/195F4q8wCz6bnAqh-EXPE7_NdXODoJu5ShVaLBm9y1TM/edit?usp=sharing https://docs.google.com/drawings/d/1LOOY4nSUzN7kKiybVwX7-Y33eCFuB39NJQO4BMZE5aY/edit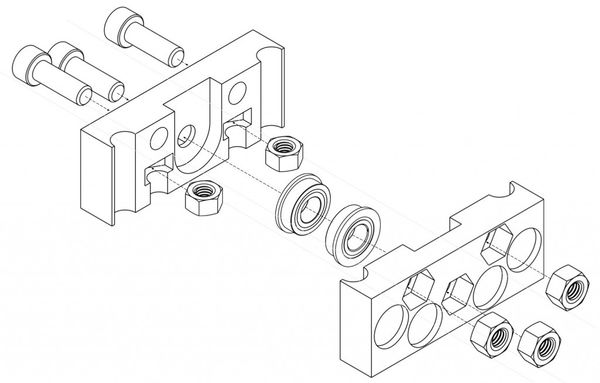 Examples of OSE Machines