Ironworker Prototype II Proposal
by Brianna Kufa and Reid Enniss
Proposal Brief
Status: 5/1/12 - build still in progress, ETA is 1 month for finishing upper arm, shear, and punch elements.
See Ironworker Prototype II Proposal Brief
March 28 2012 Progress: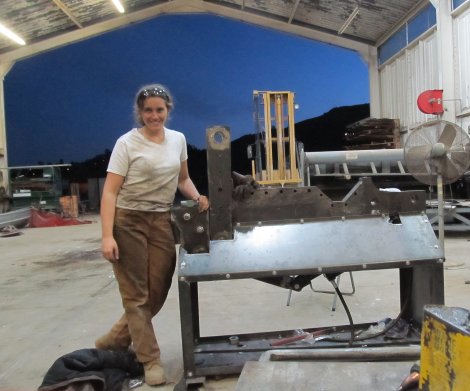 Current Design Progress, 2/1/12
See Brianna's Blog for frequent updates.
Analysis of Industry Standards
Summary
The most common machines cost $18.5k-25k.
They weigh between 4800 and 5500 lbs.
The punch capacities are all at least 120 tons.
All except the Uni-Hydro can flat shear up to 1"x12", and most have 24" blades.
All can shear at least 1/2"x6"x6" angle.
Most machines shear the flat by an "angular" cut, meaning that the blade is rotating about some point.
Findings
The closest design to the OSE objective is the Scotchman. It has a relatively simple construction, and enables quick re-tooling. The center table is desirable as big (up to 24" wide) attachments can fit inside, enabling more diverse fabrication.
Although the Edwards is a popular model, and there are many on the market which work similarly (Geka, Peddinghaus) this design is undesirable for OSE. They are a "closed off" design, and accessory tools cannot be as diverse as on a machine like the Scotchman.
OSE Specifications Assesment
Modular design
Almost all individual components are made of single pieces of metal. The only welded parts are flat shear mount, angle shear mount, various punch components, and parts of the support frame.
Individual components all bolt together.
Lifetime design
Modifies a well respected and time proven design to fit OSE spec. However, this design will use slightly thicker members and stronger steel to insure robustness.
All pin and bolt connections have been analyzed to insure they will not warp, and that their holes or threads will not egg under maximum stresses of machine.
All permanent members have been analyzed to resist plastic deformation. This includes tension/compression analysis, bending moment analysis, and shear analysis.
All moving parts will have grease zerks to deliver lubrication to these surfaces.
Is compatible with Pirhana tooling, to enable easy access to accessory tools.
Although only punch, shear, and angle shear are required for this prototype, space will be included in upper and lower arms to allow for future addition of Coper-Notcher, and Round Bar shear. This does increase overall cost by ~500, but a future retrofit would cost over triple, as entire *Upper and Lower arms would need to be replaced and re-fabricated.
Design includes optional punch/accessory storage tables on frame.
Design for simplicity
All parts of machine are necessary; there are no bells and whistles in this design.
All parts possible are designed to be disassembleable, so that if anything breaks, it can be easily and cheaply replaced.
Machine is fabricable using only stock steel, standard fasteners, and hydraulic components which can be purchased from major suppliers like Surplus Center and McMaster-Carr. Blades and punches are industry standard and can be purchased with tooling manufacturers.
Design for fabrication
Only the following heavy equipment is needed to fabricate: mill, welder, torch (with really big head!), surface grinder (possibly an attachment to mill), and some sort of lift (for transporting big components). Other Common hand tools will be necessary as well.
Design uses increments of ¼" wherever possible to make measuring easier.
Machine requires minimal welding, thus insuring little care to keep from warping.
By using freeze-fit bushings, no in-place alignment is necessary to place bushings, only accurate measurements.