James Slade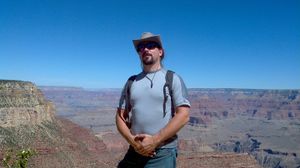 See Replication for James' work. He is the first replicator of the OSE CEB Press.
Team Culturing Information
last updated: 28. July, 2011
WHO are you?
Name - James "Bunny" Slade
Location (city, country) - Austin Texas
Contact Information (email, phone, Skype) -
JamesSlade at creationflame dot org
Skype - Gr3yZ0n3
Phone - Five one two - 695 - 9254
James W. Slade
161 Possum Hollow Rd, Cedar Creek, Texas 78612
Cell (512) 695-9254
E-MAIL: JAMESWSLADE (at) HOTMAIL (dot) COM

Senior customer service representative
Outsourcing liaison
Trainer
Documentation creation
Experienced hardware and software technician
Dedicated professional
Experienced gamer
Project management
Team oriented
Excellent verbal and written skills
Extensive knowledge of various systems
Process improvement
Quality control

EXPERIENCE

NCsoft July 2009 – May 2011 Austin, TX
Game Master
Customer Support>
Tier 3 support for the MMO "Aion">
Liaison to outsource teams in Austin and India>
Responsible for training both outsource teams on tool usage and policy>
Documentation creation outlining all tools and policies related to Aion>
Shared responsibility for outsource team management and direction>
In-game presence for customer support, troubleshooting and public relations>
Responsible for testing, documenting and training others on new tools and tool updates>
Assisted in policy creation and implementation for Aion customer support

MultiMedia Games Inc.May 2002 – Feb 2007 Austin, TX
Hardware Compatibility and Operations Specialist>
Assembled computer systems to replicate production environments >
Supported a team of QA/QC members to prevent and correct technical problems >
Responsible for maintaining server hardware, including vendor service calls>
Implementation of network setup, upgrades and maintenance >
Coordinated with the Network Operations Center on new server installs, issues and failures>
Developed and implemented a lab capable of testing the hardware used in production for software compatibility >
Automated the compatibility testing procedures and maintained the compatibility test lab>
Development of quality control procedures for new manufacturers and new product lines

The Sedona Group (MultiMedia Games Inc. contract)February 2002 – May 2002 Austin, TX
Software Test Technician>
Responsible for software/hardware testing of video bingo games, consisting of test scripts and ad-hoc>
Development and implementation of test procedures to increase accuracy and effectiveness>
Authored technical writing for installation procedures of new software.>
Designed and instructed employees on new test methods and environments

CTS – Sub-Contract
August 2001 – December 2001 Austin, TX
Installation Technician>
Installation of Time Warner cable television and Internet services.

Compucare
December 2000 – March 2001 Seattle, WATech Department Manager
Alternative farming: Wicking systems, Aquaponics, free range.
CreationFlame.org : Our church of art, healing and eco friendly building.
Video Games
Scuba
Traveling
BurningMan and Flipside
WHY are you motivated to support/develop this work?
Do you endorse open source culture?
YES!
Why are you interested in collaborating with us?
I feel the OSE is the way of the future and a solution for ending homelessness and hunger worldwide. Also allows people to be empowered to do things for themselves and not have to rely on big corporations.
Are you interested in teaching about the GVCS?
Yes
Are you interested in economic relocalization possibilities arising from the GVCS?
Yes
Do you want to use the GVCS technologies yourself? Do you want to build them yourself?
Yes and am in the process of starting a CEB build.
Are you interested in starting up enterprise using the GVCS technologies?
I'm interested in giving this technology out to as many people worldwide that show an interest in it.
Are you interested in having the GVCS technologies fabricated by your local custom fabricator?
Yes or being that fabricator.
Are you interested in applying the GVCS to third world development? To redevelopment of crisis areas? To development of derelict areas in the developed world?
Absolutely!
Are you interested in starting up Industry 2.0 flexible fabrication enterprises for your local community, by drawing from a global repository of freely down-loadable designs and fabricating using open source fabrication equipment?
Yes
Are you interested in the potential of the GVCS for developing local food systems?
Yes!
Are you interested in doing academic studies/papers, publishing books, or doing other analysis of our efforts?
I'm likely not the best person for doing that, but will offer a lot of support to those who do. :)
Are you interested in financial investment opportunities arising from our work?
Possibly
Are you interested in the distributive economic aspects of our work, and if so, how do you see this playing out?
Are you interested in building renewable energy production facilities based on open hardware (solar concentrator electric, wind, biomass power)?
Yes
Are you interested in building resilient communities based on access to the GVCS?
Yes
Are you interested in creating a bug-out hut using GVCS technologies?
Of course, I do have a thing for zombie resistant bunkers.
How do you think that the GVCS can help alleviate the instabilities of global monetary systems?
By reducing the need to rely on a monetary system. If your "village" can make everything it essentially needs to survive and live comfortably, then you don't really "need" the money.
How do you think that the GVCS can address issues related to resource conflicts?
By increasing the amount of recycling that is done. Also by the longevity of the equipment, there will be less need for constant replacement. If we need less resources as a result of the GVCS, then that helps the world over.
How do you think that the GVCS can address issues of overpopulation?
Allowing more people the ability to build their own homes, localizing food production and reducing the need for so many resources, there will be more to share.
How do you think that the GVCS can address issues of resource depletion and environmental degradation?
By building greener, using renewable energy resources and recycling.
Do you have any other comments that you'd like to make?
I feel this is one of the most important projects going on in the world right now. While I may not live long enough to see its full potential, I know my children and their children will.
What should happen so that you become more involved with the project?
Allow me to move on-site. :)
What are you missing in the project?
We have lots of information and sometimes multiple varying copies of that information. This has caused a lot of confusion. Having all that info streamlined and controlled would really help the documentation work.
What are your suggestions for improvement of the project?
Possibly switching from Imperial to Metric. Getting equipment out to various regions to see how each piece fairs in that environment.
WHAT
What have you already contributed to the OSE project? (technical contributions, blogging about us, financial support, organizing events, translations, interviews, video editing, publications, publicity work, behind-the-scenes work, CAD work, wiki contributions, computer support, etc)
Spreading the word about OSE to the Burning Man community, also locally in Austin. Directly talking about it via our church Creationflame.org
Have done some CAD modeling of the Life Trac and CEB.
Worked on the Makeprojects site relating to the LifeTrac.
Also done some Wiki work as well.
Communications
Organizational
I am a co-founder of a non-profit and have a bit of experience there.
Computer Support
Finances
Sociology
Home Economics
I can cook with recipes or just a bbq grill. :)Currently learning to grow food using aquaponics and wicking raised beds.
Design
I'm currently learning to use Autodesk Inventory 2012. Have worked on the Life Trac and CEB a bit.
Building
I am familiar with building and tools. I can run a chainsaw and have felled quite a few trees in my time. Have built a few structures, sheds, coops, etc.I've operated a few tractors and construction equipment, up to a D6 Cat.

Also have a bit of cabling experience from fire alarms to networking.
Electronics and Magnetics
Automation
A small amount of Arduino and R/C experience. Nothing on the large scale.
Metallurgy
Engineering
HOW can you help?
How are you interested in contributing to the work of GVCS development?
Currently I'm doing everything I can to share with my community what OSE is and bringing people together. I'm the Austin leader on this subject and would love to come to the Factor E Farm to share my talents and learn more about the GVCS. I want to do this full time and bring this knowledge back home to make it a reality here. These are crucial steps IMO to get more people involved and using the GVCS.
Can you volunteer to work with us, and if so, how many hours per week?
I can a bit, I've already spent a lot of my free time on this and will give what I can as much as I can.
Are you interested in working with us for pay? If so, what services can you offer, and what is your hourly or per-project rate?
Yes, I would much rather work full time for OSE than anyone else. I can come on-site, help build, farm, CAD, cook, clean etc. I have many talents and want to put them to good use with the GVCS.
Yes
Are you interested in purchasing equipment from us to help bootstrap development?
If I had the funds, I would. Currently we're starting to build our own CEB.
Are you interested in bidding for consulting/design/prototyping work?
Yes
No. I have no income currently but have volunteered my time and spread the word every chance I get. If I get a paying job, I'll gladly be a True Fan.
Would you like to see yourself working with us on a full-time basis?
Yes
Are you interested in being part of the world's first, open source, resilient community? The GVCS is the preparatory step for the OSE Village Experiment - a 2 year, immersion experiment (2013-2014) for testing whether a real, thriving, modern-day prototype community of 200 people can be built on 200 acres using local resources and open access to information? We are looking for approximately 200 people to fill a diverse array of roles, according to the Social Contract that is being developed. This may be the boldest social experiment on earth - a pioneering community whose goal is to extend the index of possibilities regarding harmonious existence of humans, ecology, and technology - as a beacon of light to benefit of all people on Earth.
Absolutely!!!!