Jordan Log
This is the daily work log for Jordan Phoenix. Its main function is to serve as a way to coordinate open source machine design work with collaborators. If you're more interested in learning about how all of this work fits into the bigger vision to make our world a better place, check out the Overview [[1]], Highlights [[2]], and Other Resources [[3]].
Monday, July 15, 2013
Final day of my dedicated project visit at Open Source Ecology.

Business Scalability 101: How to scale Open Source Ecology to 90,000 locations worldwide by 2040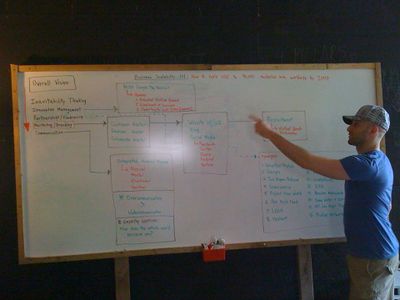 1. Overall Vision
From my understanding of Marcin's vision documents on the wiki, it appears that the goal of Open Source Ecology is to create one OSE facility for every 100,000 people on earth by 2040, making a total of 90,000 OSE facilities (based off of the estimated earth population in 2040 of 9 billion). The open source economy will eliminate material scarcity, and create freedom for humanity.
Question for Marcin: Why stop at one facility for every 100,000 people? What is the estimated reach of one facility in regards to pulling people out of poverty and into sustainability? We can go even bigger than 1:100,000 and adjust this figure beyond 90,000 total facilities if needed, as this will effect the previous timelines when working backwards from it.
Request for other necessary information: Additional details about the revenue model, systems, and individuals that will be vital to creating the Distributive Enterprise System, OSE incubators, and OSE campuses.
A. What is the approximate percentage breakdown of where the revenue will come from in the long-term? (Possibilities: machine production, training programs, renewable energy production, food production, etc.)
B. What type of funding is OSE ideally looking for in the short-term? (Possibilities: donation and grant funding, social impact investor funding, revenue models, going off-grid to reduce costs, etc.)
C. What vital roles need to be filled to run a distributive enterprise system / OSE incubator / OSE campus? What are their defining personal characteristics / qualities / values / lifestyles / dreams / fears / hobbies?
D. Who is the ideal customer that OSE is targeting to purchase GVCS machines and/or come to an OSE workshop? What are their defining personal characteristics / qualities / values / lifestyles / dreams / fears / hobbies?

2. Inevitability Thinking - A process of creating the ideal conditions that will create a domino effect, leading to the achievement of the proposed goal.
"What conditions would have to be put in place to make it inevitable that Open Source Ecology will open 90,000 facilities worldwide by 2040?"
Work backwards from 2040. Think about the most likely pitfalls and roadblocks, and find a way to minimize or completely eliminate the chance that they happen. (Alternative examples: to gain a better idea of how this exercise works outside of a business sense, think about personal habit changes. If it were inevitable for someone to lose weight, quit substance abuse, run a marathon, make $100,000 in a year, etc. - how could they identify all of the possible stumbling blocks, and minimize the chances that they fall off course?)

3. Creativity Management / Innovation Management - A process of maximizing an organization's scalability and efficiency by harnessing the entrepreneurial potential of the team and collaborators
Have one person in charge of creative and innovative business development growth ideas for the organization. This person maintains a constantly updating queue (spreadsheet) of ideas, prioritized based upon the blend of three important metrics: Potential positive impact of successful outcome, likelihood of success, and opportunity cost in time and money. For example, an idea with a lower potential positive impact may be ranked higher than an idea with a higher impact, if there is a much greater chance that it can be executed, in a faster timeframe. This is more of an art than an exact science at first, but I believe it can be taught and learned in a reasonable amount of time.

4. Partnerships + Fundraising - Utilizing synergies and collaboration to accelerate both parties towards their goals faster
I've identified 22 organizations with synergies to OSE that can be explored for growth (whether for human resources, media exposure, financial resources, or ideas to build upon for the GVCS). Listed in order of estimated priority for current impact:
VolunteerMatch
Google
The Joe Rogan Experience (Weekly podcast / internet radio show)
Samasource
Project Free World (My organization)
One Acre Fund
LEGO
Upstart
Grameen Creative Lab
Catchafire
Livelyhoods
International Development Enterprises
Resolve Network
Soma Water + Charity Water
Downtown Las Vegas Project
Prodigy Network
Raised By Us
Visible Arbitrage
Global Catalyst Initiative
Blue Ridge Foundation New York
Change Heroes
Protei
One Earth Designs
[Crowdfunding for Cities Idea]

5. Marketing + Branding - For mass exposure and adoption.
Exercise: Customer Avatar - Who would make the perfect poster child OSE customer? Employee? The more details you can describe about them, the better you will be able to find and communicate with them. Make best guesses, but also talk to them and learn about them. *Empathy - the more you can put yourself in their shoes, the better conditions you can set up that match exactly what they are looking for.
Virtual bench philosophy of recruitment: Constantly be recruiting long before a position needs to be filled, in order to have a virtual bench of potential candidates at all times through your networks whose work you have seen (or who someone you know can vouch for). Allow the recruiting process to form much more naturally by constantly attending networking events, hackathons, engaging with people on social media, etc.
Website user experience + user interface (UX/UI) - Go to the OSE website and think as if you are the poster child customer or employee who knows nothing about the organization. Is the site intuitively easy to navigate? Is the overall message as clear and concise as possible? Does the design pull you to learn more, or make you struggle, feel confused, and cause you to leave? Can a 7 year old understand what the organization does from the website and marketing materials? This is what is necessary to gain mass adoption.
My prototype: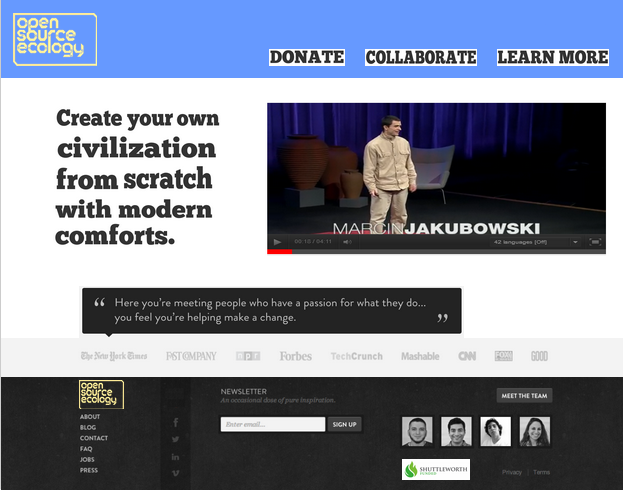 Social media - Each social networking site has its own rules and etiquette. While all are good for generating awareness and web traffic (some better than others), each serves a different purpose under the marketing and business development umbrella.
Facebook: Fan engagement, direct market research Twitter: Partnership development, fan engagement Quora: Blog traffic (reposts of detailed information from main blog onto Quora blog, no current follow limits) Pinterest: Fan engagement, traffic, and documentation via infographics (high chance of going viral, no current follow limits)
Note: For Pinterest, an extremely important idea to implement for mass adoption is to create beautifully designed, simple to understand infographics for the GVCS modules and machines. I've attached a ratings sheet prototype that we can use for all 50 machines, and rank them #1-50 in order from easiest to build to hardest. Also, review samples of infographics from The Human Face of Big Data as a starter (it's in the HabLab - one of the best visually designed books I've ever seen).

Blog - Some ideas:
Global Collaboration article - explain highlights of design sprints, and tell a story that takes readers through one entire module (or machine) from idea -> design -> build Learn SketchUp in 20 minutes - I've used the Tim Ferriss 80/20 model to identify the 10 basic commands that anyone can learn very quickly and be able to be competent enough to help create designs for OSE. Practice teaching this to someone with a timer for purposes of the blog post, or do it several times to new collaborators to see what the average is (20 minutes is just an estimate, but I think it will be less than an hour).

6. Communication - Ensuring a cohesive and inspiring work environment that creates employee satisfaction at work, lowers turnover, sick days, internal conflicts and gossip, etc. Additionally, it causes all employees, interns, friends, etc. to naturally become an extension of the internal recruitment, marketing, and fundraising team; as inspired people will naturally take pride in their work and attract interest to what they do.
The golden rule: Over-communication is better than under-communication. Address miscommunications and low morale instantly, and be proactive about maintaining a positive and inspiring organizational culture amongst all involved parties.
Integrated humans program - via the wiki, Marcin wants to create a personal development program that will allow 200+ people to coexist peacefully in an OSE facility. The focus is on finding balance with physical, mental, emotional, and spiritual health. I've run several seminars, retreats, and groups based around these topics for 100+ people, and can create a trial run for the team to try out over the course of one day (after 7/4, but before I leave OSE on 7/15) to give others a clear idea of how it can be run and replicated.
The curriculum can cover such topics as: Leadership, empathy, overcoming fears, effective communication and conflict resolution, how to change and develop optimal habits, time management and skyrocketing productivity, generating higher levels of self-awareness (strengths and weaknesses, especially blind spots in personal growth), gaining clarity and creating a personal vision and higher purpose for one's life, a 16-minute a week exercise plan for optimal health, meditation and yoga exercises, etc.

Social Media Statistics
Here are some of the final social media stats:
Facebook fans have increased by 36% versus the previous 38 days: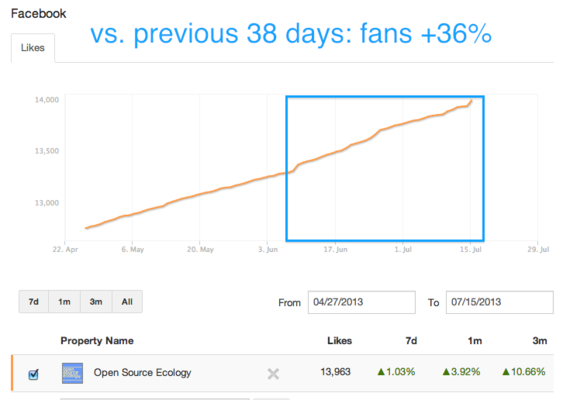 Twitter fans have increased by 50% versus the previous 38 days: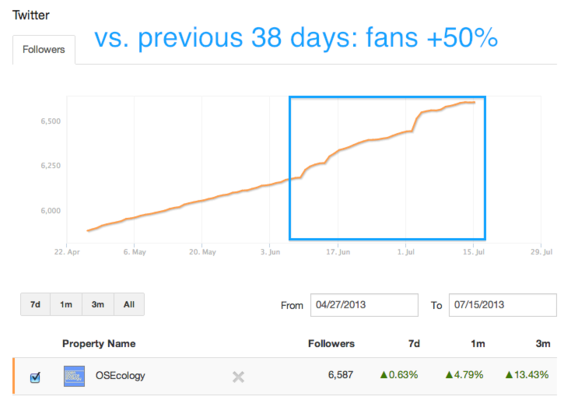 Klout score has gone up 12 points:

Monday, July 8, 2013
Create plan to recruit 20,000 people to the Design Sprint database to make it possible to design one GVCS machine per week alongside 600 other collaborators.

Needed:
256 - Specialists
112 - SketchUp Designers
73 - Artists & Animators
71 - Writers
48 - Researchers
13 - Generalists
7 - Coders
4 - Filmmakers

Organizers
1 Recruiter
8 Sprint Masters

Generalists
1 Quality Improvement Lead
1 RepRap IRC Correspondent
1 Dozuki Master
1 GrabCAD Master

Filmmakers
1 Media Director
3 Video Editors

Writers
1 Blog Master
6 Script Writers
64 Technical Writers/Bloggers

Artists & Animators
25 Graphic Artists
48 Animators

Researchers
48 Archivists

Software Coders
7 CSS/HTML Coders

Machine Designers
16 Sketchup Novices
48 Module Designers
48 Interface Designers

Specialists
16 2D CAD Technicians
16 Electronics and Arduino Engineers
16 Hydraulic Power Experts
16 Hydraulic Nonexperts
48 Machinists/Tool and Die Makers
48 Laser Cutter Technicians
48 CAE Engineers
48 3D Printing Technicians
Sunday, June 30, 2013
Meeting with Marcin to discuss future vision and strategy to help OSE scale.
Saturday, June 29, 2013
Welding, cutting, and building have moved into full swing.
Friday, June 28, 2013
Pick up the steel for building! Also, cut the steel shaft for the bulldozer and truck.
Exciting news: OSE is now on the radar of good.is: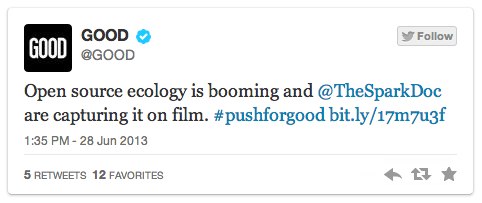 They have a tremendous following: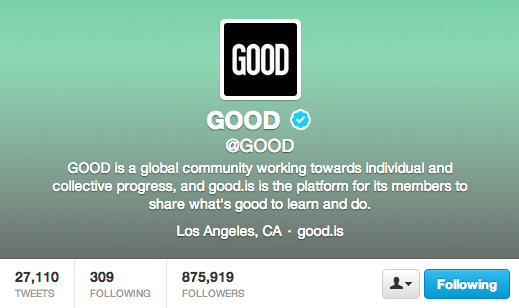 Things are really beginning to pick up steam!
Thursday, June 27, 2013
Weld the steel tires for the bulldozer.
Wednesday, June 26, 2013
Cut the steel tubes using the bandsaw.
Tuesday, June 25, 2013
Put together the hydraulic parts in the workshop, and cut the steel tubes using the bandsaw.
Monday, June 24, 2013
Objective 1 - Documentation: Create easy to visualize work instructions for the powercube module, so that it can be built as is.

Powercube Module
File:Powercube Complete 062413.skp
edit [1/5]
edit [2/5]
edit [3/5]
edit [4/5]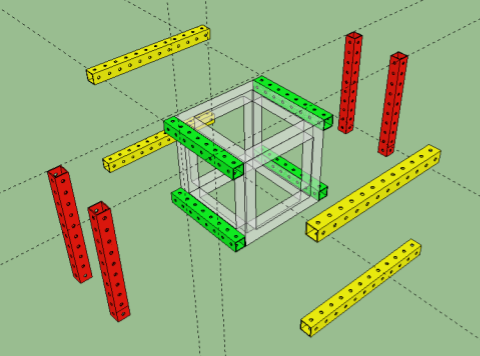 edit [5/5]
Sunday, June 23, 2013
Objective 1 - Business Development and Strategy: Reading over all of Marcin's wiki writings regarding OSE's future vision and plans for the years 2014-2040. This is crucial in being able to design the ideal business development, strategy, marketing, and infrastructure necessary to bringing this vision into reality.

There are some absolute gems hidden within the wiki. A directory or highlights page would go a long way in exposing the vision to more people. I just posted about the OSE incubator plan on social media, and a new true fan signed up shortly after:
It feels great to see an instant result like that occur.

I have some further questions about the details of the Distributive Enterprise System, OSE Incubators and Campuses. Knowing more about these will allow me to gain a crystal clear picture of exactly what systems and positions need to be in place, and will allow me to figure out the most effective way to plan a strategy to help build the infrastructure and recruit these people utilizing the virtual bench philosophy.
Saturday, June 22, 2013
Design Sprint - Put the finishing touches on all designs and complete them. The bulldozer modules need to be put together to ensure everything is ready for build.
[Note: I will be compiling all of the best pictures, videos, and designs from today and those of the design sprints of the past few weeks to be able to document it all on the Open Source Ecology wiki, blog, and social media pages. This will be the highlight reel of all of the hard work everyone has been putting in. Send all of your highlights to me at jordan@projectfreeworld.org during the course of this weekend!]
Both pivots, side to side and tilt, put together in one file
File:Bulldozer in Progress.skp
The bulldozer is still a work in progress, since multiple parts are getting tweaked and updated all at the same time. This is my latest version, posted at 7 PM. Feel free to use this file as a base to add any new features that you are working on, and send it over to me with the changes you've made so that we don't overwrite anything that's needed.
Friday, June 21, 2013
Objective 1 - Social Media: Weekly tracking update on how the OSE social media posts have been doing.

Facebook: 13,559 fans (up +123 since last Friday 6/14)

Twitter: 6,369 followers (up +83 since last Friday 6/14)

The Open Source Ecology Klout score reached a new high of 65.21 on June 22, 2013. It has jumped +12.41 in June.

Thursday, June 20, 2013
We cleaned out the workshop, and are preparing for the build phase. Learned welding 101.
Wednesday, June 19, 2013
Disassembled the CEB presses and used the LifeTrac for the first time to haul equipment around the site.
Tuesday, June 18, 2013
Objective 1 - Design: Test the hydraulic cylinder on the pivot to ensure it works properly.
We are using a 3" x 8" cylinder with a 16" retractable length. It took a lot longer than I anticipated to move different steel tubes and plates around to make it fit properly, but it is ready to go!
Full truck with hydraulic cylinder installed onto the pivot (cylinder length at rest: 20.5"). It has been tested to make sure that it allows for 30-degree turns in both directions.
Truck right turn 30 degrees. Cylinder length drops to 16.686" at full 30 degree turn.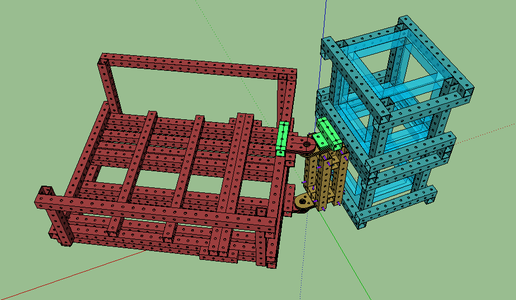 Truck left turn 30 degrees. Cylinder length extends to 22.922" at full 30 degree turn.

The SketchUp design phase is nearly over, as we put the finishing touches on our concepts. It's almost time to start building!

Objective 2 - Social Media: Recruit video producers to help film the building process utilizing the social media channels.
Insight I had that sums up how to run an effective social media campaign -> Your social media channels should be a highlight reel of the most exciting pictures, quotes, and stories based around your organization's vision. The two main objectives are:
1. To get new people who know nothing about you to be intrigued enough to want to learn more
2. To learn about and interact with your supporters; to understand who they are, and how you can better serve their needs

New interesting development: I received an email from Life Project Cambodia, who plan to create an Open Source Ecology style factory in Cambodia as part of a rebuilding process for their downtrodden economic climate. It's exciting to see how fast things are expanding.
Monday, June 17, 2013
Objective 1 - Design: Add the hydraulics onto the pivot.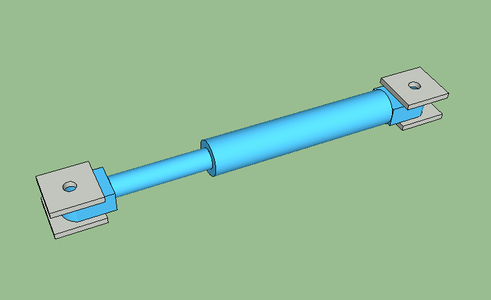 3" x 8" x 1 3/4" hydraulic cylinder for the pivot module
Sunday, June 16, 2013
Objective 1 - Market Research: I'm utilizing the social media channels to gain feedback about which of the GVCS machines have the highest user demand. This type of information will be good to know for future use. Waiting for the flood of answers to come in.
Someone wanted to know if we are working on a Marcin Replicator. I told them we're still working on the specs for that one.

Here are the answers that we received:
Wind Turbine 7
CEB Press 6
Truck 6
Well Drilling Rig 5
Tractor 5
Bulldozer 4
Car 4
NiFe Battery 4
3D Printer 3
Solar Concentrator 3
Induction Furnace 2
Wood Chipper 2
Industrial Robotic Arm 2
Laser Cutter 2
Daily Milker 2
Welder 2
HydraFabber 2 (3D printer, Laser Cutter, and CNC Circuit Mill combined in one)
Bakery Oven
Backhoe
Cement Mixer
Gasifier
Plasma Cutter
CNC Torch Table
CNC Circuit Mill
Solar Furnace
Excavator
Pelletizer
Sawmill
Ironworker
Bioplastic Extruder
Aluminum Extractor
Saturday, June 15, 2013
Objective 1 - Design: The pivot is ready to be attached to all of the other modules. The next step is to compile the most recent versions of the cab, powercube, wheelmount, and loader arm modules, and check for misalignments when attaching the pivot. Try to see if any elements of the pivot can be built into the other modules for ease of assembly.
Truck with most recently updated cab, powercube, pivot, and bed attached.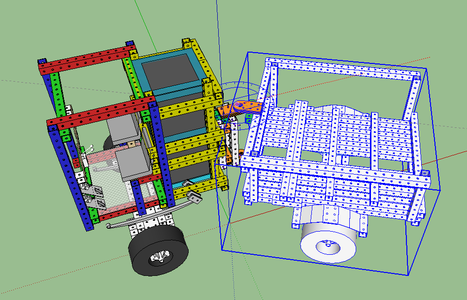 The truck can safely turn over the 30 degree benchmark (actually goes safely to 45 degrees)
Friday, June 14, 2013
Objective 1 - Design: Revise the pivot module. Remove all bolt conflicts, make it completely functional, and ready for building.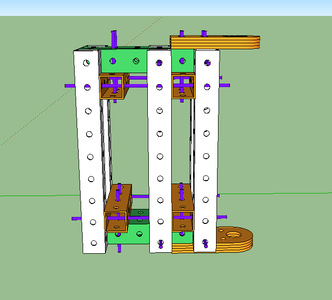 The pivot is getting too bulky. Time to trim it back down.

Here is the most updated version: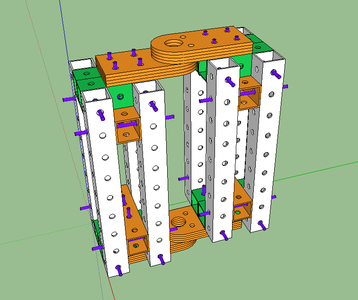 This pivot has a turning radius of over 50 degrees.

Objective 2 - Social Media: Weekly tracking update on how my OSE social media posts have been doing. Check out the major bumps in the graph over the last week!

Facebook: 13,436 fans (up +172 since last Friday 6/7)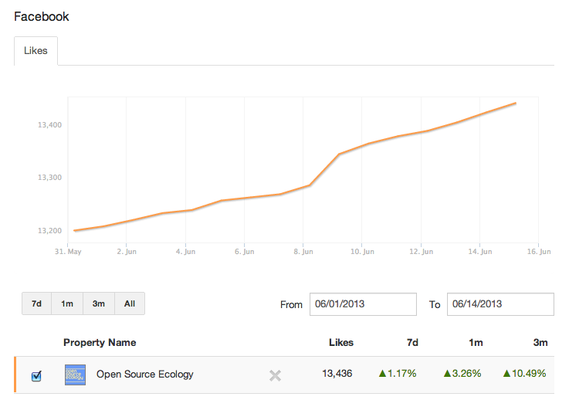 Twitter: 6,286 followers (up +124 since last Friday 6/7)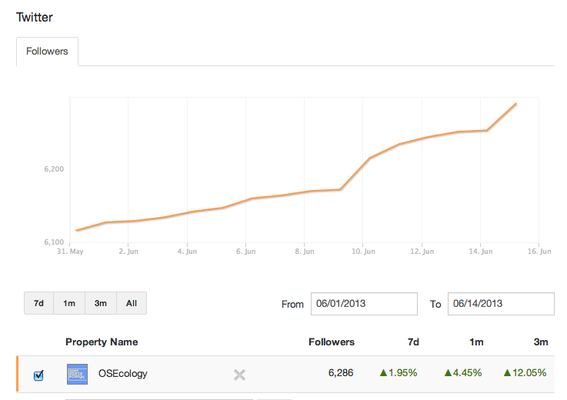 Klout score: 63.75 (new all-time high; has jumped +10.32 since last Friday 6/7)
Thursday, June 13, 2013
Objective 1 - Design: Revise the pivot module, and finish it by tomorrow. By the end of the day tomorrow, our team should be done with five of the six modules (sections): Cab, loader arm, engine, pivot, and wheels.

Marcin's design philosophy is that building machines in separate sections, or modules, allows multiple people to be able to put together a machine in a much easier way, more quickly. For example, the same exact cab module can be used for a truck, car, or bulldozer. The same exact pivot module can be used for a truck, bulldozer, ironworker, or backhoe. This modular type of design shortens a person's overall learning curve in building the entire GVCS by limiting the amount of custom parts needed. This methodology is right in line with the goals of ease of assembly and affordability.

Currently putting all of the bolts in place on SketchUp to decide whether or not to alter the design based upon the conflicts. In certain places where notable conflicts will occur within the structure, I can cut some of the bolts shorter, or alter the design to avoid the conflicts completely. This decision will be made based upon the overall strength, modularity, and the design philosophies of the executive team (who are much more proficient in this area than I).
A view of the pivot with all bolts attached
A view of a potential bolt conflict (view 1)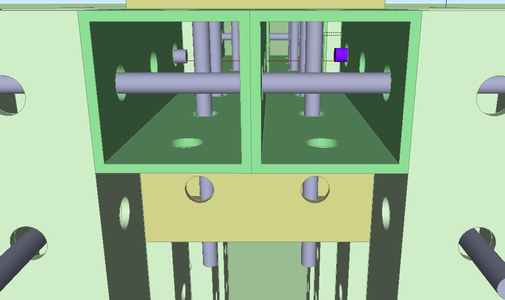 Another view of the potential bolt conflict (view 2)
This pivot can turn up to 50 degrees from side to side.
Wednesday, June 12, 2013
Objective 1 - Design: Revise the 4 way hinge concept design (also known as the pivot module). I've begun closing off the xyz corners, and putting in bolts to see if there are any conflicts within the joints.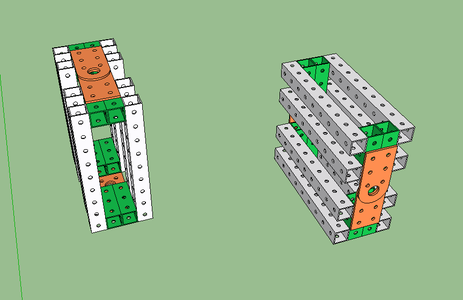 This pivot allows for a wider range of motion than the previous version.
This is the full truck with the side to side pivot attached.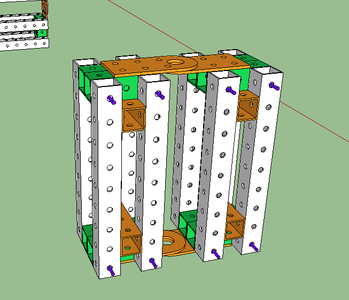 I've closed off the xyz corners, and started inserting bolts to see which areas need to be fixed to avoid conflicts within the joints. I can see a few potential spots already that need to be addressed.

Important note: The pivot module has more than one section, each of which attaches different moving parts to each other in order to make a machine functional. During our current design process, as the pivot is evolving, so is every module that attaches to it as well. When changing several modules at once, keeping lines of communication open is a major key in allowing the different moving parts to come together without overlooking major design flaws. For example: If the front of the truck changes shape, the wheel module may need to be altered as well; and the pivot module needs to adapt to both of them. Communication allows all parties to stay on top of what each other side has in mind, so that they don't go back and forth moving elements around that may not fit the newest elements of another module.
Tuesday, June 11, 2013
Objective 1 - Design: Revise the 4 way hinge concept design.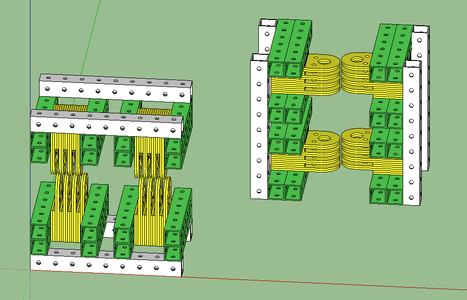 The most recent version of the pivot, separated for side to side and tilt motion.

Had two meetings today. Meeting one included the whole team, and was based around the design philosophies behind optimizing the machines for modularity (to make the actual building of the machines as quick and easy as possible). I will continue to optimize the pivot module until it is ready for use. Emailed the meeting notes to the team.

I also will create a simple wheel module based off of Marcin's photos of the MIT car design once the pivot is done.

Meeting two included Audrey and Marcin. We discussed business development concepts and some of my ideas for optimizing OSE's marketing, branding, and social media strategies to encourage mass adoption. There are a lot of psychological mechanisms that come into play when it comes to behavioral and cultural change within an individual or a society, and having a high level of empathy to understand others is the key that will allow us to best facilitate this process. I will create wiki pages that go further in depth about these concepts, though my June 8 log has a good introduction to my thoughts and strategies in this realm. The most exciting thing I did today was definitely my push to facilitate Marcin's guest appearance on the Joe Rogan podcast, and it seems as if there is a great chance that we can make this happen - though we must be patient in waiting for a few other elements to fall into place first; notably the filming of The Spark documentary here in mid July. Being a big personal fan of Joe's podcasts, I can tell that he would be an excellent person to have on board. Open Source Ecology would be exposed to a new potential targeted niche audience of 25k-500k+ as a result of this. A flood of new collaborators can be brought in as a result, and this would take the open source movement to the next level. When the Project Free World website's major new features are finally ready to go live, it can be a major complement to facilitating this process as well.

In addition to the designing and building of the machines, add in daily social media posts, tracking and correspondence, work duties around the living space, documentation, business development and strategy, mindmapping, writing scripts for the animator, ratings sheet prototypes for the 50 GVCS machines, creating a customer avatar, web design and layout review, writing, crowdfunding launch strategy, the engineering/grading plan for Factor e Farm, bonding with the team - and my plate is full! I think I've filled up more than two full time schedules with growth ideas to execute on. A crucial element to pulling this all off is to stay disciplined about prioritizing the ideas. If I had a team of ten assistants, I know I'd still come up with too many ideas to be able to do them all. So, it becomes very important for me to take out some time every few days to re-prioritize my to do list, with each idea fitting in the place where it belongs within the queue based upon the potential and/or probability of creating the biggest impact. I've gotten this down to a science over the past few years. That process could actually become its own wiki page (add another item on the bottom of the to do list).

Will I be able to handle all of this in the span of a few weeks? One thing is for sure: I certainly did not come here to lay on a beach. I came here with the intention of testing the upper limits of what I am capable of accomplishing for our planet.
Monday, June 10, 2013
Objective 1 of 3 - Design: Revise the 4 way hinge concept design.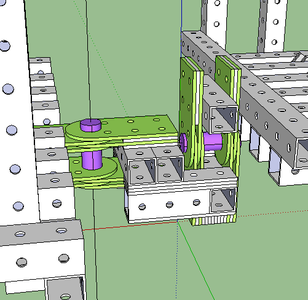 This is the most updated version of the 4 way hinge to date, v14.0 (last revised by Chris).

Objective 2 of 3 - SketchUp: Watch SketchUp tutorials (http://www.sketchup.com/learn/videos?playlist=58) to learn more advanced concepts and hone my skill set. If I can learn how to create models in Google Earth, it can be very useful for the site grading plan.

Objective 3 of 3 - Marketing/branding strategy: Met with Audrey to discuss the social media strategy, as well as marketing, branding, communication, and crowdfunding ideas to shape the future vision of OSE. I believe all of the pieces are in place for OSE to gain a mass following. Extremely innovative and world-changing vision, 10 years of existence, a TED talk with 1.17M+ views, many speaking engagements, many awards, social innovation competition victories (such as Feast on Good's Rev Up Change), a White House appearance, a full-time executive team, and a rising number of funders. I plan on utilizing the further development of my own website (http://www.projectfreeworld.org), upcoming book, and freedom walk to further OSE's reach as well, in order to help it scale worldwide.

Open Source Ecology is an absolute sleeping giant right now. By putting the right elements in place that will engage users via the website and social media channels, I don't see any reason why this will not have explosive growth in the very near future. It's surreal to be in the middle of it all.
Sunday, June 9, 2013
Objective 1 of 3 - Generator wiki: Created a new wiki page about how to refill the generator for future site visitors: http://www.opensourceecology.org/wiki/Factor_e_Farm_Generator_Maintenance

Objective 2 of 3 - Engineering/grading wiki: Since it poured last night, now is a good time to check out and photograph which trail areas around Factor e Farm have flooding issues, in order to be able to design an effective grading plan. The photos are now documented on this new page: http://www.opensourceecology.org/wiki/Grading_plan

Objective 3 of 3 - Recipe wiki: Created a new wiki page for anyone to upload their recipes to: http://www.opensourceecology.org/wiki/Recipes
Saturday, June 8, 2013
Note: No design sprint this weekend. In the coming weeks, we will be spending Saturdays collaborating with people remotely from all over the world to improve upon our concept designs.

Objective 1 of 2 - Social Media: Within 24 hours, the first post I created for the Open Source Ecology Facebook page has already smashed all of the previous 120-day high records in:

Views: 17,376 (previous high: 7,100) - this is a 245% increase over the previous high, and 496% increase over the average post (~3500 views).
Likes: 264 (previous high: 176) - this is a 150% increase over the previous high.
Shares: 125 (previous high: 75) - this is a 167% increase over the previous high.

This resulted in 65 new fans liking the OSE Facebook page in a single day (increase from 13,264 to 13,329). Additionally, several messages have come in from new potential collaborators. I am excited to see how far this can go.

Some insights on running the most effective social media campaigns: Clarity is key. Users love content that is engaging, interesting, uplifting, and human. An effective strategy I utilize is to keep everything as simple as possible, and explain complex concepts in language that even a seven year old can understand; to ensure that it appeals to a wide audience and encourages mass absorption.

One more insight worth mentioning: Over the past year, Instagram and Tumblr have been acquired by Facebook and Yahoo, respectively, for a combined $2.1 billion. Pinterest has also come onto the scene as a major player in the social media realm. This is a sign of the times; pictures and infographics truly are worth a thousand words. As a general rule of thumb, utilizing pictures and graphics that visually stimulate an audience significantly increases the chances of a post going viral. A quick scroll down through my OSE wiki page or blog (http://www.uncommonsense.is) shows the optimal format and combination of text, pictures, and white space to make the content easier on readers' eyes.

Objective 2 of 2 - Refill the generator: Filled up the generator to make sure the energy keeps going throughout the weekend. I'm going to create a simple step-by-step page on the wiki in the near future about how to refill the generator so that future OSE collaborators who come to Factor e Farm will all be able to use it for reference and learn how to do it. Automating systems in this manner enhances the do-it-yourself culture; and frees up additional time, energy and resources for the executive team to be able to focus on the highest leverage tasks that will grow the organization.

Reflection on my first week at OSE headquarters: Why I am here - Of the hundreds of innovative social good organizations I've researched over the past few years that have the potential to transform billions of lives for the better, I believe that there is no project more important for humanity than this one right now. I'm truly honored to be a part of this. Every day I find myself inspired, learning, contributing, and creating new ideas as often as possible through all hours of the day and night. Every person alive should be empowered to create their basic necessities to survive, and I will continue to do everything in my power to make this a reality. I will shout about OSE from the rooftops.
Friday, June 7, 2013
Objective 1 of 2 - Design: Revise the design of the 4 way hinge for the open source truck that allows for up and down and side to side movement.

My goal is to refine the pivot, and make it more compact; so that it is in-line with the truck bed rather than hanging below. I also need to ensure that the tilt pivot is capable of a wide range of motion, and double up the steel bars to make it stronger. Lucas mentioned that the Dodge Power Wagon has this type of feature, so I will do research in order to figure out the dynamics, and create some new prototypes.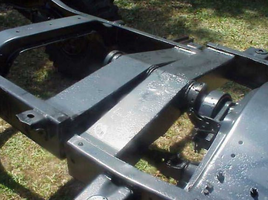 Dodge Power Wagon pivot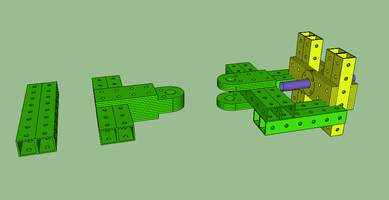 Unfinished concept idea in progress (version 10.0)
The truck prototype is coming together. Chris modified the 4 Way Hinge prototype to attach to the truck.

Objective 2 of 2 - Social Media: I began contributing to the OSE 6 in 60 social media campaign via the Open Source Ecology pages on Facebook and Twitter, and will also be tracking the OSE online influence score via Klout. Here are the original numbers as of today:

Facebook: 13,264 fans
Twitter: 6,162 followers
Klout score: 53 (falls within a range of 0-100)

I will contribute to the social media campaign daily on Facebook, 1-4 times per day on Twitter, and keep weekly updates on my wiki about social media metrics and growth. I've also started posting Klout score updates here: http://www.opensourceecology.org/wiki/Klout
Thursday, June 6, 2013
Objective 1 of 2 - Design: Revise the design of the 4 way hinge for the open source truck that allows for up and down and side to side movement.

Gary suggested that I begin to utilize the front and back of truck concept designs to envision the optimal type of hinge to create, while keeping in mind that this hinge should be modular and usable for other machines (potentially the bulldozer) as well. After a team discussion and some research of the machines at Factor e Farm, I will continue to create prototypes until we find one that will work.
The original LifeTrac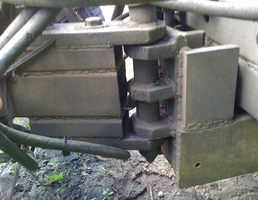 The original LifeTrac pivot point; some features may be incorporated into the design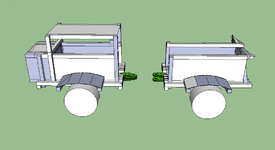 The 4 way hinge and the 2 way hinge have been attached to the truck design in order to determine which would be an overall better choice. This will be discussed further tomorrow.

Objective 2 of 2 - Social Media: After completing the design work, I checked out all of the team members' wiki pages and uploaded the most recent designs to the Pinterest page in order to show our progression to the followers. Discussed posting our 6 in 60 progress on social media (via Facebook and Twitter as OSE).
Wednesday, June 5, 2013
Objective 1 of 2 - Design: Created a 4 way hinge for the open source truck that allows for up and down and side to side movement.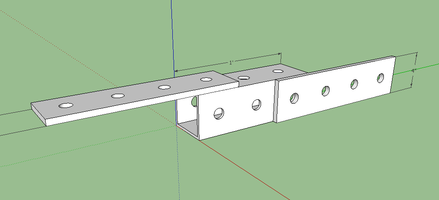 Version 1.0: File:4 Way Hinge.skp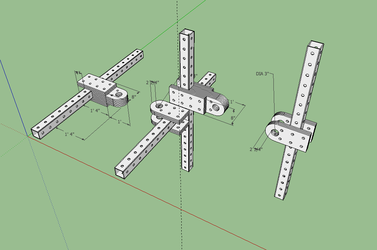 Version 2.0: File:4 Way Hinge v2.0.skp
Version 3.0: File:4 Way Hinge v3.0.skp

Objective 2 of 2 - Social Media: Created an Open Source Ecology board on Pinterest in order to share pictures of the 6 in 60 prototypes the team is creating:
http://www.pinterest.com/jphoenix24/open-source-ecology

Included with each picture posted is a brief description, and a relevant link (to the Open Source Ecology main site or to Marcin's TED talk) in order to promote awareness and generate additional web traffic to OSE.
Tuesday, June 4, 2013
Arrival: Arrived at OSE after being delayed overnight at Denver airport. Met the team in person. There's already a great sense of camaraderie amongst the team. Cleaned out a room in the HabLab and moved my stuff in. Spent the afternoon helping out with work duties around the HabLab since my assigned SketchUp design work on the 6 machines in 60 days will begin tomorrow (Backhoe, Bulldozer, Car, Ironworker, Microtractor, Truck).

Cleaned up the entire place alongside the team members; swept and vacuumed the common rooms, kitchen, bathroom, cleaned toilet, untangled wires, discarded trash, organized cabinets, folded blankets, put everything back in its proper place. The HabLab is looking sharp right now! Not a spec of dust or straw anywhere in the house. Now I can focus completely on 6 in 60.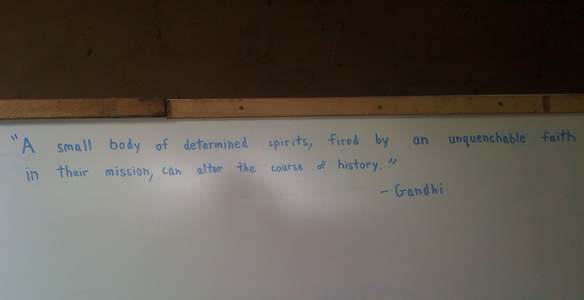 Gandhi quote on the HabLab board
A spotless HabLab
Overview
My name is Jordan Phoenix. I'll be collaborating alongside the Open Source Ecology team at the Missouri headquarters for six weeks during the months of June and July 2013.

We're designing and building 6 machines in 60 days from the Global Village Construction Set (GVCS). The GVCS is a set of 50 basic machines that anyone can build to start a civilization from scratch with modern comforts; as easily as possible, at the lowest possible cost. The machines are designed to empower people to more easily grow their own food, build their own shelter, create their own renewable energy sources, and more. Open Source Ecology shares all of these designs with the public for free, right here on the wiki. In a world where anyone can provide for their own basic survival needs in only a few short hours a day, we can evolve into a new era in which massive amounts of human potential can be unleashed.

I'm here because out of the hundreds of social impact organizations I've researched over the past few years, I believe that there is no endeavor more important for humanity right now than this one. Let's move closer to a world without poverty.

A documentary called The Spark is going to be filming our work. Here is a trailer to the movie (OSE feature begins around 2:46):

The daily logs will be tracking the daily work I'm taking part in. Included is:
-The personal accounts and challenges of someone building machine design models in SketchUp without extensive previous experience
-Organizational psychology principles: Communications, recruitment, management, and personal development
-Insights into business development strategies: Marketing, branding, social media, partnerships, and crowdfunding
Highlights
June 8 log discusses how my very first Facebook post for OSE smashed all of the previous 120-day high records: [[4]]
June 11 log discusses my idea and quest to gain a crucial celebrity endorsement to help OSE go mainstream: [[5]]
June 13 log discusses founder Marcin's philosophy behind the role of modular design: [[6]]
June 16 log discusses the GVCS fan survey: [[7]]
June 23 log discusses how my social media campaign helped OSE to acquire a 4-figure donation: [[8]]
July 15 log discusses my Business Scalability 101 presentation, User Interface prototype, Ratings Sheet prototype, and final social media statistics: [[9]]
Other Resources
Pinterest board of Open Source Ecology design photos: http://www.pinterest.com/jphoenix24/open-source-ecology
Tracking of the OSE Klout score: http://www.opensourceecology.org/wiki/Klout
My personal development blog, Uncommon Sense For 21st Century Living: http://www.uncommonsense.is
My organization, Project Free World: http://www.projectfreeworld.org

Saving the world is a team sport. Do you have feedback or ideas? Want to utilize your skills to get involved in some way, and be a part of history in the making?
I'm always open to connect with people who have a burning passion to co-create a more free, equal, and awesome world for everyone.
Message me on Facebook (http://www.facebook.com/jordanphoenix) or Twitter (http://www.twitter.com/jphoenix24)