Josh Jordan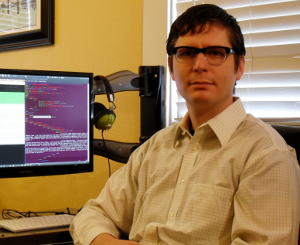 Team Culturing Information
last updated: 2. July, 2011
WHO are you?
Location (city, country) - San Antonio, TX, USA
Contact Information (email, phone, Skype) -
joshjordan (at) robotjosh (dot) com
561-629-4392
Computer engineer experienced in web design, server administration, schematic design, printed circuit board layout, and firmware development.

Interested in high level topics such as geo-spatial information systems, computer vision, image processing, optical character recognition, data mining, and computer learning.
Education:
Florida Atlantic University 2002 - 2009
Master's degree in Computer Engineering, Bachelor's degree in Electrical Engineering.
Participated in FAU Robotics Club and IEEE.
Skills:Web Design
Expert in PHP, javascript, mysql and bash.
Proficient in geo-spatial software mapserver and postgis.
Able to create a website from designer mockups.
Experience in setting up and modifying content management systems Joomla, Django, Magento and Wordpress.
PCB Layout Familiar with proprietary Altium design tools.
Regularly use and contribute to the GNU Electronic Design and Automation suite.
Familiar with layout techniques to interface high speed devices, minimize electromagnetic noise and maximize reliability.
Firmware Experience setting up and using compiler tools Make, GCC and SDCC to compile for AVR, ARM7, and 8051.
Familiar with Xilinx and Altera programming environments using Verilog and VHDL.
Software
Experience developing Windows and Linux PC applications.

WHY are you motivated to support/develop this work?
Do you endorse open source culture?
I prefer to use open source tools and contribute back when I can. I have been using linux as a desktop since 2003.
Why are you interested in collaborating with us?
Food security is the greatest issue facing the world. I want to empower humanity with decentralized information-age technology.
How do you think that the GVCS can address pressing world issues?
Almost all pressing world issues are related to food, water, and energy. The GVCS can empower people on those 3 fronts. Another pressing issue is the declining quality of education. Using the GVCS will naturally make people more thoughtful and scientific from all of the skills required to operate it. A kid who grows up around these technologies will have a better education than any public school can provide.
What should happen so that you become more involved with the project?
As a freelancer I have the freedom to travel but I am usually busy writing estimates and scraping together enough billable hours. I can visit and work for a few weeks at a time between freelance projects depending on how cheaply I can stay out there.
What are you missing in the project?
I would describe most farm technologies as being brute force. They multiply a person's physical strength. Another way to improve things things is to use less force more intelligently. For instance, a wireless sensor network provides only information but it allows smarter decisions to be made and overall better use of resources.
What are your suggestions for improvement of the project?
Smaller scale residential technology such as an automated greenhouse would expand the potential user base from farmers to anyone that has space in their yard. I think the open source car project would also greatly expand the potential user base.
WHAT
List all of your skills in these areas: Communications - Organizational - Computer Support - Finances - Design - Natural Building - Electronics - Automation - Metallurgy - Engineering - Fabrication - Agriculture - Energy - Architecture - Video/Graphics/Art - PR/Marketing - Education - Construction - Industry - CNC - Chemistry - Product Design - Other
All areas of computers and electronics: PCB design, firmware, programmable logic, desktop applications, and web programming. I am an amateur gardener.
How have you already contributed to the project?
A few years ago I was monitoring development of the automated CEB. Ralf Schlatterbeck had it covered pretty well and I didn't have much to add. Using an arduino for that was a great idea because many people only know arduino because it is easy but it is also powerful.
HOW can you help?
How are you interested in contributing to the work of GVCS development?
I want to work on something like the agrocircle, but I want to add a manipulator and a camera to do tasks with computer vision and artificial intellgience. The hardware for this is relatively cheap, its only the software that makes it too expensive, and ours would be open source.
Can you volunteer to work with us, and if so, how many hours per week?
I can work maybe 4 hours if I am busy making money, otherwise I can work 70.
Are you interested in working with us for pay? If so, what services can you offer, and what is your hourly or per-project rate?
I do freelance work for web programming, circuit design, pcb layout, firmware, and sometimes mechanical drawings. My rate is $50/hr but for this project I am willing to work for only as much as I need to pay the bills.
Yes. I want to develop a low cost robotic arm that uses economic cordless drill DC motors and has a camera mounted on the end. I want to build several of them mounted stationary in a raised bed and fully controlled over the internet. It would publicly demonstrate that robotics does not have to be expensive. After that, develop AI and demonstrate useful applications such as picking cherry tomatoes or mechanical removal of hornworms, a pest that can completely destroy a tomato plant in hours.
Are you interested in purchasing equipment from us to help bootstrap development?
If I had any extra money.
Are you interested in bidding for consulting/design/prototyping work?
Yes, any electronic design project, firmware or web programming task.
I can contribute in other ways.
Would you like to see yourself working with us on a full-time basis?
That is a possibility.
Are you interested in using the technologies that we are developing directly?
Yes. I have been involved with a 10 acre community with 7 other share holders. We have designated 5 of the acres for food production. We have an old ford tractor and a CEB machine but not much else.
Are you interested in being part of the world's first, open source, resilient community? The GVCS is the preparatory step for the OSE Village Experiment - a 2 year, immersion experiment (2013-2014) for testing whether a real, thriving, modern-day prototype community of 200 people can be built on 200 acres using local resources and open access to information? We are looking for approximately 200 people to fill a diverse array of roles, according to the Social Contract that is being developed. This may be the boldest social experiment on earth - a pioneering community whose goal is to extend the index of possibilities regarding harmonious existence of humans, ecology, and technology - as a beacon of light to benefit of all people on Earth.
Absolutely. I have been involved in a 10 acre consensus driven community for the past 2 years. I would love to be part of a larger community that has a purpose to pioneer sustainable technology.