Kevin Atkinson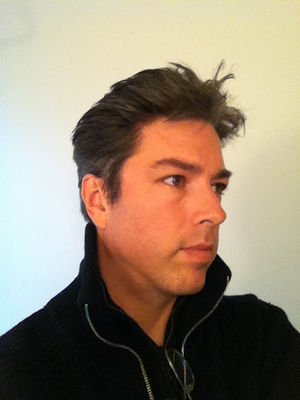 Team Culturing Information
last updated: 28. August, 2011
WHO are you?
Location (city, country) - Windsor, Ontario, Canada
Contact Information (email, phone, Skype) - kevin (dot) atkinson (at) gmail (dot) com, (519) 256-0927
Resume/CV - Coming soon.... Overall picture: 15 years software development experience, heavy in computer vision, robotics, visual effects, 3D graphics, computational geometry. C++ and Python, mostly.
WHY are you motivated to support/develop this work?
Do you endorse open source culture?
Absolutely.
Why are you interested in collaborating with us?
I'm philosophically on board with the project's goals, and moreover I think I can really contribute. The mix of sky-high vision together with hard-nosed practicality is rare in such efforts, and very attractive.
How do you think that the GVCS can address pressing world issues?
I see a lot of ideological sclerosis in governments and business when confronting society's problems -- problems of resource depletion, skyrocketing inequality, environmental degradation, alienation. A clean reboot seems to be worth a try. I love the ethos of sharing, the boldness of the vision, the radical simplicity and modularity of the technology, and the elegant systems-design approach, of GVCS/OSE.
What should happen so that you become more involved with the project?
I just have to sort out what is next for me, and decide if OSE is what I'm doing next.
What are you missing in the project?
Perhaps more attention to community building/volunteer management? It seems a bit chaotic right now, with lots of people full of good will showing up and bumping into the furniture. But I also have faith that things will sort themselves, and the committed people will find each other.
What are your suggestions for improvement of the project?
Nothing to add to my previous remark.
WHAT
List all of your skills in these areas: Communications - Organizational - Computer Support - Finances - Design - Natural Building - Electronics - Automation - Metallurgy - Engineering - Fabrication - Agriculture - Energy - Architecture - Video/Graphics/Art - PR/Marketing - Education - Construction - Industry - CNC - Chemistry - Product Design - Other
Software Engineering. Lots of experience in computer vision, robotics, 3D, computational geometry as well as general applications development.
How have you already contributed to the project?
I'm a True Fan. I have done some advocacy with friends and family, and with colleagues at work.
HOW can you help?
How are you interested in contributing to the work of GVCS development?
I'm very interested in developing a genuinely useful open source CAD/CAM application. There is an opportunity to create the "Blender of CAD", or better yet, the "Linux of CAD" -- a feature-rich offering, competitive with at least the low-end of mainstream CAD packages, and a robust design platform for the GVCS.
Can you volunteer to work with us, and if so, how many hours per week?
Yes. Currently sorting what my level of commitment will be.
Are you interested in working with us for pay? If so, what services can you offer, and what is your hourly or per-project rate?
Yes. Software engineering, applications development, for CAD/CAM. My last job paid around $160K/yr, though I work waaaay cheaper if I get to save the world while doing it.
Certainly a possibility.
Are you interested in purchasing equipment from us to help bootstrap development?
Not a option near-term, though down the road it's a possibility.
Are you interested in bidding for consulting/design/prototyping work?
Not sure.
Yes.
Would you like to see yourself working with us on a full-time basis?
A definite possibility. Currently sorting what's next for me, and a full-time commitment to GVCS development is a contender.
Are you interested in using the technologies that we are developing directly?
Yes. My wife and I have a long-term plan of starting a permaculture site, and doing some earth-building, and GVCS is the natural place to look for enabling/empowering technologies.
Are you interested in being part of the world's first, open source, resilient community? The GVCS is the preparatory step for the OSE Village Experiment - a 2 year, immersion experiment (2013-2014) for testing whether a real, thriving, modern-day prototype community of 200 people can be built on 200 acres using local resources and open access to information? We are looking for approximately 200 people to fill a diverse array of roles, according to the Social Contract that is being developed. This may be the boldest social experiment on earth - a pioneering community whose goal is to extend the index of possibilities regarding harmonious existence of humans, ecology, and technology - as a beacon of light to benefit of all people on Earth.
My wife and I are trying this on, and it's a possibility. We're both Canadian citizens, though, which might present challenges in terms of being legally allowed to stay there. Perhaps we'll wait for the first Canadian replication site.