License Requirements
Architect
Typical is college, internship, and Architect Registration Exam (ARE). Most states requires Bachelor's in Architecture.
Advantages - architecture can produce aesthetic and well-functioning design.
OSE perspective - Architecture is good, but it's a silo. An architect does not learn how to build buildings, and is thus not well qualified to produce buildable designs - specifically - designs that are easy to build. It is well known in the architecture community until modern times that the architect and contractor fight each other.
Design-Build is more in line with OSE methods. [1]. This link shows the architect leading the design-build. There is no a-priori reason, however, outside of hierarchism, why an architect should have priority over the builder. An architect should have builder skills. A builder should have architecture skills. Indeed, the optimal route is that both are included in one. The distinction between designers and buidlers can be erased with the empowered, integrated Designer-Builder. This is the approach that OSE takes.
Integrated Project Delivery (IPD)- current trend introduced by the AIA in 2007 - [2]: (click to enlarge)
OSE/OBI model transcends IPD by combining the designer and builder into one entity by open source rapid learning. Further, the OSE/OBI model integrates engineering into the equation, imposing certain engineering requirements that include specific ergonomic, design-for-buildability, design-for-workflow, materials, and other considerations. Primarily, those considerations revolve around flexibility, swarmability, distributed economies, and scalability of the structure and of the design/build process.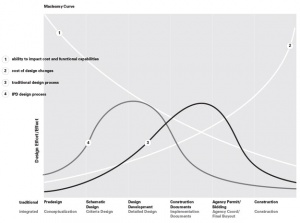 BIM facilitates the IPD process, as everyone gains access to the same digital model. No shit, Sherlock!