LifeTrac/Three Point Adapter Quick Attach
This is an adapter so you can run three point attachment farm equipment on your life trac.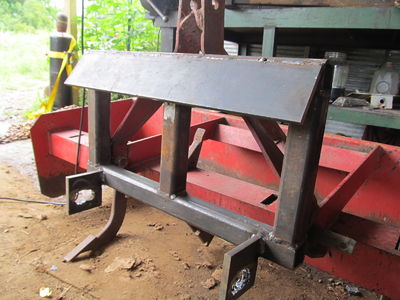 Materials:
2"x2"x1/4" Tubing- 80" (25" (2) for top and bottom, 10" (3) for verticals)
3/8"x4" plate- 25"
1/2"x3" plate- 8" (4" (2))
Fabrication Instructions:
Weld the basic frame together by making a 25"x14" rectangle with the tubing, with the remaining 10" piece centered in it.
Weld the 3/8" plate to the top of the frame, at the proper QA angle (2 1/4" over its length).
Place this on the life trac and mark where the eyes need to be welded.
Weld the eyes to the frame.
Place on the life trac and mark where the holes need to be on the eyes
Torch the eye holes and clean them up.