LifeTrac II (shortened) hydraulic parts list
For the fruition of LifeTrac II is with this plenipotentiary abridged parts list
Complete detailed parts list [1]
Note that the following list involves 2 loaders. For a simpler version, a single front loader is sufficient. Two loaders are used for extreme flexibility.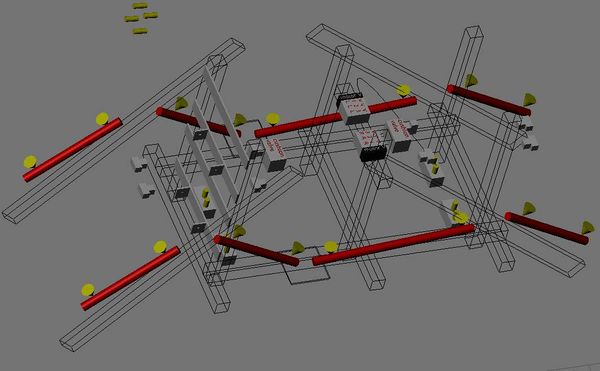 (download Blender file here)
Main
Parts from Surplus Center:
- Total cost: $3845.14
- Order weighs: 739 lbs
- Shipping cost to Factor e Farm: $156.52

Note: Green indicates finalized shopping list from Surplus Center. Blue indicates list from McMaster Carr. Red is Dalton Hydralics. See Parts Sourcing for contact information.
[2] Front Loader cylinders - 36" [4]
[4] 3/8 NPTM x 1/2 NPTF 90 SWIVEL [5]
[4] QA plate hydraulic cylinders & 2 Rear Loader [6]
[4] Motors [7]
[10] SAE M 10 to NPT M 1/2" [8]
[4] SAE 4M TO 1/4" NPTM CONNECTOR for Case Drains [9]
[22] 1/2" QCs [10]
[4] 1/4" QC for motors [11]
[2] 1-1/4 SHAFT COUPLER W 5/16" KEYWAY - [12]
[2] 1-3/8" 6T fully splined shafting - [13]
[2] Female 1-3/8" 6T spline coupling - [14], $30 each
[8] 3/8" NPTM x 1/2" NPTF swivel - [17]
[1] 3-spool motor valve, 25 gpm - [18], $288
[5] 1/2" NPT M to NPT M 90deg Elbow [19]

[4] 3/4" NPT quick couplers - Dalton Hydraulics - 2 for in/out, 2 for auxiliary work ports

[5] 3/4 NPT hex nips [20] - in and out of valve
[4] 3/4 NPT to 1/2 NPT bushing [21] - auxiliary work ports
OSE Danfoss Black 2 Spool
3 Spool Husco
[1] 3/4" NPT quick couplers - Dalton Hydraulics - 1 pair for inlet

[1] 1/2"-1/4" bushing - to accept case drain return [24]
Pipe cross fitting on the return line to accommodate case drain return - [25]
2 Spool Prince Valve
[1] 3/4" Quick Coupler for outlet (already included in central 3-spool motor valve)
[1] 3/4" NPT tee (already have these) for inlet
Cushion Valves
Power Cube
Hoses
Motor Case Drains
[2] 1/4" X 72" NPTM 2750 PSI HYD HOSE to run parallel with tractor sides [42]
[1] 1/4" X 30" NPTM 2750 PSI HYD HOSE from Tee to Tee in return hose [43]
[1] 1/4" X 36" NPTM 2750 PSI HYD HOSE to Rear Motors [44]
[3] 1/4 X 1/4 X 1/4 NPTF TEE [45]
[3] 1/4 NPT hex nipples [46]
[4] 1/4" NPT quick couplers are already with the motors
Seat