Marlin Bed Temperature Overshoot
Data
Code
M303 S50 E-1 C5 - 5 passes, set for 50C, -1 for bed
Procedure
PID Autotune - [2]
Results
Extruder
Using Lulzbot Cura, M303 with no parameters heats the extruder to about 150. Each time division is about 30 seconds: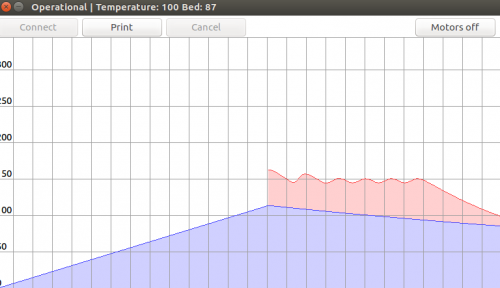 And produces optimal values of P, I, D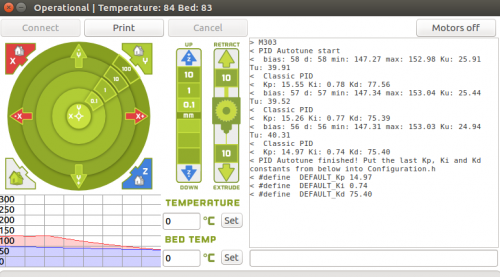 M503 displays current values:
< M503
...
< echo:PID settings:
< echo: M301 P22.20 I1.08 D114.00
You can save the values from PID Autotune by going into configuration.h
Bed
PID autotune would have to be enabled for the bed in configuration.h.
If one is using an SSR, can this be used with default switching frequency of Marlin? Let's look inside Marlin - Configuration.h
SSR heats up when conducting via voltage drop. The switching doesn't cause much heat. [3]. See SSR Lifetime. It is not clear if fast switching (only 8 hz) reduces lifetime over say 4 hz in PWM switching?
Start by turning on PID for the bed: uncomment #define PIDTEMPBED in configuration.h
SOFT_PWM - sets PWM frequency?
Can also add PID autotune to menu via configuration.h: //#define PID_AUTOTUNE_MENU // Add PID Autotune to the LCD "Temperature" menu to run M303 and apply the result. But does this save the result?
Configuration.h can also use slow PID - //#define SLOW_PWM_HEATERS // PWM with very low frequency (roughly 0.125Hz=8s) and minimum state time of approximately 1s useful for heaters driven by a relay
M500 should work in Cura to save PID settings, or Save Settings in LCD? Or save in configuration.h for the common OSE characteristics.
Errors
> M303 S50 E-1 C5
< PID Autotune start
< PID Autotune failed! Temperature too high
Failed once bed reached 70.
Links
Marlin software - PID autotune - [4]
RepRap wiki - [5] - how to set values manually - understanding the proportional, integral, derivative terms.
D3D_v20.04.27_Software - Marlin change log