OSE Trifold Brochure - (old)
Designs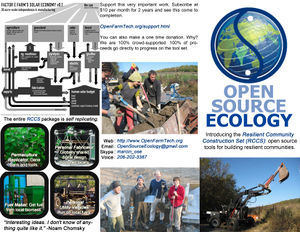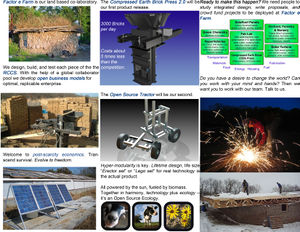 Download version 1.1 english: OSE_Trifold_1_1_eng_pdf.zip
Download version 1.1 german: OSE_Trifold_1_1_de_psd.zip
Revisions
Comments
Sections
Title: Open Source Ecology
Core message: Building the world's first replicable modern off-grid resilient community.
Pictures: OSE Logo, lifetrac, CEB press, CEB building, maybe some other technology, maybe a diagram to explain something compelling
Why someone would want to do this, OSE rationale/working assumptions
Who: Marcin Jakubowski, PhD
What: RCCS, permaculture 'garden of eden', permafacture, replicability for everyone, we are trying to help everyone, cute fuzzy animals. What it's like when it's done, the end vision.
Where: "Factor 'e' Farm", NW Missouri
When: Initial goal 2011, we have a short amount of time to develop everything
How: RCCS, true fans campaign, investors?
"You've already helped by being concerned about preserving the environment and freedom. Supporting Open Source Ecology is a further step in that direction."
Quotes about OSE from prestigious people and news articles. In_the_News
Pictures of all kinds of people helping OSE
Call to action: Subscribe
"These tools are to help YOU! Please support this work by subscribing to help fund the development."