OSTrac
OSTrac Concept
OSTrac is an open source tractor/skid loader. It steers and loads like a skid loader, but beyond that it has a number of features that set it apart from skid loaders and make these vehicles suitable for agriculture. The main features for agriculture are a 3-point hitch, power takeoff, and high-flow hydraulic takeoff. These features make the OSTrac capable of using any agricultural implements.
OSTrac is also designed with a winch, and is designed to be equipped with well-drilling equipment with 10-foot drilling pipe sections.
As such, the design is one of highest utility and versatility, combining the power of skid loaders with agricultural tractors and construction tractors. A Compressed Eearth Block press is designed for use as an implement with OSTrac, and a backhoe as well.
The unique feature is the modularity and design for disassembly. Priority one is lifetime design, where any problem can be troubleshooted and fixed readily. Bye-bye to $1-2,000 transmission jobs at the shop. No transmission is required - it's built-in to the hydraulic drive.
Components are designed to be standard steel as much as possible. The goal is to have the user-owner fully capable of maintenance. By design, no issue in OSTrac should be more expensive than $250 to fix. Standard steel components (sheet, tubing, shaft, etc.) is used, with no forming or machining outside of minor welding and lathing, for repair and construction of OSTrac.
General design goals:
Skid loader concept
Skid steering
4 wheel drive
2 wheel drive for doubled speed
Front-end loader
Backhoe attachment available
Well-drilling attachment available
CEB attachment available
Hybrid between a skid loader, agricultural tractor, and construction tractor
Specifications:
4.5 mph in 4 wheel drive
9 mph in 2 wheel drive
40 gpm auxiliary hydraulics, 2 channels
Weight: 3000 lb
Modular: 2 OSTracs may be mounted together for double traction power
3500 lb winch
60 hp 4.2 l GM engine (weak point)
Four 32 cubic inch hydraulic motors
3-point hitch
Power take off, hydraulic - 0-600 rpm
Maintenance:
Yearly maintenance costs designed to be no more than $100 with heavy duty usage
Evolution:
Flash-steam bladeless turbine drive being explored
Flash-steam electric hybrid drive being developed
Initial Conceptual Drawings
OSTrac Frame
OSTrac Wheel Mounting
OSTrac Hydraulic System
Hydraulic Pump
$250, Northern Tool
3600 psi
26 gpm@1800 rpm
52 gpm@3600 rpm max
32 cubic inch hydraulic motor, Surpluscenter, $250
Disp. 31.88 cu. in. / rev.
Motor Type Disc Valve Geroler
Pressure:
       3050 PSI cont.
       3625 PSI int.

       5130 in-lbs. cont.
       6105 in-lbs. int.

       145 RPM cont.
       175 RPM int.

       20 GPM cont.
       24 GPM int.

Rotation Reversible
Mount 4 bolt Magneto
Shaft 1-1/4" dia x 1.9" keyed
Rqd. Filtration 25 Micron
Ports SAE 10
Case Drain SAE 4
Size 8-3/4" X 5-1/4" X 4"
Shpg. 34 lbs.
24 Cubic inch motor - $160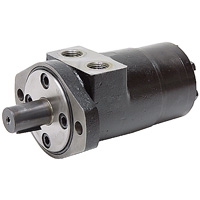 [Specs for: 23.6 cu in DYNAMIC BMPH400H2KP HYD MOTOR]
DYNAMIC BMPH SERIES MOTOR Brand new DYNAMIC BMPH series hydraulic motors. Gerotor power element. Interchangeable with the following motor lines: CHAR-LYNN H, DANFOSS DH, WHITE RS, PARKER - ROSS MG/TB.
Dynamic Model #: BMPH400H2KP
Disp. 23.6 cu. in. / rev.
Pressure 1450 PSI cont.
Torque 3850 in-lb. cont.
Speed 150 RPM cont.
Flow 15.8 GPM cont.
Power 8.2 HP cont.
Rotation reversible
Mount 2 bolt SAE A
Shaft 1" dia. woodruff keyed
Ports 1/2" NPT
Case drain SAE 4
Overall size 7-3/8" x 5-3/16" x 3-1/4"
Shpg. 20 lbs.
Tractor Speed
150 rpm * 5 feet = 750 fpm = 4 mi/hr
1 fpm = .33/60 meters/sec
1 (m / s) = 2.23693629 mi / hr
24 cu in motor: 52/64*4 mi/hr = 3.4 mi/hr
32 cu in motor: 52/80*4 mi/hr = 2.6 mi/hr
Compare to average walking speed: 3 mi/hr
Metkit.com Metal Kit
All metal cut, $1600