Office desk
Main > Housing and construction > Home fittings
---
This is a desk that is designed to be water-jet cut out of one sheet of 23/32 cabinet grade plywood. The desk is approximately 2ft x 4ft and seems to be very stable and is also able to be disassembled. The different parts are pilot drilled with a hand drill (1/4" bit) and then bolted together using 5/16" x 1-1/2" long lag screws with fender washers. There is no gluing necessary for this desk.
This desk was originally designed to be used with the GTD task management system. The storage compartments will accept a plastic hanging file storage box.

Since this desk is constructed using slots, the 23/32 ply is necessary for this particular .dxf file. In order to reduce costs, you may decided not to have the extra embellishments cut out (i.e. the eagle). Some helpful info: many local granite counter top suppliers have waterjet machines that are more than capable of cutting plywood as well as steel, plastic, etc. More pictures comming soon... Why can it not be cut out with a CNC router/mill instead of a Waterjet? Much cheaper, more common and a waterjet is many many years from being an open source machine because the 40,000-100,000psi it uses requires advanced machining and metalurgy for the pump to generate such high pressures.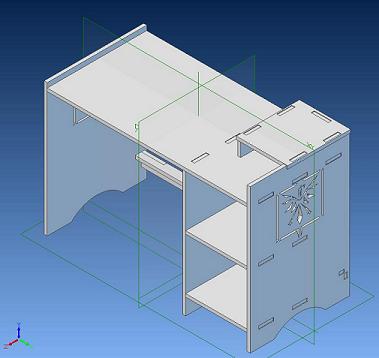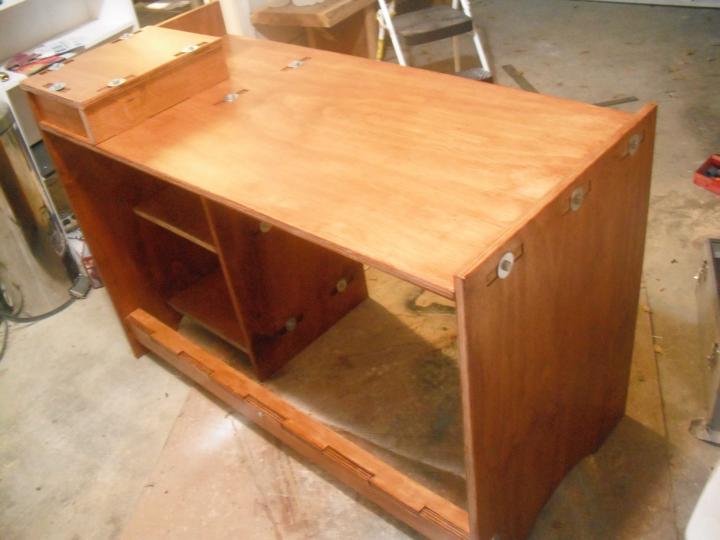 ---
This is the dxf file used to cut out the desk using one sheet of 4x8 cabinet grade ply: File:PLYWOOD DESK.dxf
The Alibre files:File:Rev 2.zip (there is also a pdf of the layout in this file)

Please feel free to donate to my Bitcoin address or OSE's address if you find this information helpfull:

Rob's address: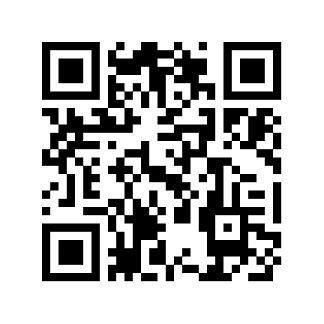 13cx8m4fHcCF94N32Lw8xbpLjtHDGHrfZU