Open Source Steam Power Generator
Introduction
This begins work on Prototype 1 of a turnkey, 1 kW, stationary electrical power generator. This is the more general product ecology:
The goal is the introduction of a modern, open source steam engine into the marketplace. Goals are both stationary and mobile power, scalable in units of 1, 10, and 100 hp.
Concept Specifications
Electrical power generator
Open source product development
Turnkey operation
1kW max electrical power
Solid pellet fuel
Water-based system
Easy maintenance
Lifetime design
Modular design
Simplicity (KISS)
Open source plans
Open source business model
Other
Retrofittable into existing stoves - this would be another version beyond scope of Prototype I
Project Plan
Define 1kW Genset specs
Set engine specs – Stan Jakuba
Define burner specs
Prelim burner sketch
Define generator specs and control – Randy Burmeister
Burner review – Larry Dobson
Concept development
Sketch engine
Sketch burner
Sketch steam generator
List control elements and methods
Concept review
Project timeline, cost review
Prototype design
Engine
Generator
Burner
Steam generator
Proto Build
Engine
Generator
Burner
Steam Generator
Controls
Packaging
Test
Review
Product Design
Engine
Generator
Burner
Steam Generator
Controls
Packaging
Concept Technical Details
2 cylinder opposed
Fischer & Paykel generator - very efficient $500-1000 - replacement or factory second

Radial field generator - to be opensourced via digital fabrication at 10 time cost reduction.
Nylon bobbin with copper wire around

High performance burner expertise - [1]
Gasifier with secondary flame burn for radiant heat - luminous flame

"Pile of burning coals' is not good enough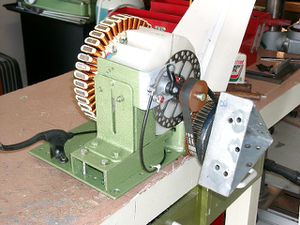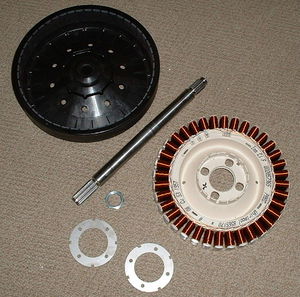 Implementation Options
Reciprocating engine
Uniflow bash valve for long life
Design for fabrication
Design for disassembly (Steam Engine Construction Set)
Scalability
Modularity
Monotube
Fully automatic
Efficient (temperature, pressure, regeneration)
Low cost (max $500 materials, max $500 fabrication)
Team
Developers
See [Steam Engine Construction Set corresponding blog post].
1 kW Steam Engine Electric Generator Prototype from Marcin Jakubowski on Vimeo.
Consulting Subject Matter Experts
Communications
March 2011
Last October I got together the 1 kW concept with the engine configuration, the generator for direct connection to 12VDC system and self regulating steam generator with gravity hopper feed. These things can be published and crowd-funded and the process can be begun at any time. The initial design is next, then the prototype of the engine/generator, then the prototype burner/steam generator, and the system integration. Then development and production prototype can be built. There is material on hand for a thousand units. With that kind of momentum, further materials will not need to be recycled materials but can be economically sustained by normal manufacture.
Generators in November 2010
The basic components selection of the steam genset are being nailed down. The F&P based generator is the key engineering component and all else will be sized to this element. Therefore I am at the point where the technical details are needed so the system can be designed. I believe it would be best to design around the newer technology since it is likely to remain available longer, but of course if the units are more available with the older technology, the design should accommodate them.
We have said that this is a 1kW basic design, and so I would be interested in what the speeds, voltage and current are likely to produce 1kW, and also what would the number be if driven at your estimated max of 3kW. We have been talking about charging 12VDC batteries, and it is possible to simply protect against reverse current but not regulate the output except by the shaft power going in. Incremental design advances extending to speed control for 120VAC 60Hz are not in the initial concept, and I have said that it is much better to synthesize the AC from a battery bank anyway. Our burner, steam generator, controls and funding plan have been accepted, so we are anxious to begin filling in the details.
The next phase is to show the conceptual design with some technical detail and credibility to be able to fund the engineering and prototype stage.

> Karl,
> Yes, I have a written contract with the local F&P manufacturing facility
> in Clyde, Ohio which is about an hour and a half drive for me. I had to
> promise that I would not allow my parts to be used as replacement parts
> for their washing machines. The use as a generator is excellent.
> Currently they have over eight hundred "seconds" stored for me. I would
> love to sell them to you. You could not afford to reverse engineer them
> or even manufacture them at this price. With a five horse motor driving
> one you can get about 3,000 Watts output, but I believe that would be
> the maximum. Of course you can scavenge them out of the junk yards, but
> the washing machines that use these models are very reliable and we
> won't see many for several more years. Let me know how many you want and
> I'll figure how much discount I can give you.
>
> Here is the standard verbage that I usually send in reply to a F&P
> inquiry.
>
> Great News! I have been able to get a shipment of Smart Drive motors
> directly from the Fisher & Paykel Appliance Motor plant, and yes, I have
> plenty left. This motor is comprised of a hub, stator, and main shaft.
> The Stator is stationary and comprised of 36 wound coils. Each coil is
> wound with 195 turns of 0.053" diameter copper wire, so without
> re-wiring it can produce some high voltage. The ends of the windings are
> easily accessible for re-wiring. Since this doesn't have brushes, when
> the hub is spun it actually becomes an alternator producing AC current.
> The new type 4 magnet hub has 48 magnetic poles. I am in love with this
> new motor. I put one together with a couple of bearings (6005) and
> bearing holder and spun it by hand and felt almost NO cogg. Price for
> this raw Smart Drive bundle is $105.00. To make the motor complete, you
> will need two bearings, (6005 or USF205-25 4-bolt flange bearing), two
> 12 x 30 mm Bolts, four ¼-20 x ¾" bolts and a bearing holder or pivot
> weldment. (I now have a new HAWT design available). The Stator normally
> is piloted off the bearing to align it with the main shaft for the
> magnetic hub. That bearing (6005) should stick out from .100" to .125"
> to allow this alignment. I was in the process of developing a "kit" for
> these motors, but that has yet to materialize. I am willing to "talk"
> you thru any problems or questions. If you have any questions, please
> email. More windmill pictures are posted on my web page you can follow
> this link to www.randysworkshop.com. Shipping weight is approx. 16# from
> zip code 45306 and can ship Priority Mail for $18.00 to your US zip
> code. (Over seas estimate is $58.00)
>
>
>         I have seen the price of Ametek motors go from $15.00 six years
>         ago to over $150.00. And for that you get what? A maximum of 100
>         to 150 watts? With a SmartDrive windmill and the correct amount
>         of wind and a good blade you should see upwards of 600 watts.
>         Yes, this is the way to go!
>
> Randy B.

November 2010
The plan would be to prepare a blog post for next week, say Wednesday or Friday, where we put this project up for crowd funding to pay you for initial design. Then we can discuss the implementation. With a clear plan, we can promise the crowds specific results, and we could get this funded.
At this time, we can move forward on design work, according to specifications we discussed initially.
The general specifications are here:
http://openfarmtech.org/index.php?title=Open_Source_Steam_Power_Generator
Can you prepare a simple concept 3D drawing for the entire system? I was thinking a vertical hopper next to a vertical chimney heat exchanger stack next to a vertical pellet container. That could be a unit plugged into a regenerator.
Perhaps make Prototype I a bulky stationary system with 100% passive fluid motion, and Prototype II with a much more compact form factor - literally like a mobile generator with forced air and forced cooling for a radiator - literally comparable to regular generators.
Let's work on the technical details at this time. Could we come up with a budget and timeline for the project? Tell me what you need to guarantee your attention on this, and we can put up a funding basket.
Proposed timeline:
1. Blog post - Wed. Oct 27, 2011
2. Design funding period - Oct 13-Nov. 13
3. Design complete by Dec. 13
4. Fabrication funding period - Dec. 13 - Jan. 13.
5. Build complete by Feb. 13.
Basically, initial proposal with full budget by next week:
1. Design cost
2. Materials cost
3. Fabrication cost
After funding is complete, then we do one month to complete the design, followed by one month of build. Does that sound feasible? First build by Feb. 13.