Prusa Printers
Growth Statistics
Prusa peaks at about 8000 printers per month, and almost 700 employees. That is about half a printer per employee per day - arguably the most successful 3D printer company in the world today.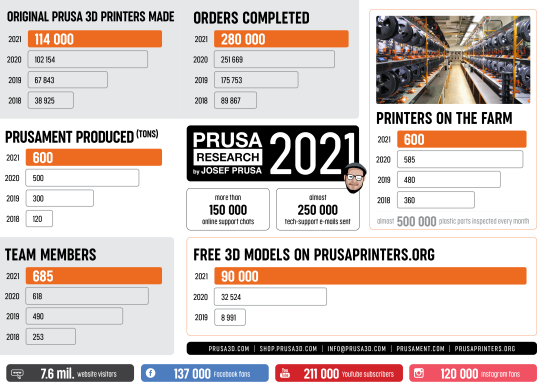 OSE relevance: This is a good baseline for an open source 3D printer company. The proof point is: can an open source distributive enterprise making 3D printers beat this hands down? OSE has demonstrated controlled experiments indicating production levels of 12 3D printers in one day when making kits using 3D printed parts. The next question is - can a business be started and replicated widely around the world based on this production level?
10 Year Anniversary
Printers
MK3 - [1]. Notable features: saves and can continue upon power outage. No endstops - software encoding of position???????????? No external encoders needed. Upon manual bump out of position, can return to printing. Flexible PEI coated bed, magnetically attached to surface.
OSE Usage
Discussion