Reversing the Mississippi
Amazon Prime Video
http://reversingthemississippi.com/
About
The first documentary on OSE in its early days - and on Our School at Blair Grocery.
REVERSING THE MISSISSIPPI | A Groundbreaking Documentary [Trailer] from Reversing The Mississippi on Vimeo.
Ashes and Diamonds
Another small teaser from the film. The reference "ashes and diamonds" is to a classic Polish film on keeping up the good fight [1]
Copy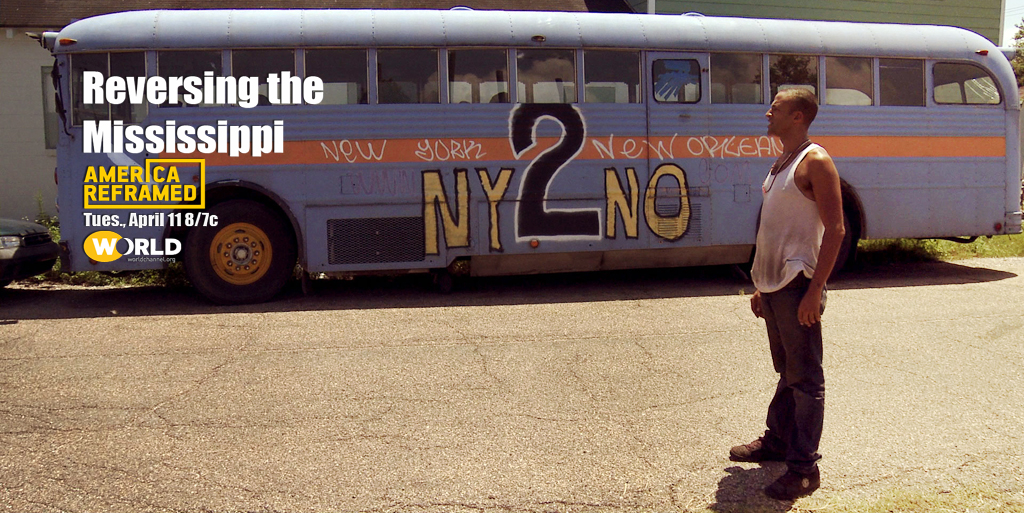 From: "Natalie Ruiz Tofano" <ntofano@amdoc.org> Date: Apr 6, 2017 12:30 PM Subject: America ReFramed REVERSING THE MISSISSIPPI Social Media Toolkit
AMERICA REFRAMED: REVERSING THE MISSISSIPPI
Encore Broadcast: Tues., April 11 at 8/7c
on WORLD Channel (check local listings) http://bit.ly/ARF_RtMiss
SYNOPSIS
In Missouri, social innovator Marcin Jakubowski's Global Village Construction Set provides free blueprints to fabricate everything needed to re-design the world's most important machines. In New Orleans, Nat Turner teaches kids how to work the land, but has limited resources and broken equipment. If these two men meet might they be able to make real change?
SAMPLE SOCIAL MEDIA POSTS
Please feel free to use and customize on your social media sites.

Facebook/Google+/Newsletter
How do communities rebuild after disaster strikes? After Hurricane Katrina, two activists came together to share solutions for progress in #NOLA. Watch the encore broadcast of @ReversingTheMississippi Tues., April 11, 8/7c on @AmericaReFramed: http://bit.ly/ARF_RtMiss
Twitter – CUSTOMIZED PER POST DATE
Before Broadcast
Tues 4/11: WATCH encore broadcast of @RevTheMiss to see #CommunityTransformation in #NOLA | @AmericaReFramed 8/7c: http://bit.ly/ARF_RtMiss Day-of Broadcast (Tues., April 11)
TONIGHT: Two activists work to transform a #NOLA #community: @RevTheMiss at 8/7c on @AmericaReFramed: http://bit.ly/ARF_RtMiss Repeat Broadcasts (starting Wed., April 12)
ICYMI Check local listings for @RevTheMiss all week & streaming free online: http://bit.ly/ARF_BuildIt

Natalie Ruiz Tofano
Associate Producer | America ReFramed www.americareframed.com
American Documentary, Inc 20 Jay Street, Suite 940 Brooklyn, NY 11201 212.989.8121, ext 315
Like our page: facebook.com/AmericanReframed Follow us @americareframed