Robertson Screw
Main > Housing and construction
---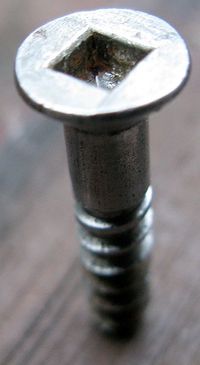 Basics
In 1908, a travelling salesman, Peter L. Robertson of Milton, Ontario, Canada, invented a revolutionary screw and screwdriver with a socket head. The Robertson socket head screw became instantly very popular with craftsmen because it was self-centering and could be driven with one hand.
"This is considered by many as the biggest little invention of the twentieth century so far," Robertson said.
Robertson was even in negotiations with Henry Ford, who recognized the time-saving potential of the screw in auto manufacturing. Ford estimated that this invention could save upwards of 2 hours of assembly time per vehicle. Unfortunately, Ford and Robertson could not reach a licensing agreement. Because of such licensing and patent issues, the breakthrough of the socket head screw was never realized. The first patent was issued in 1909 and the last patent expired in 1964. The screw remains very popular in Canada today but is hardly known anywhere else.
Internal Links
External Links