Ryan Lutz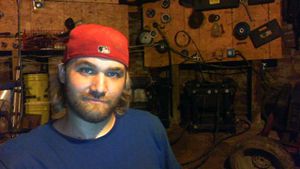 Team Culturing Information
WHO are you?
Ryan Lutz
Orange, California, USA
ryan.lutz37@gmail.com | skype: ryanl84 | mobile 714-310-7984
Introductory Video
WHY are you motivated to support/develop this work?
Do you endorse open source culture?
The collective knowledge of the world is too great for people to worry about getting ahead of everyone else. Let's put what we already know to work and everyone can have plenty. Scarcity need be no more with the advent of OSE!
Why are you interested in collaborating with us?
Marcin's TED talk took me completely by surprise. I was ignorant of the fact that DIY could ever go beyond hobbies, but once I learned about it, there was no going back. I want to live my life by building my future, not buying it.
How do you think that the GVCS can address pressing world issues?
I traveled to India in 2008 and I can visualize what the GVCS would do for one of the villages I visited. Put plainly, a complete GVCS would give the villagers there the chance to rise up to first world standards in a matter of months.
What should happen so that you become more involved with the project?
Ideally I would like to come for a DPV and then help remotely, visiting again if the opportunity arose.
What is missing in the project?
Standards and organization, basically. The project is off to a great start and has big potential, I want to help it become truly great.
What are your suggestions for improvement of the project?
Regular meetings with as many contributors as possible. This could be virtually, in person, or both. Either this or a completely transparent communication system for development, but I think meetings really add a level of unification.
WHAT are your skills?
List all of your skills in these areas: Communications - Organizational - Computer Support - Finances - Design - Natural Building - Electronics - Automation - Metallurgy - Engineering - Fabrication - Agriculture - Energy - Architecture - Video/Graphics/Art - PR/Marketing - Education - Construction - Industry - CNC - Chemistry - Product Design - Other
- Communications: I am an effective communicator especially online where the written word is the main form of communication.
- Organizational: I am very organized out of necessity. I used to lose stuff when I was younger, so I changed my habits to make my life easier and keep a system. Later I found out those habits are called Feng Shui and since then I have been chasing that philosophy with a fierce interest. Organization is key to success.
- Computer Support: I have lifelong experience working with my father who is Technology Coordinator at a private elementary school (he gets funding to try out all the new tech devices). I'm very 3D minded. I have experience with Google Sketchup, Blender, FreeCAD, etc
- Design: I like to design quirky buildings in Google Sketchup... creativity is definitely one of my skills.
- Electronics: basic understanding, but am teaching myself constantly.
- Automation: I've been interested in this topic since childhood, and only now am I realizing what I want to do and how to get there. I'm having to learn a great deal, but eventually, I'll be building the house of the future with regard to automation.
- Metallurgy: Very limited knowledge, but I again, I am learning.
- Fabrication: I have designed and built a homebrewing set for beer making. I had to assemble compression fittings and do some basic drilling; the system was of intermediate complexity.
- Agriculture: experience tending gardens both agriculturally (vegetables, fruit) and aesthetically (ornamental herbs, flowers) since birth. Green thumbs run in my family.
- Energy: Natural sciences class in school and intense personal research on solar and other alternatives. Mostly solar though.
- Video/Graphics/Art: video editing, dubbing audio, cameraman, hardware
- Education: I have been a Tour Director for a few tour operators including one that sent 8th graders to Washington, D.C. I provide narration and am typically supposed to have the ability to "teach" the guests about the destinations they are visiting in addition to keeping track of them.
- Construction: I have cut and installed tile, laid hardwood floor manually, installed roofing, spent excess amount of time on carpentry in Boy Scouts, helped rebuild homemade vehicles, DIY homebrewing (beer) making and dispensing system, water systems installation and maintenance, hydroponics, and probably more I have forgotten about... I am a "jack of all trades" and like that I have a broad horizon of interest.
- Industry: travel, technology, corporate events/meeting planning, construction, foodservice, education...
- Chemistry: high school
- Animals and husbandry: raised cats, turtle, parrots, geckos, ball python, dogs, experience with sugar gliders, chinchillas, other. I have a great love and respect for animals but I am definitely a carnivore.
How have you already contributed to the project?
I have been telling every one of my friends about OSE including my 500+ Facebook friends. I have also become a True Fan and begun donating $ every month.
HOW can you help?
How are you interested in contributing to the work of GVCS development?
Participating in a DPV and then volunteering part time while I work full-time until I can afford to build a GVCS of my own and start a community!
Can you volunteer to work with us, and if so, how many hours per week?
Depends on my current work load, but up to 20 probably.
Are you interested in working with us for pay? If so, what services can you offer, and what is your hourly or per-project rate?
Money would be great, but I'm not counting on it unless the project takes over my life.
YES, definitely. See my user page for my application
Are you interested in purchasing equipment from us to help bootstrap development?
Yes, eventually.
Are you interested in bidding for consulting/design/prototyping work?
Yes, one of those... in some form or another.
Yes!
Would you like to see yourself working with us on a full-time basis?
I can do a full month DPV and volunteer part time afterward but if full-time with pay happens, that could work too.
Are you interested in being part of the world's first, open source, resilient community? The GVCS is the preparatory step for the OSE Village Experiment – a 2 year, immersion experiment (2013-2014) for testing whether a real, thriving, modern-day prototype community of 200 people can be built on 200 acres using local resources and open access to information? We are looking for approximately 200 people to fill a diverse array of roles, according to the Social Contract that is being developed. This may be the boldest social experiment on earth - a pioneering community whose goal is to extend the index of possibilities regarding harmonious existence of humans, ecology, and technology.
Be a part of history? Count me in!