Scheffler
The Scheffler Solar concentrator is a popular open design for a parabolic solar concentrator. It's mostly been used in cooking, but it has also been used in industrial systems for air conditioning and dying clothes.
The advantage of the Scheffler cooking system is that the energy is piped from the sun to an indoor kitchen space, making it a far more practical and comfortable way to cook with the sun.
Energy Storage
Scheffler solar systems have been built with the ability to store the thermal energy for use when the sun is not shining (eg at night).
The low-tech solution is to use an oil (thermic fluid) instead of steam and store it in an insulated tank. This also lowers the cost of installation as liquid oil can be heated to 350 deg C, whereas steam requires expensive, high-pressure pipes to reach these temperatures.
Scaleability
At small-scale, these systems can be built for residential use with a single 7.4 sq meter parabolic dish focused on a cooking surface through a hole in the wall of a kitchen.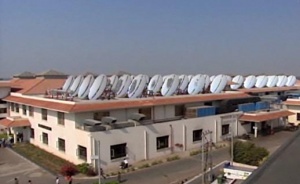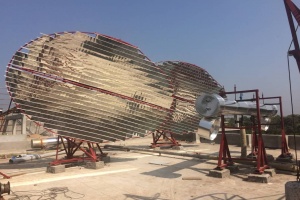 At large-scale, these systems have incorporated 73x 16 sq meter parabolic dishes that focused on a water pipe. Steam generated from the pipe lead to a kitchen used to feed 50,000 people daily.
See Also
External Links