Scott Bunn Log
Monday December 2nd, 2013
Marcin and I built the spool assembly for the Trencher. It is too tall to get out of the garage in one piece so we had to make it removable. We finished hooking up the Hydraulics to the trencher and took it outside to try it out. It was front heavy so the tractor lost all traction on the rear tires. The trencher also didn't quite have enough power to dig, so we put another power cube on the back for additional power and counterbalancing.
Sunday December 1st, 2013
Attended Mennonite church outside of Maysville and was invited to a Lunch with Steve Sommers and Family
Returned home and re-potted Plants for the Hab Lab
Rough Sketched Spool Feeder for Trencher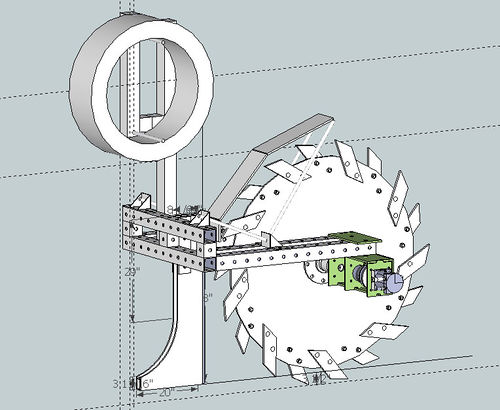 Saturday November 30th, 2013
Working on Pipe feeder, mounting guard, and coming up with a spool feeder design
Built and installed pipe feeder
Mounted Guard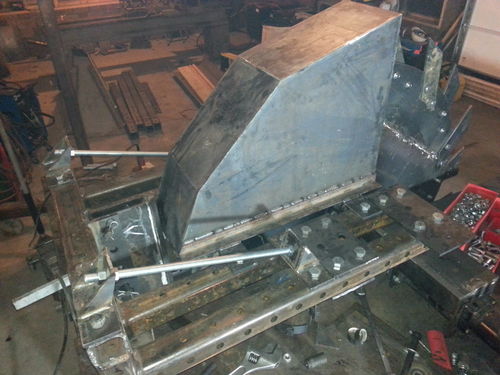 Friday November 29th, 2013
started fabrication of the Wire feeder. I need some more 1 1/2" bar stock to complete the task, but Sweiger was closed, so I may have to come up with something else.
Fabricated the guard and added some additional side metal for added protection.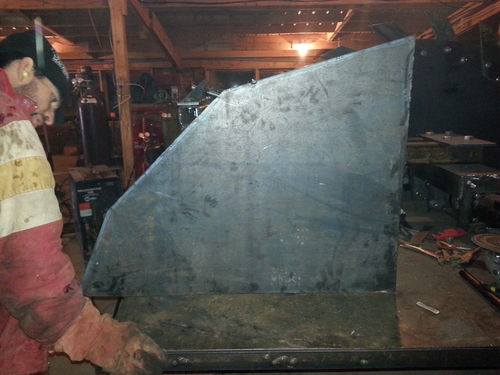 Tested the rotation of the Trencher with the tractor. Video on Youtube
Thursday November 28th, 2013
Thanksgiving
Finished modifying mount for first loader arm cylinder. Had to modify a bit to accommodate for hydraulic inlet
Mounted Cylinder
Built second loader arm cylinder mount
mounted second cylinder
extended hydraulic hose and reconnected hoses to cylinders
skyped with family
Wednesday November 27th
Removed small cylinders from tractor and begun mounting and fabricating larger cylinders. This requires modifying the mounting brackets and creating a custom welded bracket.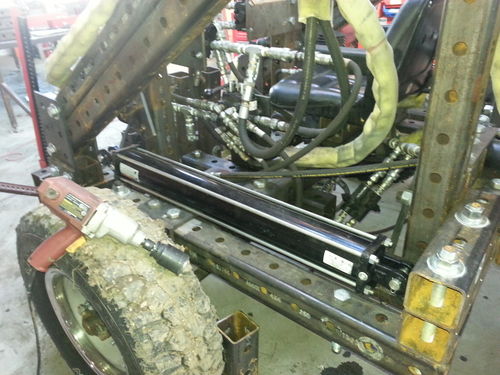 Additional lighting in the workshop would be helpful in productivity especially after 5:00 in the winter.
Larger cylinders require moving of both front and rear brackets.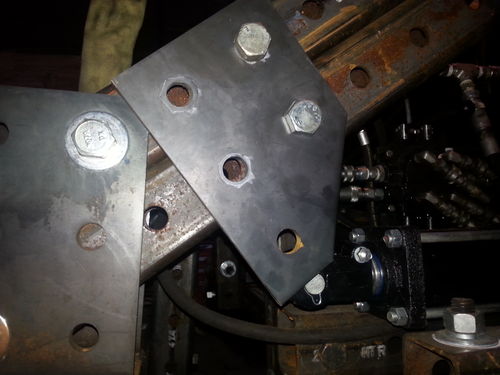 Opened spool of PEX piping to see if it unreels. Spool did not unreel. This could be due to the cold temperature, but it seems that we won't need to add the chair on the front of the Trencher unit.
Tuesday November 26th
Spent the morning with Rob Kirk to learn dozuki and to learn more about video editing with adobe premiere
Installed the diagonal threaded rod bracing for the trencher and built the brackets
Went to the post office
Monday November 25th
Got Life Track 6 up and running
Removed Back Hoe attachment
Learned controls on Tractor
Attached Trencher forks to tractor
attached Tractor Forks to Drive units
Installed Teeth on Disk
Installed bonding plates to forks
Went to post office
Filled Truck tire with fix-a-flat product
checked all other tire pressures
Sunday November 24th
Day off
Finished time lapse video from Friday
cut down tree for firewood - brought firewood inside
Helped cover up water line to prevent freezing
Sat Nov 16, 2013
Work log Working to set up Scrum Board Scrummy.com/ose
Introduction to Trovebox
Set up Kanban board for organizing projects and tasks that need completed.
Worked with Sam, Chris, Marcin, and Rob to finish the Trencher Design
Went to Town to get the Truck started and brought it back to FeF
Begun Fabrication of the Trencher
Sun Nov 17, 2013
Began layout of the Modular wheel units
Learned the operations of the mill and started milling 3/4" key slots in both of the 3" axels.
Took the evening off to work on Seneca Treehouse Project Updates found at [1]
Monday Nov 18, 2013
Completed fabrication of both modular wheel units for the Trencher
Tuesday November 19, 2013
Assembly and welding of wheel hubs
cleaned welders and replaced liners
Wednesday November 20th, 2013
Leveled Tables to achieve necessary workstation for fabrication of Wheel units to Trencher disk
Fabricated Frame for Trencher
Celebrated my Birthday with OSE crew
Thursday November 21st, 2013
Day off
Used this time to purchase necessary tools and ingredients for smooth shop operation
Friday November 22nd
Installed Wood burning stove with Mike Kelly and Marcin [2]
Saturday November 23rd
Day off
took trash to recycle
went grocery shopping
got some additional necessary tools & materials