Steam Engine Status/Open Hardware Summit 2011
Main > Energy > Steam Engine
---
I, Mark Norton, attended the Open Hardware Summit on Sept. 15, 2011 at the New York Hall of Science located on the 1964 Worlds Fair grounds. There, I gave an update on the OSE Steam Engine project. Slides from the presentation with some comments follow. These comments are not a transcript of the presentation, but rather a recollection of what I said. I had only ten minutes to make this entire presentation, so it's short and to the point.
Introduction
Before beginning, I asked for a show of hands, "How many of you are familiar with the Open Source Ecology project"? I would estimate 1/4 to 1/3 of the audience (about 500 people) raised their hand.
Overview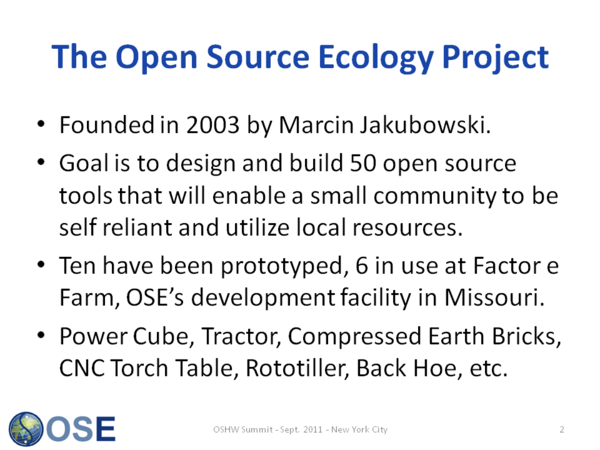 The Open Source Ecology project was founded in 2003 by Marcin Jakubowski as he was nearing completion of his PhD in high energy physics. The main goal of the project is to design, develop and prototype fifty machines that we think can be the economic basis of a village-sized community. It includes tools for manufacturing, energy, shelter, and food production. Some of these have been built and are in use at our development facility in Missouri and including things like a tractor, compressed earth brick machine, torch table, rototiller, backhoe, sawmill, and others.
The Steam Engine Project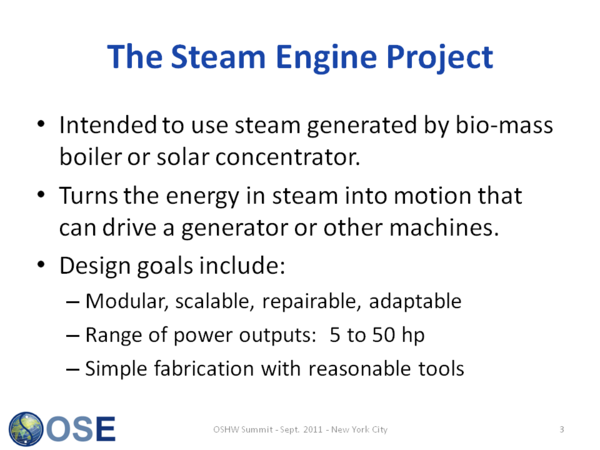 Because the tool set, which we call the Global Village Construction Set, includes a gassifier, wood fired boiler, and solar collector, we need something that can take steam produced and turn it into a form that can be used by machines or an electric generator. The steam engine is intended to be modular, scalable, repairable, and adaptable to a variety of power needs. The simplified design reflects these requirements.
Importance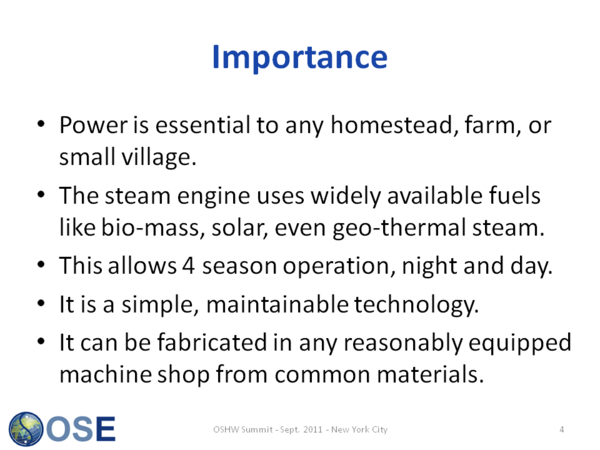 Power is essential to any rural homestead, farm, or small village and the steam engine is one way to provide it. It can handle steam produced from bio-mass fuels, solar collector, or even geo-thermal (if you happen to live in Iceland). A variety of energy sources allows power to be generated in all four seasons - night and day. It is a simple, maintainable technology that we want anyone who is equipped with a decent machine shop with basic skills can built from scratch. OSE is also developing plans to build the tools needed to make a steam engine.
Existing Technology
There are a lot of other people interested in steam. The folks at TinyTech in India are using steam engines to bring power to small Indian villages. There are clubs like the Steam Automobile Club of American, fans of steam locomotives, and steam boats that kept steam technology alive. New companies like Cyclone Technology are being formed, too.
The challenge to the OSE Steam Engine project is to take 100 year old technology - and all of the patents have expired - and apply modern materials and control techniques - -like computer controlled valves - to create an open source design that any one can build. Many of the old books are now available at Google Books and the Internet Archives.
Current Design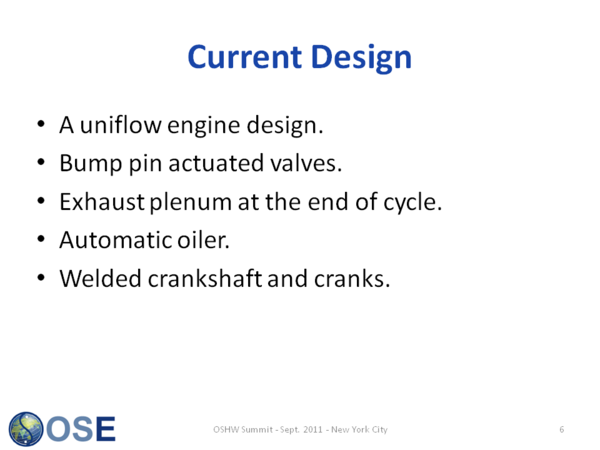 Most of you won't be familiar with these terms, but the steam engine design is a uniflow engine - which means that steam comes in through a control vent, expands in the cylinder, and exists through an exhaust plenum. The valves are activated by pins in the piston head face. It has an automatic oiler and uses a welded crankshaft, as opposed to one cast in steel. Most DIYers, even Fab Shosp, can't handle heavy steel castings.
Design Drawing
This is a view of the current design, which is based on several proven steam engine designs.
CAD Drawings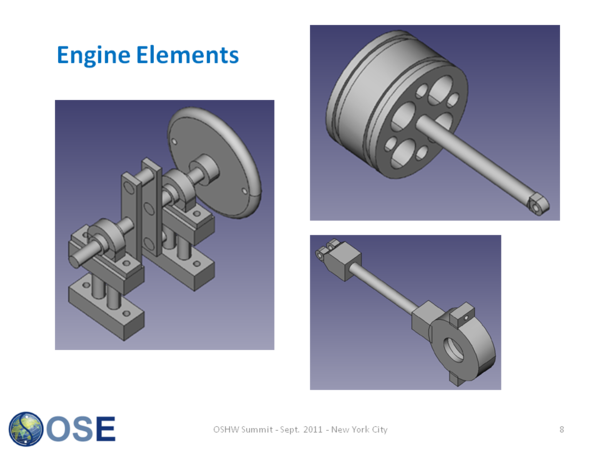 As you can see, we have a complete set of CAD drawings for all of the parts, though some of them are outsourced auto parts. Eventually, these will be converted to CAM files for use with CnC tools.
Lessons Learned to Date
It is the practice of OSE to have all major designs reviewed by external, independent experts. We did that with the steam engine and we got back several comments pointing out some pretty serious problems with the existing design. These included things like overall efficiency due to compression issues, concerns over wear, safety and legal considerations, and potential pollution problems.
Going Forward
Some of these are potentially serious problems, so rather than going ahead and building this design, we are taking the time to study the issues and see if we can improve the design. That may involve changing the control valves to be computer controlled. We are also considering a vertical orientation, rather than the horizontal one showed in the drawings. I am also collecting and reviewing safety regulations and laws concerning steam engines and boilers in US states and several other countries.
More Information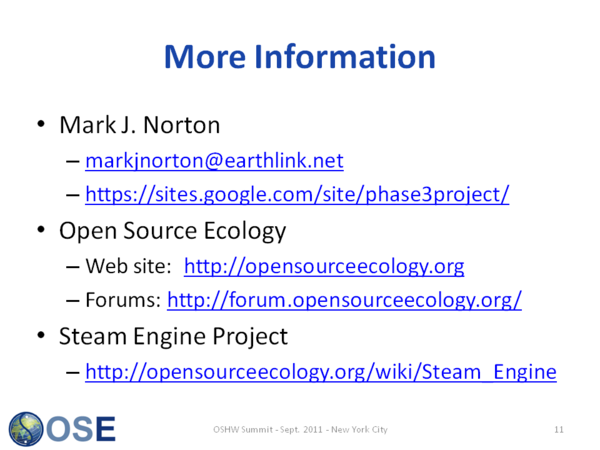 I encourage you to check out the OSE wiki where there is a lot of documentation on this and many of the projects in development.