Terminal Block
Off Shelf
Touch Safe Terminal Blocks - Mcmaster Carr 7618K618
Top Access Terminal Blocks - Mcmaster Carr 7527K53
Introduction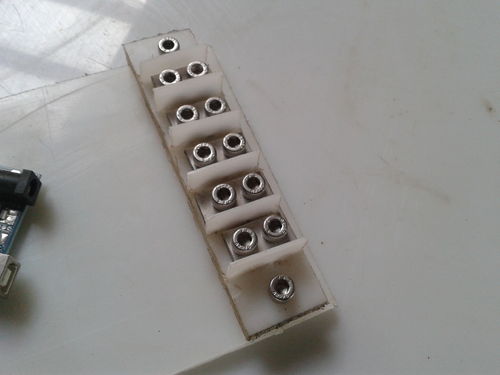 Design Goals and Paths
The objective is a redeployable, fault-protective series of wire clamp pairs (each pair being electrically conductive).
Insulator Frame: HDPE
Conductive Bridge: Aluminum 6061T6 (abundant aluminum, easy to machine) (note: watch out for galvanic corrosion!)
Fastening Screw: Stainless Steel 304, socket head cap screw
Materials
Stainless Steel M5x0.8, 16mm Lg Socket Head Cap Screws
HDPE Natural White 0.06" x 12" x 24"
HDPE Natural White 1/2" x 12" x 24"
Aluminum 6061T6 1/8" x 1/2" x 72"
Steps
For cutting, you'll need a saw (ex. bandsaw) or shear machine of some kind.
For making holes, a drill or punch machine is required.
For tapping, a hand tap or low-speed hand drill with a chuck is needed.
You'll want to cut the thick HDPE to size, ex. 1/2" x 1" x Length Now drill the thick HDPE piece with a 4.5mm diameter drill bit for the screw terminal holes and a 6mm diameter bit for the mounting holes Tap the screw terminal holes with an M5x0.8 tap
Also cut the thin HDPE to size, ex. 0.06" x 1/2" x Length (ex. 1")
Also cut the aluminum flat to drilling size, ex. 1/8" x 1/2" x mountable length (ex. 9") for mounting onto a vise while leaving space to mount onto a bandsaw for cutting out the small pieces Also drill the aluminum pieces with the 6mm diameter bit Cut the aluminum lengths to use size ex. 1/8" x 1/2" x Length (ex. 1") for each conductive pair
Melt the thin HDPE onto the thick HDPE to divide each screw terminal pair while screwing on the aluminum pieces
Action Package
Contact Us
Yoonseo Kang - ykang404@gmail.com