Electrical Case
Introduction
A wide, low-profile case with a top lid and seal. Contains electronics. Ports at side for external wiring.
Waterproof, maximum of X meters
Lightweight, approximately X kg
Corrosion-resistant, minimum frame thickness of 3mm
(*Accessible, Modular, Versatile)
Notes:
Get good weld penetration else the welds will crack up easy
Clamp tight else the welds will contract and angle the walls
Aluminum 6061T6 Frame
Source: SpeedyMetals
Base and Lid: 1/4" x 8" x 12"
Long Wall x2: 1/4" x 3" x 12"
Short Wall x2: 1/4" x 3" x 7.5"
Seal
Pure Gum Rubber 1/8" x 8" x 12"
Versions
Version 4:
Screw fastening the lid would reduce the mounting volume of the terminal case considerably. But the trick is enabling screw fastening while retaining the ability to use C-Clamp compression too.
The cable glands are fine but there's a mounting issue where the aluminum is too thick for the short mounting thread of the cable gland. Also a multi-cable issue associated with fact that a cable gland can only seal properly with a single cable. Using some goop like silicone would work as a less modular solution- but only for the time being.
Welding technique: definitely weld the outside seams of the case because butt welds are far more straightforward than internal fillet welds. This also prevent slag from interfering with the electronics.
PCB Mounting technique: use spacers between the bottom of the PCB and the insulator plate so that short-circuiting is far less likely from any conductive thing getting down there.
Considering hinge... but that dramatically increases complexity and sacrifices modularity. Probably not this time.
Version 3:
200px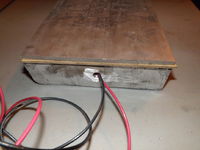 200px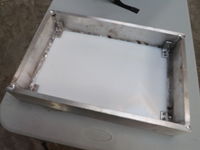 Tools
TIG Welder with Argon Gas, Benchtop Grinder, and Proper Power Infrastructure
Cordless Drill, Clamps, Drill Bits
Small Grinder
Bandsaw
Materials
Aluminum Plate 1/4" x 7" (Speedymetals)
Aluminum Bar 1/4" x 3" (Speedymetals)
Pure Tan Gum Rubber 1/8" x 12" x 24"
---
Aluminum Plate 1/4" x 7" x 72" OR Aluminum Plate 1/4" x 12" x 36"
Pure Tan Gum Rubber 1/8" x 12" x 24"
Build Documentation
Old Info
Version 2 with screw mounting: