Tim Corrigan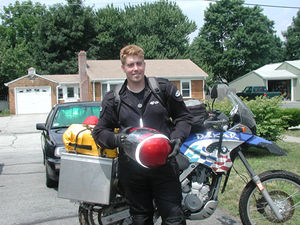 Team Culturing Information
last updated: 21. April, 2011
WHO are you?
Name/Nationality/Ethnicity - Tim Corrigan, US
Location – Preston Hollow, NY
Contact Information – rndmtim (at) yahoo (.) com
TIMOTHY CORRIGAN
2611 Route 145 Preston Hollow, NY 12469
Corrit3 (at) rpi (dot) com , (718) 639-8066

PROFESSIONAL OBJECTIVE
To secure a position as an electrical engineer in renewable energy or power systems.

EDUCATION
M.S., Power Engineering (pending, started September 2009), Rensselaer Polytechnic Institute
B.S., Electrical Engineering, City College of New York; June 2008 GPA: 3.76
B.A., History, Political Science, University of Buffalo; June 1992 GPA: 3.5

RELEVANT GRADUATE COURSEWORK
Power Systems, Control Theory, Power Electronics, Electric Machines

QUALIFICATIONS
Relevant Skills: Strong consultation, project management, presentation, technical writing, technical instruction, and systems analysis and integration skills
Technical Skills: Electrical: Strong electrical and electronic systems design and troubleshooting skills; hands on knowledge of residential and light industrial power and solar electric systems
Programming Languages: C/C++, Microchip ASM for microcontrollers, VB/VBA, SQL Design: Maxwell 12 machine design, NX CAD, AutoCad, Matlab/Simulink
Hardware: PIC 18 micro-controllers, working with surface mount components and various package types, many types of sensor packages (accelerometers, sonar, etc.)

PROJECTS
NY-BEST: Created technical analyses to support Columbia University business school team in market study of grid tied and vehicle electricity storage systems for NY-BEST/NYSERDA consortium. (Spring 2010)
Waterpod: Designed and constructed an off-grid 4kW marine-rated solar power system with battery storage providing power to an eco-village/arts community on a floating platform, as part of a public arts project and education project at 14 locations in New York Harbor. (Summer 2009)
IGVC: Led CCNY's design team for the Intelligent Ground Vehicle Competition, with the objective of creating a robot capable of self-navigation in an unstructured environment. Project managed a multidisciplinary team from sub-system construction and programming to overall system integration and testing. (Spring 2008)

EXPERIENCE
Green Power Solutions, NYC, NY
Engineering Consultant 6/08 – 9/08
Engineer on solar photovoltaic and thermal systems for industrial and residential implementations.

Surveyed installation sites, created site surveys and project plans.
Supervised installation of systems and signed off on completed work.
Negotiated sales with customers.

SchoolNet, Inc., NYC, NY
Implementation Specialist 7/08 – 8/09
Technical project manager for implementations of company's product, a web based educational management system.

Managed professional services budget, project plan, and change orders to statement of work.
Conducted client meetings for implementations to aid in discovery and design process.
Advised client technical teams on database ETL and network authentication issues.

Anadigics, Mount Bethel, NJ
Intern 7/07 – 9/07
Worked in radio frequency amplifier design and test lab, performing testing on new line amplifiers for design specifications.

Tested 2 Port S-parameter and 3rd order harmonic characteristics for new GaAs devices.
Redesigned analysis tools in VBA, created database with GUI of 10 years of device test data.

Kronos, Inc., Boston, MA 10/98 – 6/04
Technology Consultant – Enterprise Team
Technical lead on enterprise level implementations of company's n-tier business management systems.
Managed technical elements of implementations and carried out non-technical project management responsibilities when necessary.
Consulted with client IT and HR staff on technical requirements to create functionality gap analyses for statements of work at enterprise level customers including Gateway Computer, Motorola, Carrier Air Conditioner, Pepsi, HCR Manorcare, and New York State OMH.
Diagnosed and solved technical issues at client sites including load balancing faults, database errors, and network issues when lower level resolution failed.
Conducted pre-implementation training session/design workshops for enterprise implementations to aid in discovery and design process.
Advised and mentored team application consultants on troubleshooting database issues, network communications, and emerging technology issues.

NeuroCorp, NYC, NY 12/95 – 7/98
Director of OperationsOversaw operations for NeuroCorp (a market intelligence division of Penn, Schoen & Berland Ass.) on primary product, a fuzzy-logic site mapping and market modeling software package for Caltex, Texaco and 7-11, used in emerging markets.
Implemented projects on-site in 30 countries throughout Asia, Eastern Europe, Central America and the Middle East.
Designed survey instruments, data collection methodologies, customized databases and digital maps.
Negotiated with government officials for waivers in nations where maps are restricted due to security concerns.
Trained team in programming database and reporting tools.
Negotiated sales for projects with client principals, expanding business in South America seven-fold.
Hired, trained, and managed project staff for New York office.
Presented finished projects and major findings to client's in-country senior management.

HONORS/AFFILIATIONS
Tau Beta Pi Engineering Honors Society
Eta Kappa Nu Electrical Engineers Honors Society
General class amateur radio call sign KC2UNO
Horizons Unlimited Adventure Motorcycling Association
Hobbies and Pastimes - Open source sustainability projects. I'm self installing my own PV now, and working on some solar concentrator driving refrigeration stuff. I was the electrical engineer on the Waterpod project.
WHY are you motivated to support/develop this work?
Do you endorse open source culture?
Absolutely. One of my best friends works for the Software Freedom Law Center. I'm big into Make culture. I use Ubuntu, and would like to see a similar ethos around physical objects, and I think CNC is going to be big in this.
Why are you interested in this work?
I was thinking that if this didn't exist someone should get it started, so its a relief that you're doing all of the organizing of people.
Are you interested in teaching about the GVCS?
Sure. I'm doing some "courses" for friends on solar PV, solar concentrators and possibly biodiesel (but I'm learning as I go on bio.)
Are you interested in economic relocalization possibilities arising from the GVCS?'
Sure... I'm trying to create a functional economic ecosystem in my area - organic farm, metal workers, wood workers, etc.
Do you want to use the GVCS technologies yourself? Do you want to build them yourself?
The stuff I'm interested in designing will be things I am going to use myself.
Are you interested in starting up enterprise using the GVCS technologies?
One plan of mine is to produce solar concentrator refrigeration for local farms. I intend to use some of the designs on here for passive solar buildings.
Are you interested in having the GVCS technologies fabricated by your local custom fabricator?
I intend to have these tools myself - I already have a very large lathe, chop saw, and welder, as well as many woodworking tools.
Are you interested in applying the GVCS to third world development? To redevelopment of crisis areas? To development of derelict areas in the developed world?
I would love to do work abroad on this (and already have a lot of experience working and traveling throughout Latin America and SE Asia.)
Are you interested in starting up Industry 2.0 flexible fabrication enterprises for your local community, by drawing from a global repository of freely down-loadable designs and fabricating using open source fabrication equipment?
Yes
Are you interested in the potential of the GVCS for developing local food systems?
Definitely.
Are you interested in doing academic studies/papers, publishing books, or doing other analysis of our efforts?
I intend to contribute much of the work in my masters thesis. I would like to write more papers on power and electronics issues.
Are you interested in financial investment opportunities arising from our work?
Not particularly. I think the best investments given the state of things is in relationships not money.
Are you interested in the distributive economic aspects of our work, and if so, how do you see this playing out?
I'd like this to be disruptive to the conventional centralized manufacturing model, along the lines envisioned in Fab.
Are you interested in building renewable energy production facilities based on open hardware (solar concentrator electric, wind, biomass power).
Yes, I'm already doing this.
Are you interested in building resilient communities based on access to the GVCS?
Also already doing this.
Are you interested in creating a bug-out hut using GVCS technologies?
Don't need it - I'm already nearly off-grid.
How do you think that the GVCS can help alleviate the instabilities of global monetary systems?
Or make them irrelevant.
How do you think that the GVCS can address issues related to resource conflicts?
How do you think that the GVCS can address issues of overpopulation?
Hopefully it can help people feed themselves. Dunno about this one.
How do you think that the GVCS can address issues of resource depletion and environmental degradation?
By making people more energy efficient (rocket stoves to reduce deforestation) that'll help a lot, and people and their culture are embodied in their tools - so better sustainability tools are key to changing culture.
WHAT
What have you already contributed to the OSE project? (technical contributions, blogging about us, financial support, organizing events, translations, interviews, video editing, publications, publicity work, behind-the-scenes work, CAD work, wiki contributions, computer support, etc)
Computer Support
I use Linux. Used to be an IT guy, safe to say that other that using Freedombox over shortwave - a development project I intend to do this summer - I'd love to be as far away from computers as is feasible.
Home Economics
Some food processing experience (canning, hunting and butchering game.) I'm working on a raised bed garden now. I could pull off a meal for 20. I'm a good all around cook.
Design
Electrical engineer with a concentration in power electronics, also have some knowledge of passive solar design now (but haven't done implementation yet.)
Building
I can use a chainsaw - I'm self taught. I do a lot of work on cars. I do all of my own power, plumbing, roofing and basic carpentry. I can weld, and do rough metal work, and intend to get better at it. Scrounging is a skill you should include - whenever possible I salvage and adapt things (for example old plumbing or electrical parts) and can improvise repairs and jury rig things pretty effectively.
Electronics and Magnetics
Yes, except for the solenoid valve design. I've access to Maxwell (finite analysis of electric motors) and several electronics sim packages.
Automation
A bit. I've done robotics with sensors before, but I'm not the best at this.
Engineering
HOW can you help?
How are you interested in contributing to the work of GVCS development?
Can you volunteer to work with us, and if so, how many hours per week?
I'm probably more interested in taking on specific projects or pieces of them.
Are you interested in working with us for pay? If so, what services can you offer, and what is your hourly or per-project rate?
Are you interested in purchasing equipment from us to help bootstrap development?
Are you interested in bidding for consulting/design/prototyping work?
Would you like to see yourself working with us on a full-time basis?
Are you interested in using the technologies that we are developing directly?
Are you interested in being part of the world's first, open source, resilient community? The GVCS is the preparatory step for the OSE Village Experiment – a 2 year, immersion experiment (2013-2014) for testing whether a real, thriving, modern-day prototype community of 200 people can be built on 200 acres using local resources and open access to information? We are looking for approximately 200 people to fill a diverse array of roles, according to the Social Contract that is being developed. This may be the boldest social experiment on earth - a pioneering community whose goal is to extend the index of possibilities regarding harmonious existence of humans, ecology, and technology – as a beacon of light to benefit of all people on Earth.
Got my own under development, I think.