Tom Log - 2012
Thursday, August 25, 2012
Added fuel to the generator and started it. Adjusted the hydraulic pump mounting on the power cube in the workshop, as the coupling had become misaligned and caused binding.
This is the last morning of my Dedicated Project Visit. I packed up and prepared for the drive back to Dallas. Although I have a comfortable spread in Dallas, I will miss this place - and the people I met here.
Wednesday, August 24
Installed one magneto on B&S engine
Disassembled second B&S engine, installed one magneto to success, had trouble with second, but finally resolved all issues.
Worked with Chris on Power Cube documentation - conversion to wiki and completion of graphics.
Dinner this evening was a treat - we all went to a nearby Chinese buffet. While the food was OK (at best), it was still a treat.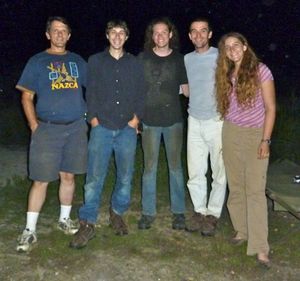 Tuesday, August 23
Soldered components onto the 4 bare Arduino breakout printed circuit boards. These boards are to be used in the 4 CEB presses in production.
Finished fabrication and installation of second seat in the LifeTracs in production.
Monday, August 22
Morning rain. I drove Adam and Shondra to downtown Maysville and we had breakfast in Tim and Juli's Cafe. When we returned, the rain had stopped.
Continued Power Cube documentation, needed some measurements so went to the workshop and met Adam, saying that the attachment for the tractor box blade had broken and needed welding. He made a suggestion for an improvement to prevent the box blade from slipping off the quick attach mounts. I found some metal and torched it to shape and Brianna arrived and welded it to the box blade. Success!
Helped Marcin with roof of new workshop storage building - added roof extensions for eves and lumber to provide stability.
Sunday, August 21
Documentation. Today, worked with Sketchup and drew dimensional drawing for hydraulic tank for Power Cube: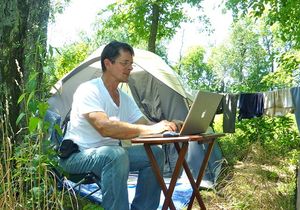 Here are the links to the latest documentation:
Finished fabrication and installation of seat mounts in one LifeTrac. Installed seat and it worked.
Helped Marcin hoist and stablize roof of new workshop building.
Saturday, August 20
Welded 5 feet for the CEB press - one to complement the three I welded before and four more for a new CEB press.
Shondra and I helped Margaret move a pile of logs to clear the land for new development.
Friday, August 19
Continued work on Power Cube documentation.
Cody was leaving today and needed a ride to catch a shuttle in St. Joseph. Shondra and Adam came along and we did laundry and went to get some supplies and steel toe boots per the new shop rule.
Storm tonight. I didn't want to spend it in my tent, so Brianne and I worked in the shop on the CEB press until after midnight.
Thursday, August 18
Drove to downtown Maysville and had breakfast at Ted and Juli's - 4 others came along from Factory E Farm. Afterward, drove to auto salvage yard to buy some electric radiator fans. Wanted 12, but they only had 4 available. Bought them and made arrangements to pick up others later.