User:Mjn
My name is Mark Norton. I live with my wife, Brigid Cassidy, on Phase 3 Farm about 15 minutes south of Ithaca. Phase 3 Farm is experiment in self sufficiency that grew out of the question, "How self sufficient can two people be?" It's an interesting question that can be scaled to a family, small groups, or a village (consistent with OSE's Resilient Community concepts).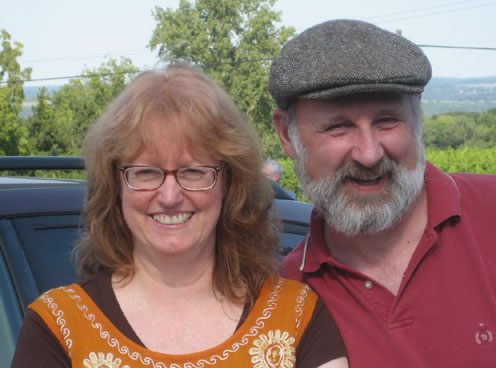 Contact Information
See also Mark J Norton for team culturing information.
Personal Pages
Phase 3 Farm
Our farm was started in 2009 with the purchase of 15 acres of land sheltered between two hills with a year-round stream running through it. At the lower elevation, the land is fairly flat and open to the sun making it good for raising food. At higher elevations, it is forested in a mix of hard and soft wood trees.
Shelter
Currently, we are living in a single-wide trailer that was present on the property when we bought it. We have our own well and a large septic system left over from other dwellings (now gone). We have electric service and cable TV (largely for internet access and phone).
Recently (April 2011), we broke ground on what will be our new house. The house will be set into the side of a slope with the back of the house facing due south for passive solar heating. The house has a full basement, first floor living, and an attic. It will be framed with SIPs (Structural Integrated Panels) that create a tight shell with high insulation. A metal roof will enable rainwater collection. Living is focused on the first floor and includes a open plan living/dining/kitchen area. To one end is the master bedroom suite and Brigid's office. At the other end is a laundry room (with provisions for grey water reclamation) and a media room.
The basement is divided in my office (I am an independent software contractor and work out of my home), a utility room, food storage area, food prep kitchen, and root cellar. Additional space is set aside to be dojo space (I practice the Japanese martial art called Aikido). The back of the basement is walk-out. Just outside, we will have a grill and outdoor bread oven. Just inside is the food prep area where we'll wash vegetable and can them. The root cellar is fully underground, insulated, and externally vented with control dampers and separated from the basement by an insulated door.
The attic is largely intended for storage, but also for drying herbs. It is well ventilated and will likely get quite hot during the summer months.
The house will be heated by forced hot air from a Yukon multi-fuel stove. This stove burns wood, coal, and propane (backup).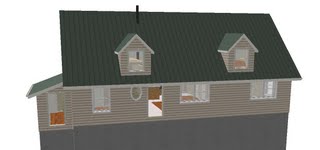 Construction Status
| | | | | | |
| --- | --- | --- | --- | --- | --- |
| Foundation | | Shell | | Roof | |
| Plumbing | | Heating | | Electric Wiring | |
| Toilets, Showers | | Cabinets, Sinks | | Appliances | |
| Tiling | | Wood Floors | | Sealing Cement Floor | |
| Drywalls | | Ceilings | | Painting | |
| Trim | | Exterior Siding | | Locks | |
Food
We practice sustaining agriculture and permaculture principles to raise our own food. Currently we have 8 raised beds and 8 flat beds in which we grow a wide variety of vegetables, roots, and some fruit. One bed is dedicated to herbs (which will likely be moved to zone 1 of the new house). We have a dedicated asparagus bed and are building a cold frame strawberry bed this year (2011). In addition to the garden, we have a small fruit orchard that we hope will start bearing this year (seven years old in 2011). We have a small stand of hazelnut trees and hope to add other nut trees including american chestnut in the future.
Once the new house is complete, we will start work on a permaculture design for bringing food closer to it. This will include grape and kiwi arbors, new herb bed (including a greenhouse window in the kitchen), small salad plot, and a medicinal plant garden.
On other parts of our land, we have some mushroom logs, gather wild strawberries and blackberries, and fire wood.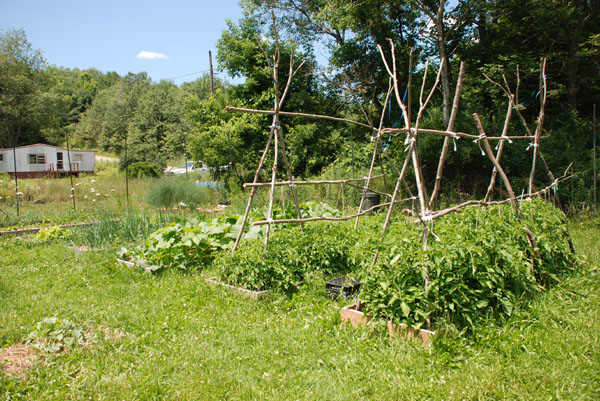 Energy
Being off-grid is a challenge in our location, much as we'd like to be energy self-sufficient. Solar is an option, though the investment in PV panels is considerable. OSE's solar collection array is of interest to us. More interesting is the possibility of using wood to fire a steam engine. We have about 13 acres of forest. The common rule of thumb says that 1 cord can be gathered sustainably per acre. However, with the clearing of the house site and a new pasture, we have a LARGE pile of logs and brush to process as firewood and lumber. While I have a small garden tractor, I am very interested in obtaining or building a LifeTrac.
Another option for energy production is micro-hydro. Our stream is year ground, though it slows to a trickle in late Aug. By damming the stream, it is possible that we'd have enough head and flow to support a water turbine powered generator for at least 75% of the year. A dam will also create a farm pond for aquaculture and waterfowl (not to mention swimming!).
Personal Interests
Beyond working on our farm and my software business, I have a wide range of interests that include:
Travel
Reading
Gaming (MMOs, RPGs)
Art (Watercolors, 3D graphics)
Lego Model Building
Fabrication (wood, metal)
Alternative Medicine (herbal, etc.)
Martial Arts (Yondan in Aikido)
Permaculture
Spiritual Pursuits (we are UUs and pagans)